12x12 Wall Calendars

12x12 Custom Wall Calendars
Create a custom 12x12 wall calendar with Shutterfly. If you're looking for a way to stay organized, remember special dates, or showcase your favorite photos — a 12x12 photo calendar is perfect for you. Custom wall calendars not only are a great way for keeping track of important dates and appointments, but they're also a unique way to add wall decor to your office or home. Start your year off right by making your own 12x12 wall calendar filled with your favorite memories. Whether you're creating one for your whole family to use or one to keep at the office for work appointments, you'll love seeing all of your cherished memories as you flip the pages in a photo calendar designed by you.
How to Make a 12x12 Photo Calendar
Personalized calendars are a fun way to add warmth and personality to any room you hang it in. When you customize your wall calendar with your favorite pictures and special dates, you're creating a functional piece of wall art that's as unique as you are. Perfect for your office, home, or to give as a personalized gift, Shutterfly's 12x12 calendars are high-quality. Each custom wall calendar prints your monthly photos in rich, vibrant colors and a smooth matte finish. With our custom calendar maker, they're simple to design and make your own. Browse through our personalized calendar templates and choose a design that you love. From seasonal and watercolor designs and everything in between, there are so many photo wall calendar designs to choose from. Wall calendars are available in 8.5×11 and 12×12. If you're looking for something smaller, you may want to consider a desk calendar or an easel calendar.
Create a Custom Wall Calendar With Your Photos
The joy of making a 12x12 wall calendar is uploading your own photos and watching your memories come to life. Place your photos into each month. You can choose each photo at random, or do a photoshoot to give each theme a month. Maybe you want to feature your little one during his or her birthday month. During May, showcase a picture of Mom for Mother's Day. In December, create a collage of family photos to celebrate the holidays. You'll love flipping through the pages each month and seeing your treasured photos hanging on your wall. With each 12x12 calendar style, you can incorporate unique backgrounds, page layouts, and embellishments to enhance each page. Don't forget to include special dates, like birthdays, anniversaries, important events, and whatever else you have planned for the year.
12x12 Custom Wall Calendar Ideas
With Shutterfly, there are endless ways to make a 12x12 custom calendar. Photo calendars are a wonderful and unique way to showcase your favorite photos all year long. Each one is like a one-of-a-kind piece of wall art that changes each month. If you're looking for inspiration on how to design yours, consider some of these 12x12 wall calendar ideas.
Year in Review: Look back at your favorite memories from the last year with your new wall calendar. It's fun to look back at all of your new memories and you can compare how much has changed since the previous year.
Travel: Relieve your most memorable adventures with a 12x12 photo calendar showcasing your best travel pictures. If you haven't traveled in awhile, use your custom calendar as inspiration and fill it with photography of all the places you'd love to visit someday.
Baby: Chronicle all of your little one's milestones and most precious moments in a 12x12 wall calendar showcasing their most adorable snapshots.
Pets: A pet calendar makes the perfect gift for any animal lover. Fill the pages with the cutest pictures of your pet and you'll smile each month as you flip through the pages.
Related Products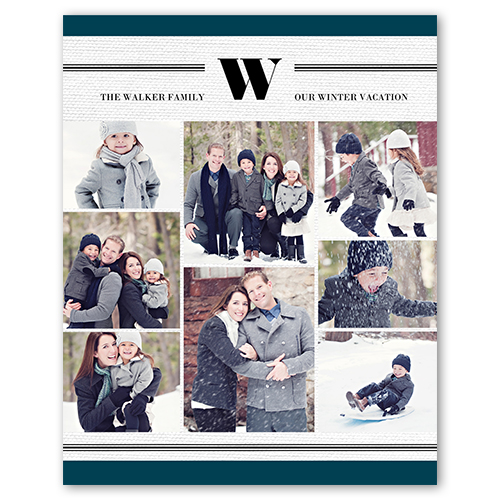 Classic Monogram Collage Poster Print by Shutterfly. Upload your own photos and easily make custom posters for a piece of wall art. Create photo collage posters out of your favorite memories and images. Add your monogram and family name to ...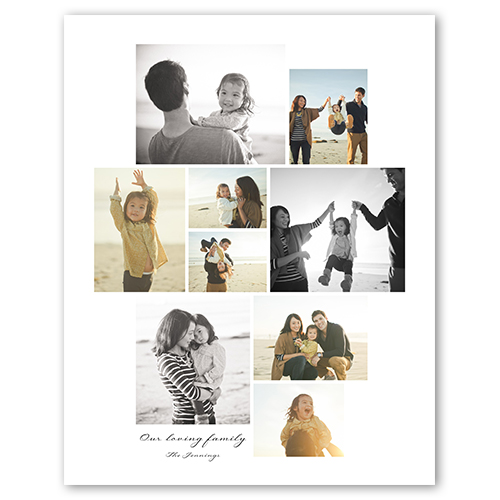 Modern Collage Poster Print by Shutterfly. Upload your own photos and easily customize templates to create a unique piece of wall art. Create photo collage posters out of your favorite memories and images.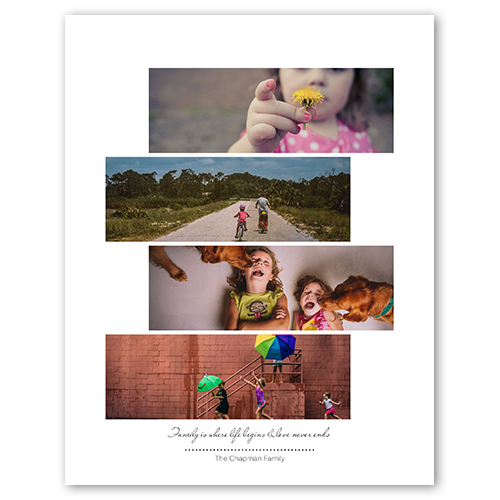 Showcase your best photos with a panoramic collage poster. Add unique layouts, backgrounds, and custom text to make your panoramic photo collage your own. Upgrade the walls of your house with custom panoramic posters perfect for any occasion.