No Photo Birth Announcements
What customers have to say about our Birth Announcements
January 25, 2019
A Hit With All the Family!
"We used this card as a birth announcement and thank you card for our baby shower attendees. It's on a nice heavy cardstock, and the print was super clear. With my first order there was a smear on the return address on the back of the envelope, but no big deal. With the first order I also didn't receive the blank envelopes I ordered. The second order everything was perfect. I would highly recommend!"
January 24, 2019
Very nice cards
"Super classy cards"
January 24, 2019
Great buy
"Looks and feels great. Came so quickly and is such great quality!"
January 22, 2019
So sweet
"Easy to create!sweet design"
January 22, 2019
Love this product!!
"I love the simplicity of this birth announcement, it was easy to make and arrived on time!"
No Photo Birth Announcements
Whether you've just welcomed a precious baby boy or girl into the world—or you've been blessed with more than one—it's a momentous occasion that all of your loved ones need to know about. Easily share your wonderful news by sending out stylish no photo birth announcements from Shutterfly.
Our collection of announces features a range of memorable designs that family members and friends will be delighted to receive. Share all the exciting little details about the new member of your family in a one-of-a-kind card that's sure to become a keepsake.
Design Custom Birth Announcements
With a range of modern designs, including options for both photo and no photo birth announcements, you'll be able to share the news of your baby's arrival in a way that best captures your personality and style.
Choose from adorably girly, sweetly boyish and gender-neutral designs, as well as no photo birth announcement options depending on your preference. Then conveniently personalize your cards with Shutterfly's user-friendly customization tools, including a variety of colors, themes and formats that include flat and gate-fold card styles. There's no shortage of ways to create a unique and memorable card for this joyous occasion.
Add an Extra Personal Touch
Be sure to check out our personalized stationery items to adorn your envelopes. Adding no photo address labels and photoless stickers will ensure your birth announcements will grab the attention of your recipients as soon as they open their mailboxes.
Related Products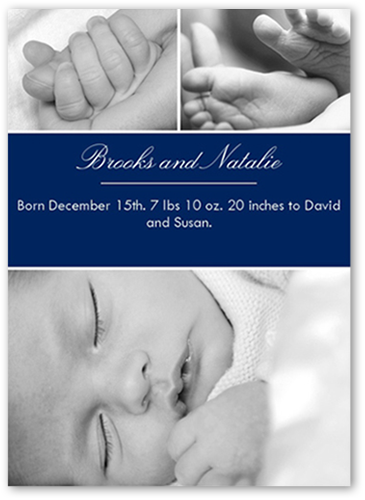 Big Blocks Navy 5x7 Photo Card by Shutterfly. A navy ribbon adds distinguished color to this classic photo card. Surround a greeting or event details with three gorgeous photos.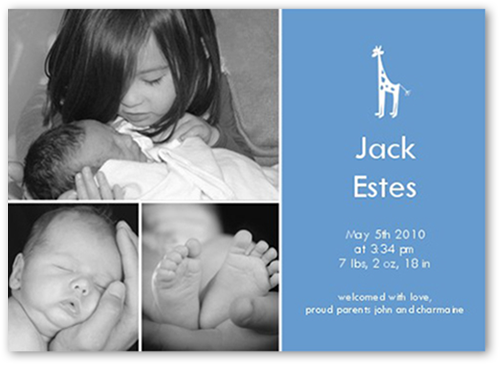 Giraffe Gallery Blue 5x7 Photo Card by Shutterfly. He was worth the wait but don't keep everyone else waiting now. Welcome your newest loved one with this adorable birth announcement featuring a cuddly giraffe and space for three lovely pictures. ...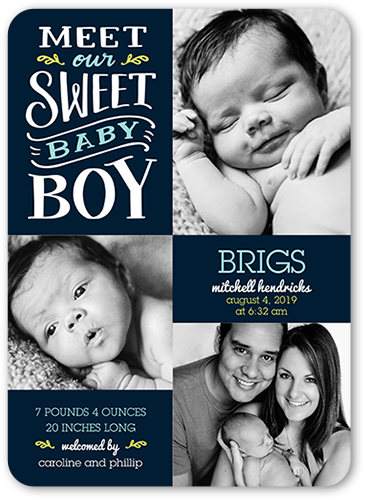 Scripted Debut Boy 5x7 Birth Announcement Cards. Announce your newest arrival with this stylish birth announcement. Add your baby name, a photo with the news everyone waiting for