What customers have to say about our Christmas Cards
January 27, 2019
I highly recommend this card!!
"Absolutely love this card they came out perfect!"
January 23, 2019
good purchase
"Paper is excellent quality as is the envelope. Shipping can be high unless you are ordering a larger number of cards but I only bought one."
January 23, 2019
I will absolutely use this product again.
"The first time I have used Shutterfly for our annual greeting card. Very pleased and will use again."
January 22, 2019
Chinese New Year
"Christmas came too soon. No cards went out. New Year's came and went! Still no cards were sent out. But thanx to Shutterfly, made it for a Chinese Greeting! Beautiful cards front and back with pictures of family sent! Halleluah!!!!!"
January 22, 2019
I looved these cards and they arrived so quickly!
"Shutterfly makes last minute projects easy .. I love these holiday cards and continue to make photo books each month with their app as well as edits on desktop site. I love Shutterfly!"
No Photo Christmas Cards
Increasingly popular, photo Christmas cards can be a great way to share views of you and your family in the holiday season, but not everyone wants to put a picture on their Christmas cards. Luckily, Shuttefly has a wealth of easy-to-make no photo Christmas cards that can still be personalized with unique season's greetings. Explore our collection of zero photo Christmas cards to find one that suits your aesthetic and interest and customize it to your heart's content.
Say Merry Christmas with Custom Photoless Christmas Cards
Want to say "happy holidays" in a personal way without attaching a photo? No photo Christmas cards make exceptional choices. You can add a one-of-a-kind message to these cards so they still have your unique touch. Include everyone's name, your family's surname, a personal greeting, or a combination of any of the above. And if you decide to add a photo partway through creating this holiday greeting card online, it's easy to do so. Our collection of no-photo cards has no shortage of visual delight with its assortment of beautiful, creative illustrations, including snowflakes, reindeer, wreaths, mistletoe, Christmas trees, and even, for those celebrating the holiday season in warmer climes, Christmas lights wrapped around a large, green cactus.
So Many Reasons to Send No-Photo Christmas Cards
There are many reasons why someone may want to create a unique Christmas card without a photo. Perhaps you're planning to include a loose photo inside the card. Maybe you don't want you or your family members to be the focus of the card. Then again, maybe you're simply making a last minute Christmas card and don't have time to take photos and upload them. Whatever your reasoning, no photo Christmas cards allow you to create a holiday card that can be printed (and addressed) in great numbers for easy mailing while still being distinctive and personal. Instead of being stuck with photo-free, mass-produced cards from a big box store, you'll have charming no-photo Christmas cards made unique just for you and yours.
How to Customize 0 Photo Christmas Cards
Sure, adding a photo to a holiday card is a great way to make that card distinctive, but there are so many other ways to add a personal touch to cards that don't include adding pictures. For one, you can customize your Christmas greeting. Our cards feature greetings galore, from staples like Merry Christmas and Happy Holidays to ones emphasizing joy, incorporating festive phrases like "deck the halls," and helping you celebrate a new home in a new year. Other customization options include modifying your card colors, text color and size, trim, and even by adding gold, rose gold, or iridescent foil.
Other Ways to Personalize Your Xmas Cards
Once you've created your no-photo Christmas card, you might want to select personalized Christmas address labels for the envelopes. These can further reflect your holiday spirit while still remaining, if you prefer, photo-free. Choose a cozy Christmas theme to match the holiday, or select return address labels with a more general theme that can be used all year. Your Christmas envelopes will charm your recipients even before they see the card you've made.
Related Products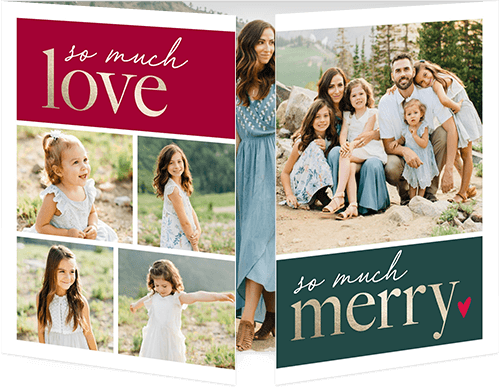 Color Slice 5x7 Gate Fold Card by Yours Truly. Let your story unfold with this unique card that opens up from the middle to reveal your photos like a present. Enjoy more room for photos and text than a standard ...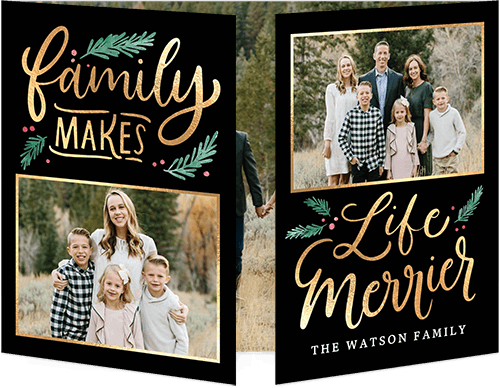 Livelier Family 5x7 Gate Fold Card by Yours Truly. Let your story unfold with this unique card that opens up from the middle to reveal your photos like a present. Enjoy more room for photos and text than a standard ...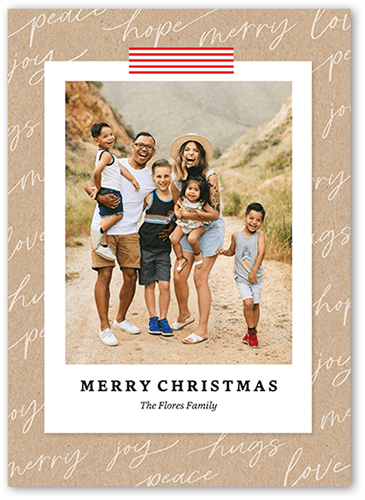 Christmas Polaroid 5x7 Stationery Card by Yours Truly. Send a Christmas card friends and family will love. Add your own greeting and everyone's names. There's room for more photos and wishes on the back, too.