Photo Baby Shower Invitations
What customers have to say about our Baby Shower Invitations
January 26, 2019
I would buy this again definitely!
"This invitation is beautiful I just wish the liners that came with it stuck better"
January 25, 2019
Perfect invite
"These are so cute and came exactly as I expected. Love them!"
January 24, 2019
In love with the shower invites
"These invites are so cute. They came just as ordered. I love shutterfly. They never disappoint."
January 22, 2019
I would buy this product again.
"Bought this for my baby shower invitations and it exceed my expectations."
January 21, 2019
I really liked my purchase experience
"I needed to order baby shower invites. I was pleasantly surprised to find out I could have Shutterfly take care of the invitees addresses, return addresses, and stamps! What a time savor! And the invitations are adorable!!"
Photo Baby Shower Invitations
Nothing heralds the arrival of a new family member than one photo baby shower invitations. New parents everywhere can relax knowing that the one photo invitations they use to announce and invite everyone to the event of the year are the best. Whether it's a baby boy or baby girl, your photo baby shower invitations will start things off the right way. Shutterfly helps with a great selection of high quality baby announcements, photo books and greeting cards sure to please all who receive them.
Convenient Baby Shower Invitations
If you are planning a baby shower or baby sprinkle for someone else, you need to be mindful of how the new mom feels about sending one photo baby shower invites. Sometimes the new mom-to-be may not feel like being very social during the last stages of her pregnancy. That doesn't mean that she can't have a great baby shower and receive great baby shower gifts. It just means you may need to plan the event to occur after the new baby's arrival. You'll have more time to get the right photo cards, design templates, decorations and finalize all of the baby shower details.
Baby Shower Invitations to Honor the Special Guest
Adding pictures to your baby shower invites, photo cards and stationery is a great way to show everyone who the special guest of honor is, especially if you are having the event after their birth announcement. Even if the new mom is not ready to have her baby around everyone just yet at the baby shower, it's more convenient for you to use photos so everyone can still get their first glimpse of the new family member. In addition to photos, you can add a cute message, like 'oh baby' to any one photo baby shower invitation.
Personalize Your Baby Shower Invites
If the baby shower is taking place before the birth, you can use some pictures from the new parents' maternity photo shoot or the mom-to-be's ultrasound in your baby shower invitation. With our high quality cardstock, photos and design templates, you can transform your baby shower or baby sprinkle invitations into something that is both unique and extraordinary. Personalize your baby shower invitations with confetti or watercolor accents. Once all of the planning has been taken care of, don't forget to add a final touch of finesse to impress your guests. Shutterfly lets you create adorable baby shower prints and photo books to keep memories of the day alive. Personalized baby thank you cards are sure to add a memorable finishing touch to the baby shower.
Related Products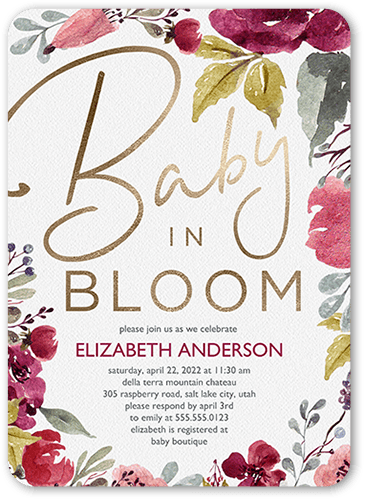 Baby in Bloom 5x7 Stationery Card by Éclair Paper Company. Shower her with love and a stylish baby shower invitation. Personalize it with the party details.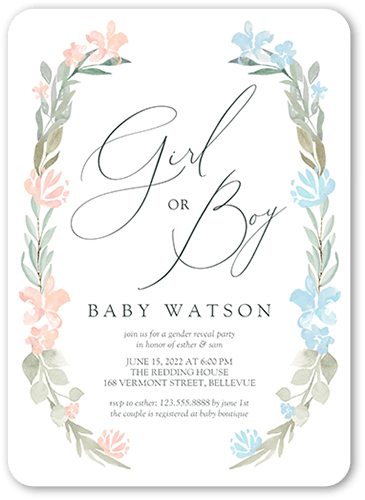 Gentle Floral Frame 5x7 Stationery Card by Poppy Studio. Shower her with love and a stylish baby shower invitation. Personalize it with the party details.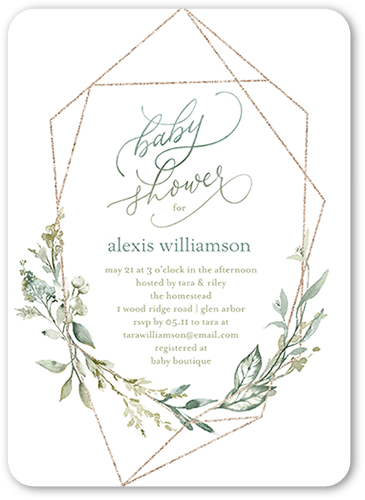 Geometric Floral Frame 5x7 Stationery Card by Lady Jae. Shower her with love and a stylish baby shower invitation. Personalize it with the party details.