What customers have to say about our Birth Announcements
January 25, 2019
A Hit With All the Family!
"We used this card as a birth announcement and thank you card for our baby shower attendees. It's on a nice heavy cardstock, and the print was super clear. With my first order there was a smear on the return address on the back of the envelope, but no big deal. With the first order I also didn't receive the blank envelopes I ordered. The second order everything was perfect. I would highly recommend!"
January 24, 2019
Very nice cards
"Super classy cards"
January 24, 2019
Great buy
"Looks and feels great. Came so quickly and is such great quality!"
January 22, 2019
So sweet
"Easy to create!sweet design"
January 22, 2019
Love this product!!
"I love the simplicity of this birth announcement, it was easy to make and arrived on time!"
Photo Birth Announcements Share the Love
The arrival of a new family member is cause for celebration, and parents are not shy about sharing their joy. Photo birth announcements are the ideal way to spread the news, offer the traditional information and include a shot that showcases the baby's personality. At Shutterfly, we are happy to create customized photo birth announcements that are as unique as your new bundle of joy. We have hundreds of different themes, designs, formats and papers that will showcase your baby and all the joy he or she brings to your extended friends and family.
Photo Formats
It can be difficult to choose just a single photo of your new arrival when every one is a gem. We understand. That's why we offer templates that include positions for between one and four adorable photos. You can include siblings in some of your photo selections or a shot of the whole family. What better place for close-ups of tiny noses or toes than on a photo birth announcement? No matter where they are, recipients will get acquainted with the new addition through the photos you choose to share.
All Occasions
Although they are most often used to share news of a birth, our announcements are perfect for special circumstances as well. Adoptive parents will want to share their exciting news. Families who bring older children into the fold can share group shots of all the siblings and parents. Twins and other multiple births can be introduced together and as individuals, each with their own opportunity to shine. Families who adopt foster children can share the news with our announcements as well.
Bounty of Theme
We love design at Shutterfly, so we have literally hundreds of template options for your photo birth announcements. Here are some selections that can help you winnow your options:
Theme: Choose among floral motifs, textures and patterns, religious birth announcement themes and many others.
Color: Go with traditional colors for girls or boys, or select gender-neutral colors such as green, yellow or black and white. Browse over 100's of baby shower themes for boys and girls.
Shape: Birth announcements are the perfect use for custom edges such as scalloped, brackets, ticket or rounded.
Designer: Popular options include Blonde Designs, Stacy Claire Boyd and Yours Truly.
Design Your Announcement Today
It is easy to get started designing the perfect photo birth announcements right away. Simply use our handy filtering tools to narrow down your choices, and then get to work. When you are ready to order, choose among our shipping options to select the arrival time you need.
Related Products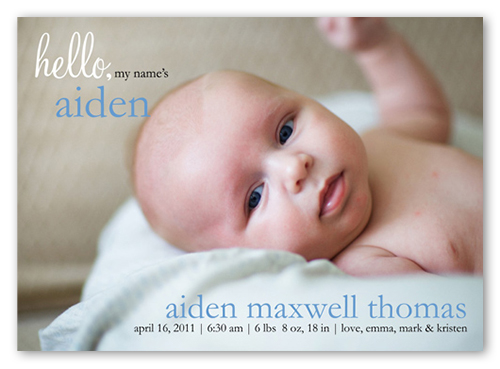 Blue Note Birth Announcement 5x7 Stationery Card by Stacy Claire Boyd. Hello, my name is. Add your baby boy's name and favorite photo to this modern birth announcement to let the world know he is finally here.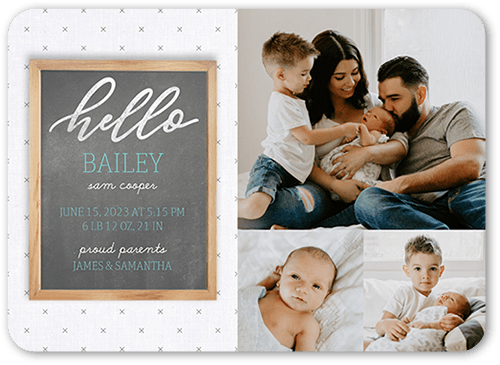 Chalkboard Beginning 5x7 Stationery Card by Petite Lemon. Announce your newest arrival with this stylish birth announcement. Add your baby's name, a favorite photo and the news everyone's been waiting for.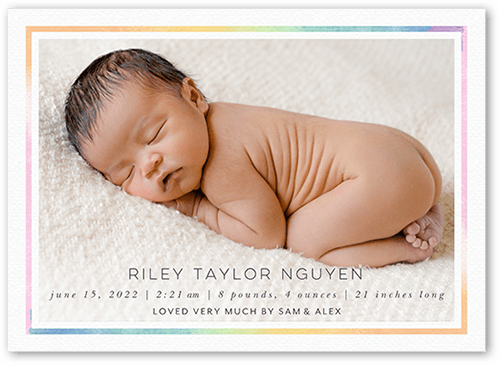 Color Border 5x7 Stationery Card by Yours Truly. Announce your newest arrival with this stylish birth announcement. Add your baby's name, a favorite photo and the news everyone's been waiting for.