What customers have to say about our Christmas Cards
January 27, 2019
I highly recommend this card!!
"Absolutely love this card they came out perfect!"
January 23, 2019
good purchase
"Paper is excellent quality as is the envelope. Shipping can be high unless you are ordering a larger number of cards but I only bought one."
January 23, 2019
I will absolutely use this product again.
"The first time I have used Shutterfly for our annual greeting card. Very pleased and will use again."
January 22, 2019
Chinese New Year
"Christmas came too soon. No cards went out. New Year's came and went! Still no cards were sent out. But thanx to Shutterfly, made it for a Chinese Greeting! Beautiful cards front and back with pictures of family sent! Halleluah!!!!!"
January 22, 2019
I looved these cards and they arrived so quickly!
"Shutterfly makes last minute projects easy .. I love these holiday cards and continue to make photo books each month with their app as well as edits on desktop site. I love Shutterfly!"
Photo Christmas Cards
There's no better way to send holiday cheer this season than with a Christmas card. This year, take your correspondence to the next level by sending photo Christmas cards designed with your favorite pictures. Whether you want to feature one image you love or send a holiday greeting with a photo collage, there are endless ways you can customize your photo Christmas card with Shutterfly.
Celebrate the Season With Photo Christmas Cards
The holiday season is chaotic. But just because you don't have time to sit down and write a holiday letter or year-in-review recap, that doesn't mean you should skip out on sending a holiday cards to those closest to you. A picture is worth a thousand words, so send friends and family a holiday greeting card with snapshots of your smiling faces and pictures of the last year. Photo Christmas cards allow you to tell the story of your year with one or multiple images set upon a card of festive cheer. Whether you're sending custom Christmas cards with a traditional family photo, a candid image with your friends, or a scenic photograph you took on your last vacation — your loved ones will appreciate the custom holiday greeting.
How to Make Personalized Christmas Cards
There's no better way to say "Merry Christmas" than with a personalized Christmas photo card made by you. Shutterfly has everything you need to transform your favorite memories into beautifully printed photo Christmas cards. Choose your preferred cad design and upload your photos so you can send the perfect holiday greeting to family and friends. Whether you want to make a card decorated with elegant snowflakes, make glittering personalized foil cards, or create a greeting that's more sleek and modern, it's easy to make the perfect Christmas card with Shutterfly.
Select the number of photos you want on your season's greetings card and upload a family photo, a travel snapshots, or fun candid pictures to your photo Christmas cards to make them instantly recognizable. Our Christmas photo ideas and tips will help you pick your images and our process will help you personalize your holiday photo cards and modify the text, colors, and messaging to your preference. Looking for what to write on a Christmas card? View our Christmas card sayings for ideas and inspiration to make a Christmas card that's as special as you are. It is so easy to use that you will get into the holiday spirit in no time.
Embellishing Your Custom Christmas Photo Cards
Photo Christmas cards are a great way to tell your family's story to loved ones and make for a wonderful keepsake for the home long after the holiday décor is taken down. If you're throwing a holiday get-together to celebrate the season, make sure to send holiday party invitations to get your guests excited. Take your cards up a notch with corresponding Christmas return address labels that will make your piece of snail mail stand out among the stack. To show your loved ones how much you care, create a personalized gift they can keep under their Christmas tree to make them smile on Christmas morning. If you missed creating Christmas cards in time, you can always send holiday wishes in a personalized New Year's card. After the holidays, show your appreciation for the thoughtful gifts with a custom thank you card.
Related Products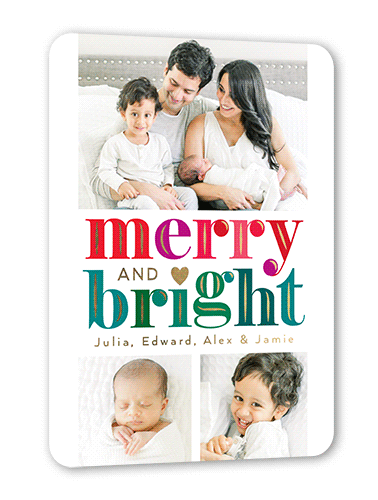 Delightful Letters 5x7 Personalized Foil Card by Stacy Claire Boyd. Send a Christmas card friends and family will love. Add your own greeting and everyone's names. There's room for more photos and wishes on the back, too.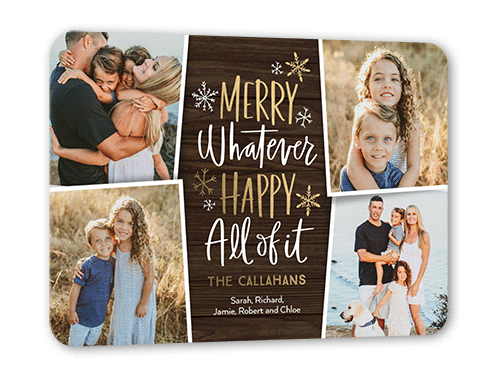 Merry Whatever 5x7 Personalized Foil Card by Stacy Claire Boyd. Send a Christmas card friends and family will love. Add your own greeting and everyone's names. There's room for more photos and wishes on the back, too.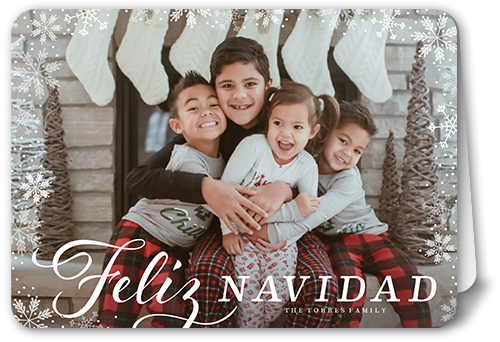 Sentimento Especial 5x7 Tarjeta de Navidad Card by Yours Truly. Share holiday memories con familia y amigos by adding a special personalized message to your customized tarjeta de Navidad – including all Spanish letras and acentos. It's the perfect regalito ...