Halloween Photo Invitations
What customers have to say about our Halloween Invitations
January 22, 2019
Personalized Card Bliss
"Great quality card made from personal photo and personalized captions. Sometimes a store bought card doesn't capture the sentiment you're trying to portray. This is a fantastic option to create your own!"
January 12, 2019
Shutterfly products always look great!
"If you love one of your photos, turn it into a card! Whether it's a Thank you card, a sympathy card, a birthday card or any other kind of card, it'll turn out great!"
January 10, 2019
It exceeded my expectations
"Great, professional results"
"quick and easy. Great pricing."
January 4, 2019
I love these Birthday Invitations!
"These invitation look even better than I expected. The Pearl Shimmer added a nice touch to it!"
A Halloween Photo Invitation with Spooktacular Style
Welcome friends and family to celebrate your favorite holiday with custom Halloween invitations from Shutterfly. This ghoulish collection of eye-catching designs are great for a fun children's party or a wicket costume party for adults. The Halloween photo invitations you choose help to set the stage for the theme of your event. Make them even more special with the creative personalization process.
Design Boo-tiful Halloween Photo Invitations
Halloween invitation designs from Shutterfly feature placeholders for photos and custom text detailing your event. Utilize the artistic, step-by-step personalization process to add your favorite snapshots. What a fun way to use pictures from Halloweens of the past. These invitations come in a range of sizes from which to choose. Each one comes with envelopes for mailing.
Your completed design ships to your home, allowing you to address the envelopes by hand for a traditional and personal touch. For a convenient option, supply Shutterfly with your guest list for direct mailing of the invitations. Including RSVP information on the invitation makes party planning easier.
Add Halloween Stationery Accessories
Enhance the spooky style of your Halloween photo invitations with coordinating stationery accessories. Festive return address labels, postage stamps, and stickers help make the envelope as stylish as the invitation housed inside. Do you mail out cards and invitations frequently? If so, a custom return address stamp makes a great addition to your desk. This stamp is useful every time you mail something out. The same guided personalization process us used to put your touch on these stationery accessories, too.
Planning the Ultimate Halloween Party
Halloween is a fun occasion for people of all ages. Make your Halloween party one everyone will remember for years to come by planning every detail, from initial decorations to a tasty menu your guests will love. The Shutterfly Ideas page is a great place to get the inspiration you need.
This blog offers articles surrounding every holiday. Discover great decorating tips, read about proper invitation etiquette, get ideas for festive decorations, and work out the perfect menu with the help of the posts available on this page. You'll even find some halloween birthday invitations and halloween wording ideas for the invitations you design. The Ideas page is a resource for other holidays too. Use it to discover thoughtful gifts for birthdays, graduations, weddings, and all life's best moments.
Related Products
Animal Friends Girl 5x7 Photo Card by Shutterfly. Another year older. Another year of fun. Invite all the guests with this stylish birthday invitation. Just add your favorite photos and all the event details.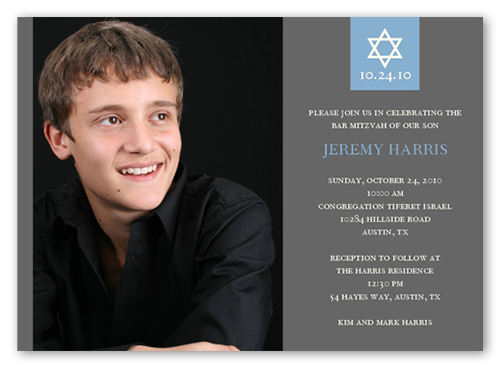 Bar Mitzvah Grey Bar Mitzvah Party Invitation. A white Star of David against pale blue complements the gray background that holds the Bar Mitzvah celebration details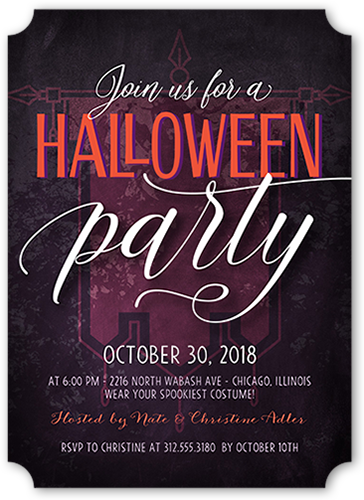 Creepy Celebration 5x7 Stationery Card by Float Paperie. Invite all the ghouls and boys with this hauntingly good Halloween invitation. Just add all the spooktacular details.