Photo Hanukkah Cards
What customers have to say about our Hanukkah Cards
January 23, 2019
good purchase
"Paper is excellent quality as is the envelope. Shipping can be high unless you are ordering a larger number of cards but I only bought one."
January 22, 2019
Chinese New Year
"Christmas came too soon. No cards went out. New Year's came and went! Still no cards were sent out. But thanx to Shutterfly, made it for a Chinese Greeting! Beautiful cards front and back with pictures of family sent! Halleluah!!!!!"
January 15, 2019
I have so much fun using my pictures on products.
"I have so much fun making unique gifts with my pictures. It makes me feel professional when I am very much an amateur."
January 14, 2019
Outstanding customer service
"The customer service agent who helped me with order 003086838129-9000112 was extremely helpful. I had problems making a Christmas card and she solved all of them. The Card was perfect with her changes. She was very kind and patient. I had an unavoidable interruption while we were working together and she assured me that she would wait on the phone until I could continue. She was committed to help me in every way she could. This was a unique customer service experience! Please thank her for me."
January 13, 2019
Quality cards
"Quality cards delivered in a timely manner!"
Photo Hanukkah Cards
The Festival of Lights is a time for coming together and reconnecting with family and loved ones. When you want to make sure everyone in your extended circle knows that you are thinking of them while sharing your remembrances of the holiday and the season, photo Hanukkah cards are a great way to update everyone, whether they are nearby or far away, and to include a message about your family or your Jewish faith that means something to you and to everyone you share your life with.
Reconnecting and Remembering
For many families, traveling for every holiday is difficult, but when you have the opportunity to keep in touch with updated photos and the occasional small gift or specialized token, then it gets easier to keep track of what is happening with everyone who is important in your life. Take time out while remembering the story of the Maccabees to reconnect to those who are not with you, and send out a seasonal message that lets them know they are in your thoughts as you share the day with those around you.
Add-ons and Gifts
If you are inclined to add personalized gifts for those closest to you, a variety of keepsakes that contain remembrances from the past year, updated pictures of kids, pets, or the whole family, or even framed photos from your card are available and easy to add to an order of cards. This allows you to choose a few customized keepsakes for the closest friends and relatives in your circle while still taking the time out to remember everybody with a festive photo Hanukkah card, ensuring that your entire list of friends and acquaintances feels loved and remembered.
No matter how you choose to celebrate your Jewish faith or how many people are geographically close to you, this season take the time to reach out to everyone you know, to let them know how important they are to you.
Related Products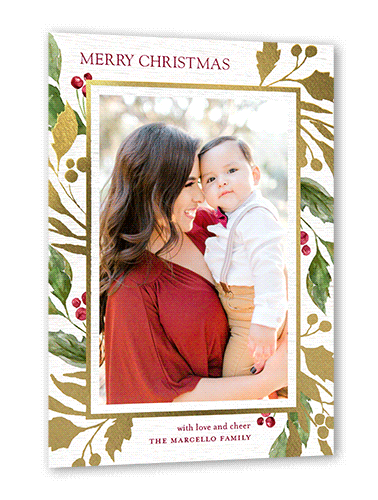 Gilded Berry Frame 5x7 Stationery Card by Lady Jae. Send a Christmas card friends and family will love. Add your own greeting and everyone's names. There's room for more photos and wishes on the back, too.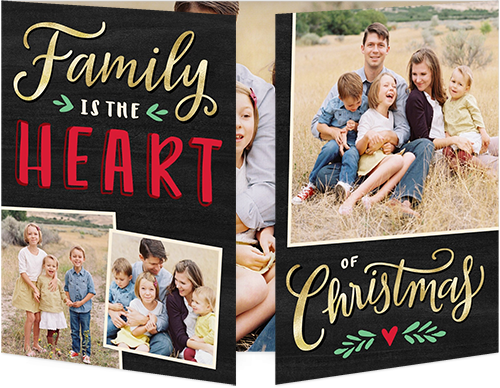 Heart of Christmas Gate Fold by Yours Truly. Let your story unfold with this unique card that opens up from the middle to reveal your photos like a present. Enjoy more room for photos and text than a standard card. ...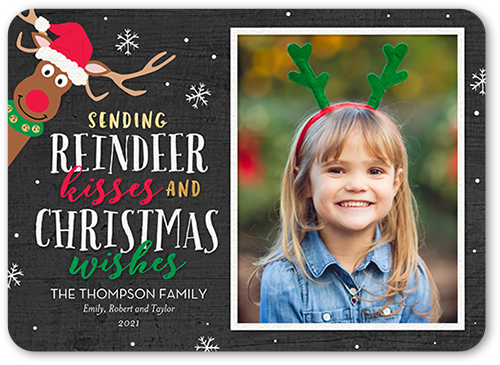 Reindeer Kisses 6x8 Stationery Card by Poppy Studio. Send a Christmas card friends and family will love. Add your own greeting and everyone's names. There's room for more photos and wishes on the back, too.