Photo Holiday Invitations
What customers have to say about our Holiday Invitations
January 23, 2019
good purchase
"Paper is excellent quality as is the envelope. Shipping can be high unless you are ordering a larger number of cards but I only bought one."
January 22, 2019
Cool Invite
"Cool design. Nice quality card. Much nicer than the cards with photos."
January 10, 2019
Nicely finished and printed cards
"The cards turned out really nice. I choose the matte finish, which made the artwork on the front and image inside really pop. Worth the extra money, IMHO. We've used Shutterfly for the past 4 years for our cards and have yet to be disappointed."
January 5, 2019
Fast shipping
"Ordered these late and got them in 2 days wasn't expecting till later. Xmas card come out awesome!"
January 2, 2019
very nice cards delivered on time
"easy to use website, high quality cards delivered on time."
Photo Holiday Invitations
As the holiday season continues to draw near, it's time to prepare! Are you planning holiday parties to celebrate with friends and family? If so, get yourself and your guests excited with photo holiday invitations. Utilize your creativity to put together some eye-popping and fun cards with Shutterfly.
Practical and Creative
Creating invitations comes with a variety of benefits. First, you can place a family photo on the invitations. This type of personalization will represent your family in a fun way and get your guests counting down the days until they can see you. There's no better way to celebrate the holidays than with your family, so why not show off with a beautiful family photo?
Customizing your photo holiday invitations can be a fun experience. You can choose the cardstock, trim options, themes, and more. At the end of the design process, you'll end up with a totally unique invitation. Don't settle for bland invitations! Make your own and have fun doing it.
When You Should Send Your Invitations
As your holiday party approaches, you might be wondering when you should send the invitations out. Anywhere between three and six weeks before the party should give your guests ample time to clear out their schedules and make any travel arrangements. Keep in mind where your guests live so that you can give more time to those who live farther away.
Other Party Supplies
You might also want address labels that match your invitations. Matching all of your stationary is a fun and creative process. Address labels are useful for providing adequate information to your guests. You may also want to send out matching thank you cards after your party if you're expecting to be presented with gifts.
Whether you're planning an ugly sweater Christmas party, a New Year's bash, or something else, you'll get all of your stationary needs taken care of here. Make sure you send out your personalized and unforgettable invitations!
Related Products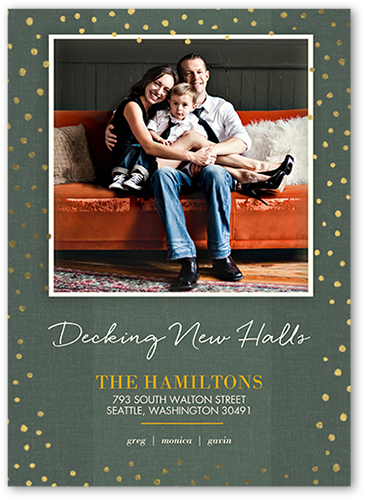 New Halls 5x7 Moving Announcement Cards. Show your favorite picture in this elegant moving announcement. "Home sweet home" is superimposed on the photo along with your new address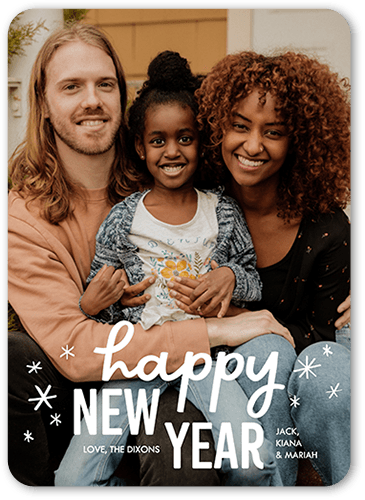 Playful Picture 5x7 Stationery Card by Robyn Miller. It's time to celebrate with stylish New Year's cards. Personalize with your names and send to everyone on your list.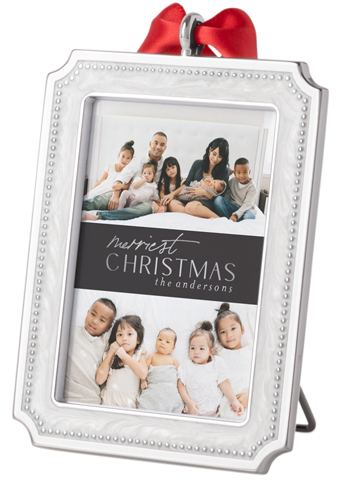 Banded Merry Christmas Picture Frame Ornament by Shutterfly. Add a favorite photo to your Christmas tree with an elegant ornament you'll enjoy year after year. The metal frame holds one photo print, and features a ribbon for hanging and an easel stand ...