1 Photo Wedding Anniversary Invitations
What customers have to say about our Wedding Anniversary Invitations
January 9, 2019
Superior product
"I purchased invitation for our 50th anniversary celebration. The quality of the cards and envelopes is excellent! I am very pleased with the total product. Our daughter helped us get the cards organized and put the correct information on them."
December 20, 2018
Will definitely order more products
"I made 50th Wedding Anniversary Party invites fro my in-laws, and the quality was perfect! Received everything in 1 week!!! I will definitely be back for other projects."
November 1, 2018
Great invitation
"This was used for my inlaws 50th Anniversary. It is nice but casual as the same time. Very good quality!"
October 30, 2018
Shutterfly always does a terrific job, and, are helpful when
"So pleased with the invitations to our 50th anniversary party!"
October 21, 2018
Very pleased with this inviatation
"Text and photos are very clear. Appreciate that we were able to purchase a small amount for this small party."
1 Photo Wedding Anniversary Invitations
Celebrate the right way with a one-photo wedding anniversary invitation! Get everyone excited for your anniversary party with an old photo of the two of you together or a wedding photo if you're celebrating one year together. Shutterfly's custom invitations let you choose what layouts to use as well as the messaging and font styles. When you're done, you'll have an anniversary invitation that successfully shows both of your personalities as a couple. If you're hosting a surprise celebration for your parents, grandparents or another special couple in your life, these custom invitations are an ideal way to spread the word.
Custom Wedding Anniversary Invitations
In our lovely collection of 1 photo wedding anniversary invitations, you'll find a design that's perfectly suited to your event and the personalities of both you and your partner. All of Shutterfly's invitation designs are able to be personalized quickly and easily, making it convenient for you to create a one-of-a-kind, memorable invitation. Once you've selected your favorite invitation template, use the design assistant to customize it further by selecting the fonts, colors and other design elements that match your style. Write your own personalized message and upload a sentimental photo, whether from your wedding day or a recent one. Don't forget to include all the important information your invitees need to know, including the date, time and place your event will take place – as well as any dress code, if applicable. To help you plan properly, include a RSVP-by date and contact name, phone number and email address too.
More Ideas for Personalized Invitations
As you're designing your anniversary party invitations, consider how you can tie in your party theme on the card. Our lace and patterns designs can be perfect for an elegant party, while a sparkle and shine invitation is perfect for a big event, or even a seasonal party. If you want something more classic, stick with our simple invitation designs that can match a variety of party themes. While designing your photo invitation, have some fun with what you choose to display. If you've been married for decades, use a beautiful old photo from your wedding. Your guests will also love seeing family photos if you're married with kids. No matter what you choose, you'll be able to make it your own by customizing the fonts and colors. If you're designing and find that one photo doesn't cut it, choose a photo collage invitation instead. With a multi-photo wedding anniversary invitation, you can add photos throughout the ages and fun before and after photos as well.
Personalized Stationery Accessories
Highlight the importance of your invitations and ensure they get noticed in the mail by adding style and personality to the envelopes they'll be sent in. Shutterfly offers beautiful, coordinating personalized address labels and custom stickers that will create a special presentation that will grab the attention of your recipients when your invitations are delivered. Friends and family members will be absolutely delighted when they receive your personalized invitations and will look forward to celebrating with you!
Related Products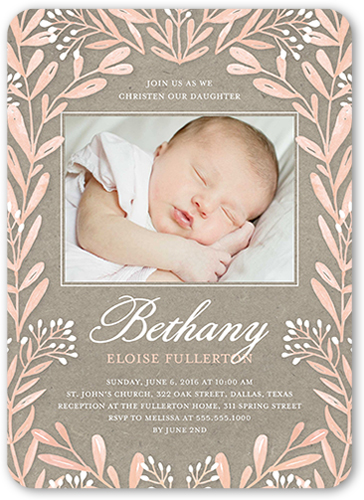 Rustic Frame Girl 5x7 Christening Invitations. Invite everyone to this memorable and blessed occasion. Personalize this baptism invitation with all the event details
Linked Years 5x7 Stationery Card by Kelli Hall. The best love stories are the ones that last. Celebrate a wedding anniversary with a stylish, personalized anniversary invitation. Add photos and all the event details.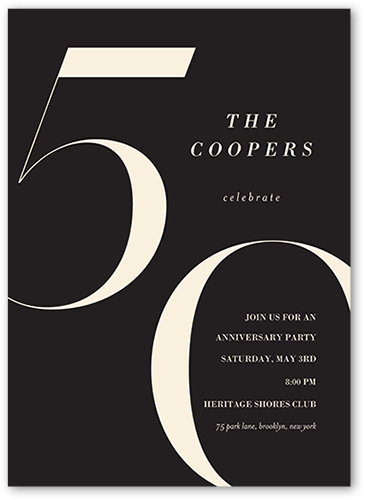 Modern Anniversary 5x7 Stationery Card by Kelli Hall. The best love stories are the ones that last. Celebrate a wedding anniversary with a stylish, personalized anniversary invitation. Add photos and all the event details.