Christmas Cards with 2 photos
What customers have to say about our Christmas Cards
January 27, 2019
I highly recommend this card!!
"Absolutely love this card they came out perfect!"
January 23, 2019
good purchase
"Paper is excellent quality as is the envelope. Shipping can be high unless you are ordering a larger number of cards but I only bought one."
January 23, 2019
I will absolutely use this product again.
"The first time I have used Shutterfly for our annual greeting card. Very pleased and will use again."
January 22, 2019
Chinese New Year
"Christmas came too soon. No cards went out. New Year's came and went! Still no cards were sent out. But thanx to Shutterfly, made it for a Chinese Greeting! Beautiful cards front and back with pictures of family sent! Halleluah!!!!!"
January 22, 2019
I looved these cards and they arrived so quickly!
"Shutterfly makes last minute projects easy .. I love these holiday cards and continue to make photo books each month with their app as well as edits on desktop site. I love Shutterfly!"
Bring a Little Home to the Holidays
The holidays are a time to bring friends and families together to exchange memories and create new ones. When you want to share this sentiment with your friends across the globe, send them personalized two photo Christmas cards to bridge the distance between you. At Shutterfly, you can create unique stationery for all occasions, incorporating your personal photos with dozens of templates.
An Invitation for All This Holiday Season
Planning a big holiday get-together for friends and colleagues? Send them an invite they won't soon forget. Create a custom party invitation, complete with photos, customized text, and design. More than an invitation, give your friends a mantelpiece that can stay up the entire season. Be sure to check out our Ideas section for more ways to liven up the spirit of your party. From Christmas decorating themes to home-crafted trinkets to a two photo Christmas card, learn how you can bring the holidays to life with Shutterfly.
Perfect Holiday Gifts–No Elves Required.
Surprise your friends and family with holiday gifts from the heart. Create personalized items such as pillows, blankets and cocoa mugs–everything you need to stay cozy during the winter months. Upload your favorite photos to your My Shutterfly account and drop them into any one of our templates. You can also upload your own design for many of our products. Let your creative side call the shots as you personalize gifts for everyone on your list.
Let's begin your next project today. If you haven't already, sign up for a My Shutterfly account, where you can upload photos, save designs and store payment information all in one location. Plus, you can connect with your social media profiles, including Facebook and Instagram, where you can upload your photos into your project. Unleash what inspires you and create photo Christmas gifts and Christmas cards this year with Shutterfly.
Related Products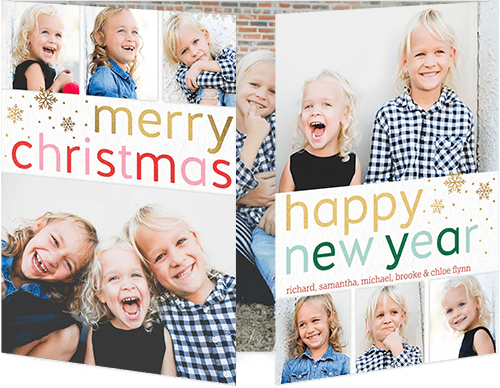 Lively Flurry 5x7 Gate Fold Card by Petite Lemon. Let your story unfold with this unique card that opens up from the middle to reveal your photos like a present. Enjoy more room for photos and text than a standard ...
Memorable Cheer 5x7 Tri-Fold Stationery Card by Petite Lemon. Send a Christmas card friends and family will love. Add your own greeting and everyone's names. There's room for more photos and wishes on the back, too.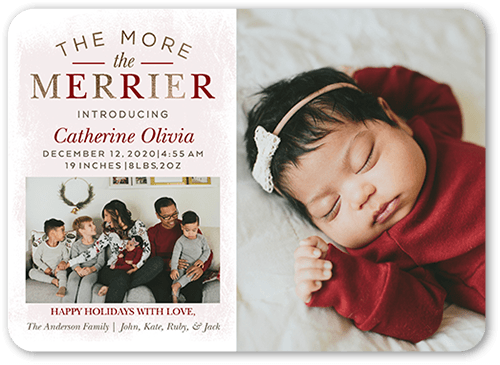 Merry Life 5x7 Stationery Card by Sarah Hawkins Designs. Send a Christmas card friends and family will love. Add your own greeting and everyone's names. There's room for more photos and wishes on the back, too.