Photo Collage Baby Shower Invitations
What customers have to say about our Baby Shower Invitations
January 26, 2019
I would buy this again definitely!
"This invitation is beautiful I just wish the liners that came with it stuck better"
January 25, 2019
Perfect invite
"These are so cute and came exactly as I expected. Love them!"
January 24, 2019
In love with the shower invites
"These invites are so cute. They came just as ordered. I love shutterfly. They never disappoint."
January 22, 2019
I would buy this product again.
"Bought this for my baby shower invitations and it exceed my expectations."
January 21, 2019
I really liked my purchase experience
"I needed to order baby shower invites. I was pleasantly surprised to find out I could have Shutterfly take care of the invitees addresses, return addresses, and stamps! What a time savor! And the invitations are adorable!!"
Photo Collage Baby Shower Invitations
One of the many benefits of using personalized stationery and invitations is you get to decide how you want them to look. You don't have to stick with using one image on them when there may be several photos that you feel are more fitting for the event. Photo collage baby shower invitations allow you to highlight many of the emotions and special moments that have transpired in your life leading up to this special event. Instead of having to choose just one image, you can choose several and avoid the pressure that often comes with making this kind of decision.
Increases the Possibilities
If this isn't your first baby, then the appropriate term for your baby shower event is baby sprinkle. You may be looking for ways to set this particular event apart from all of the other baby showers you've ever had. Collages enable you to do that and more. You can create the perfect baby shower invitations by taking a few carefully selected pregnancy photos and using them to tell a beautiful story about the events that led up to the highly-anticipated arrival of your newborn. You can show the progression of the pregnancy or the parents-to-be as that special day gets closer.
Using photo baby shower invitations gives you the opportunity to make several choices so you are not forced to go with just one picture. Think of all of the time and frustrations you can save yourself by using several images that you like the most for all of your decorations, personalized items and invitations. You can make every special event in your life as unique as possible with minimal fuss and investment. With all of the planning that goes into the perfect baby shower, you can't go wrong with using collages for all of your personalized stationery needs, like baby thank you cards and baby address labels.
Related Products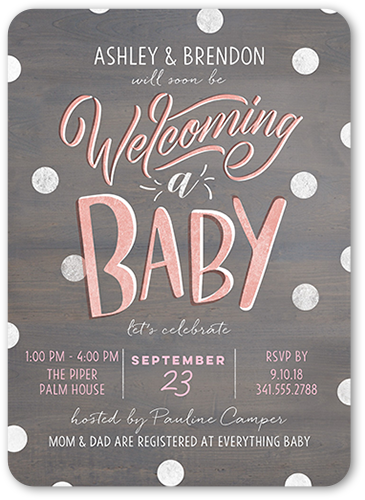 Amazing Type Girl 5x7 Baby Shower Invitation Cards. Shower her with love and a stylish baby shower invitation. Personalize it with the party details.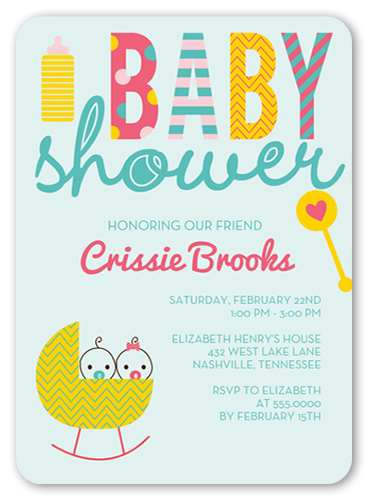 Cute Cradle Twins 5x7 Neutral Baby Shower Invitations by Hello, Kelle. Shower her with love and a stylish baby shower invitation. Personalize it with the party details.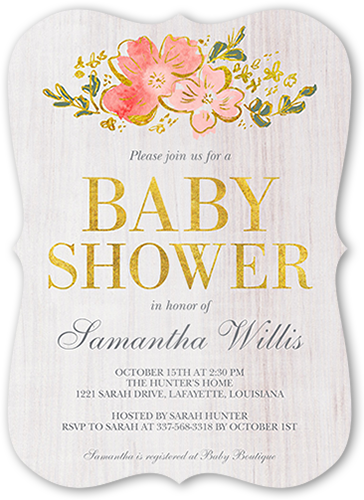 Decorative Woodgrain 5x7 Baby Shower Invitation Cards. Shower her with love and a stylish baby shower invitation. Personalize it with the party details