Photo Collage Birth Announcements
What customers have to say about our Birth Announcements
January 25, 2019
A Hit With All the Family!
"We used this card as a birth announcement and thank you card for our baby shower attendees. It's on a nice heavy cardstock, and the print was super clear. With my first order there was a smear on the return address on the back of the envelope, but no big deal. With the first order I also didn't receive the blank envelopes I ordered. The second order everything was perfect. I would highly recommend!"
January 24, 2019
Very nice cards
"Super classy cards"
January 24, 2019
Great buy
"Looks and feels great. Came so quickly and is such great quality!"
January 22, 2019
So sweet
"Easy to create!sweet design"
January 22, 2019
Love this product!!
"I love the simplicity of this birth announcement, it was easy to make and arrived on time!"
Showcase Your Bundle of Joy With a Birth Announcement
Babies provide an endless stream of photo opportunities, and what better way to spotlight some of your great shots than with photo collage birth announcements? At Shutterfly, we've gathered more than 100 template options that have room for multiple photos of your new addition.
You won't be stuck choosing a single shot to introduce your newborn because we all know how difficult choosing a single gem can be. We know that sharing every aspect of your baby's personality, such as maternity photos, could require many different photos, so we are ready to help.
Photo Subjects
Whether you hired a professional to photograph the newest member of the family or you rocked the camera yourself, you likely have an array of different poses to choose from. Here are some themes you could go with:
Sleepy time: Most brand-new babies sleep all the time. This presents a lot of opportunities for adorable poses. Maybe choose a full-body pose for the main shot in the collage, and then have a close-up of toes and a shot with the baby yawning in the other slots.
Wide awake: Slightly older babies offer more awake-time photo options. If you are lucky enough to get a smile, that would make a terrific main image. Other photo positions might include the baby looking out from under a blanket, a yawn, the child propped up on its elbows or even the baby wearing a kicky hat.
Family time: Many parents like to feature the whole family in their photo collage birth announcements. The card could feature the baby alone, with the parents, with other siblings or any mix of these.
Choosing Text
Photo birth announcements don't include a great deal of room for text, but that's because we want the new baby to get all the attention. Still, when it comes to choosing which information to include, you've got some options:
Just the facts: The traditional things to add would be the baby's name, date of birth, length and weight.
Family: Instead, you could choose to include the child's name along with the parents' and siblings' names, especially if some of the photos are family shots.
Neutral: Or include a simple sentence such as "The Millers welcomed baby Tyler Grayson to the family on Oct. 3, 2016."
Share Your News Quickly
It's important to know when to take newborn photos, which are typically taken five to twelve days after giving birth. Are you ready to create a photo paper birth announcement card to announce your new arrival? Get started today by choosing from all our templates and then adding your custom features. Learn more about shipping options, and then get ready to share the joy!
Related Products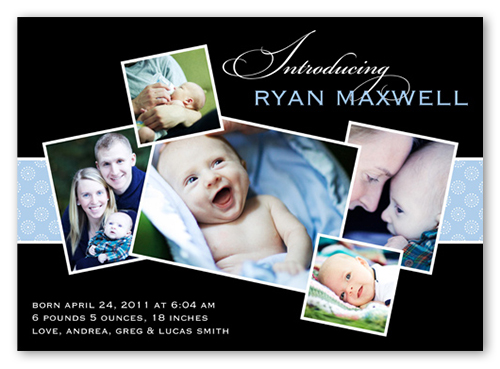 Introducing Him Birth Announcement 5x7 Stationery Card by Stacy Claire Boyd. Introduce him with your favorite photos from his cute nose down to his little toes. A sky-blue ribbon adds an elegant accent to this baby announcement.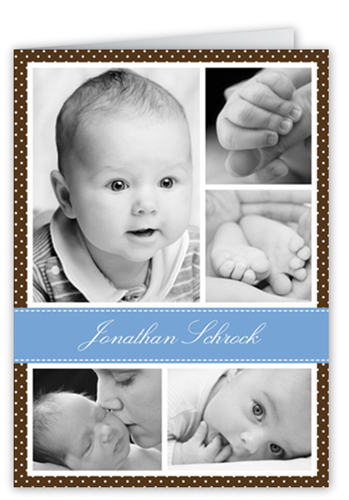 Chic Screen Blue 5x7 Greeting Card by Stacy Claire Boyd. Create a collage of your son's first moments. Featuring a dotted brown frame and powder-blue band, this baby announcement is sure to melt hearts.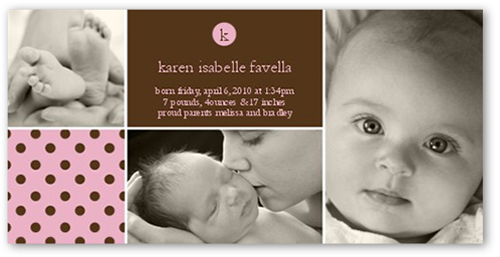 Andante Dots Pink 4x8 Photo Card by Shutterfly. One part sweet and one part modern. Pretty polka dots in pink and brown gives this baby girl announcement stylish appeal. Add baby's initial to this collage photo card to create something ...