Christmas Photo Collage Cards
What customers have to say about our Christmas Cards
January 27, 2019
I highly recommend this card!!
"Absolutely love this card they came out perfect!"
January 23, 2019
good purchase
"Paper is excellent quality as is the envelope. Shipping can be high unless you are ordering a larger number of cards but I only bought one."
January 23, 2019
I will absolutely use this product again.
"The first time I have used Shutterfly for our annual greeting card. Very pleased and will use again."
January 22, 2019
Chinese New Year
"Christmas came too soon. No cards went out. New Year's came and went! Still no cards were sent out. But thanx to Shutterfly, made it for a Chinese Greeting! Beautiful cards front and back with pictures of family sent! Halleluah!!!!!"
January 22, 2019
I looved these cards and they arrived so quickly!
"Shutterfly makes last minute projects easy .. I love these holiday cards and continue to make photo books each month with their app as well as edits on desktop site. I love Shutterfly!"
Christmas Photo Collage Cards
There is perhaps no grander way to send photo Christmas cards than with collage Christmas cards. With a photo collage, you're able to tell a visual story, document a thrilling trip, give each member of your large family his or her own spotlight, mix and match family members and pets in different photos, and more. This year, send a custom photo collage Christmas card from Shutterfly—one that shows off a little bit of everyone.
What To Include In Your Christmas Collage Card
The options are truly endless with collage Christmas cards. Whether you go with three, four, six, or eight photos, you'll find amongst our design templates one that fits your photo needs along with your style and personality. You may have a great pic of the whole gang (and even a classic Christmas photo, a shot of all of you in your Xmas pajamas, or a meme-worthy ugly Christmas sweater photo) and an assortment of pictures featuring family members in different activities or travel locations as a kind of year in review. On the other hand, you might have candid close-ups of your son and daughter or your grandchildren. Even still, you might have an enviable number of photos of your dog or cat. And, of course, some will have pics from a holiday-themed, professional photo shoot, featuring mom, dad, and the kids dressed in red and green. Whatever your choices, you're sure to make a collage Christmas card that captures your imagination and the attention of your recipients.
Arranging Photos In Your Collage
There are countless ways to arrange pictures for a photo collage Christmas card. Of course, we all want cards that catch the eyes of our recipients and ones, as well, that, because of their considerable charm and interest, earn a spot on the kitchen counter, mantel, or refrigerator. With Shutterfly's stunning collection of photo collage Christmas cards, you have a plethora of compelling design options at your fingertips—all for those who'd like to squeeze five, seven, or even nine photos on their cards. As you select pictures for your card, consider both the appeal of each photo independently and the ways they work together in terms of color, composition, subject matter, and more. Another important thing to consider is that the more photos you add to your photo collage, the smaller your pictures—and your subjects—will become. If you've chosen a design template with one or two large photos and a number of others that are smaller, set your large group photos with an eye to allowing the smaller details to emerge. Then you can use close-ups or more visually evocative shots for your small photos. If you want more space for your collage, go with one of our expansive 6x8 Christmas cards.
Customize Your Collage Christmas Card
Once you've chosen your collage design template and arranged your pictures throughout the card, you can set about customizing it further to make it truly unique to you and yours. Play with card color, font size, font color, trim options, and more and even add foil, glitter, or print your card on extra-thick cardstock to create something genuinely special. Our personalized foil Xmas cards, foil-stamped Christmas cards, and glitter Christmas cards are something to behold—the foil with gold, rose gold, and iridescent options and the glitter available in gold and silver. Cards printed on our luxe, double-thick cardstock are instant keepsakes that also make great artwork for the wall or tabletop frames. Get creative with your photo collage Christmas card and wow your friends and family this holiday season.
Related Products
Shiny Festivity Address Label by Stacy Claire Boyd. Address your envelopes with stylish address labels. Corresponding invitations, gift tags and thank you cards are also available.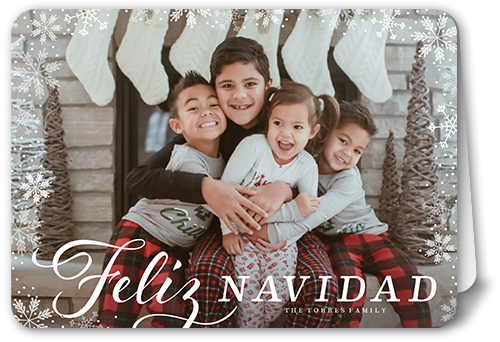 Sentimento Especial 5x7 Tarjeta de Navidad Card by Yours Truly. Share holiday memories con familia y amigos by adding a special personalized message to your customized tarjeta de Navidad – including all Spanish letras and acentos. It's the perfect regalito ...
Big Bold and Bright 5x7 Personalized Foil Card by Yours Truly. Send a holiday card friends and family will love. Add your own greeting and everyone's names. There's room for more photos and wishes on the back, too.