What customers have to say about our Christmas Cards
January 27, 2019
I highly recommend this card!!
"Absolutely love this card they came out perfect!"
January 23, 2019
good purchase
"Paper is excellent quality as is the envelope. Shipping can be high unless you are ordering a larger number of cards but I only bought one."
January 23, 2019
I will absolutely use this product again.
"The first time I have used Shutterfly for our annual greeting card. Very pleased and will use again."
January 22, 2019
Chinese New Year
"Christmas came too soon. No cards went out. New Year's came and went! Still no cards were sent out. But thanx to Shutterfly, made it for a Chinese Greeting! Beautiful cards front and back with pictures of family sent! Halleluah!!!!!"
January 22, 2019
I looved these cards and they arrived so quickly!
"Shutterfly makes last minute projects easy .. I love these holiday cards and continue to make photo books each month with their app as well as edits on desktop site. I love Shutterfly!"
Christmas Collage Cards
The holidays are a joyous time of the year for millions of people around the world. If you are like most of these people, then you are probably planning on spending the holiday in the company of your loved ones. In order for these get-togethers to go smoothly, however, you are going to have to spend a fair amount of time getting everything organized and purchasing gifts for all of the people closest to you. Because you're going to be so busy, certain things are going to take a greater priority over others. If you start to receive Christmas cards in the mail only to realize that you have yet to purchase any, consider investing in a set of photo collage Christmas cards from Shutterfly.
Choosing Photos for Your Christmas Collage Card
There are many ways to arrange a set of photographs. When it comes to your Christmas cards, you want to present them in a way that catches the eyes of the recipients, potentially earning a spot on their kitchen counter or refrigerator. With Shutterfly's photo collage Christmas cards, you have a plethora of design options at your fingertips. Perhaps you only want to use two or three photos in order to surround them with festive graphics and phrases.
On the other hand, you can keep the graphics and wording to a minimum, instead filling the cards with five or six photos of smiling faces. With additional options such as landscape or portrait orientations and alternate trims, you can craft a set of cards that are truly unique. Convert these cards into ornament Christmas cards for everyone to enjoy when decorating the Christmas tree.
Cover All Your Bases
While Christmas arguably gets the most fanfare of any occasion that takes place in your typical year, there are going to be many more special events that require your attention. Whether you need bridal shower invitations for when a friend decides to tie the knot or baby shower invitations to celebrate a new arrival, Shutterfly has what you need.
Related Products
Shiny Festivity Address Label by Stacy Claire Boyd. Address your envelopes with stylish address labels. Corresponding invitations, gift tags and thank you cards are also available.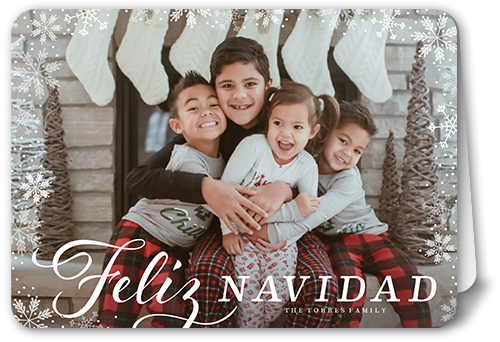 Sentimento Especial 5x7 Tarjeta de Navidad Card by Yours Truly. Share holiday memories con familia y amigos by adding a special personalized message to your customized tarjeta de Navidad – including all Spanish letras and acentos. It's the perfect regalito ...
Big Bold and Bright 5x7 Personalized Foil Card by Yours Truly. Send a holiday card friends and family will love. Add your own greeting and everyone's names. There's room for more photos and wishes on the back, too.