Classic 4x5 Baby Shower Invitation and Flat Baby Shower Invites
What customers have to say about our Baby Shower Invitations
January 22, 2019
I would buy this product again.
"Bought this for my baby shower invitations and it exceed my expectations."
November 10, 2018
Very nice
"Beautiful card"
October 28, 2018
Beautiful
"The cards were printed and sized perfectly. I actually prefer the size over a standard 4x6 or 5x7 card."
August 26, 2018
Super cute!
"These came out great!"
August 9, 2018
Highly recommend!!!
"I placed my first order a couple of weeks ago and unfortunately USPS lost my order. I called Shutterfly and they were so kind! They replaced my order promptly and it arrived just in time. I highly recommend this product and Shutterfly!!"
Classic Baby Shower Invitations
Celebrating the upcoming arrival of a precious baby is a joyous occasion and one of life's sweetest milestones - which is what makes baby showers an exciting event that everyone looks forward to. Set the stage for your upcoming shower by sending out personalized, modern baby shower invitations that will capture the attention of your invitees the moment they open it. Shutterfly makes it simple and fun to design custom invitations that showcase your personality and style.
Classic Designs for Baby Shower Invites
Shutterfly offers a wide array of classic baby shower invitation designs. No matter which one you choose, your invitations will make a memorable statement about your upcoming celebration. We also offer numerous ways to customize your invitations, making it easy to create an invitation that perfectly suits the mom-to-be. Pick an animal-themed baby shower invitation that's perfect for celebrating your new baby with cute illustrations and a classic nursery theme. For baby girls, you might also want a floral baby shower invitation with pink touches that are always classic in celebrating a newborn girl.
What to Write in Your Baby Shower Cards
With flat baby shower invitations, you'll have enough space to include all the important information about your event. Be sure to let your guests know the date and time of your baby shower as well as the location. If it's a large event, you may also want to include an RSVP date. Depending on where you're having the baby shower, include directions for guests who may need help finding the location. Depending on the design you chose for your baby shower card, you might also have space for a sweet baby shower message. Include your baby's name and a sweet quote about them or a saying about love. Your guests will love seeing your heartwarming note on the baby shower invite.
Create Personalized Baby Shower Invitations
Once you've selected your favorite design, choose from a variety of gorgeous colors, font styles, trim designs and other customization options. You'll also find designs especially made for girls and for boys, as well as gender neutral palettes that are perfect if you're expecting twins or multiples – or if you don't want to go with a gender-specific type of design. You can also upload a special photo! Loved ones are always touched when baby shower invitations include a picture of the parents-to-be that showcases your baby bump or a sonogram photo. Whether you go with a non-photo invitation or upload a special photo, your classic baby shower invitations will be unique. Of course, be sure to add a custom message that includes all the important details about your event that your guests need to know, such as the time, location and dress code.
More Custom Stationery For Your Invitations
Ensure your invitations stand out in the mail by adding style and color to the envelopes. Shutterfy offers personalized address labels, postage stamps and stickers. When you dress up your envelopes with these simple additional touches, your invitations will be sure to grab the attention of your invitees before they even open them!
Related Products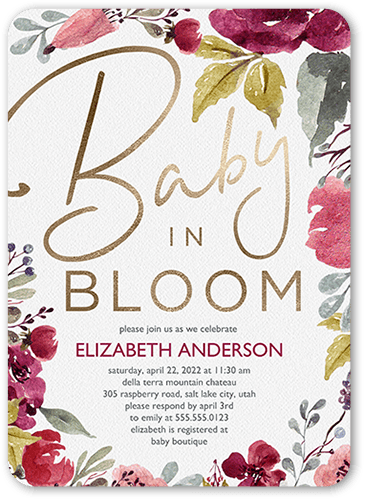 Baby in Bloom 5x7 Stationery Card by Éclair Paper Company. Shower her with love and a stylish baby shower invitation. Personalize it with the party details.
Bicycle Built for Three 5x7 Stationery Card by Clover. Shower her with love and a stylish baby shower invitation. Personalize it with the party details.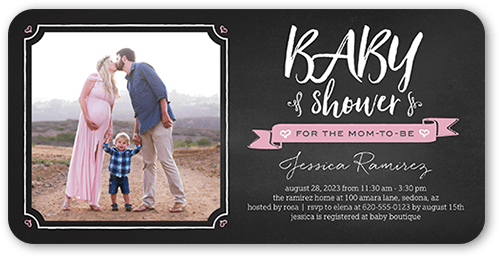 Chalk Art Girl 4x8 Photo Card by Yours Truly. Shower her with love and a stylish baby shower invitation. Personalize it with the party details.