4x8 Christmas Photo Cards
What customers have to say about our Christmas Photo Cards
January 23, 2019
good purchase
"Paper is excellent quality as is the envelope. Shipping can be high unless you are ordering a larger number of cards but I only bought one."
January 22, 2019
I looved these cards and they arrived so quickly!
"Shutterfly makes last minute projects easy .. I love these holiday cards and continue to make photo books each month with their app as well as edits on desktop site. I love Shutterfly!"
January 20, 2019
Super fast turnaround time
"I was swamped over the holidays and logged in to Shutterfly in early January to see I was not alone. New Year's card styles were great! I used a coupon and ordered them. Shutterfly had them done and delivered by the end of the week, 3 days before anticipated! Thank you!"
January 18, 2019
Perfect new years card!
"I LOVE all my shutterfly holiday cards - but sometimes need a less expensive one with same quality and this is perfect! LOVE shutterfly"
January 16, 2019
Just the Right Thing!
"Because the family could not be together before Christmas, we chose to send a New Years card this year. My husband and I have only been married for four years and we wanted to send a "blended family" greeting this year. The layout provided by Shutterfly was perfect for our needs."
4x8 Christmas Photo Cards
Designing a personalized Christmas photo card you love is about season's greetings and showing friends and family what makes your family unique. With Shutterfly's stylish 4x8 Christmas photo card designs, you can create festive, one-of-a-kind greetings to share holiday cheer with your family members, friends, neighbors and colleagues. Make your Christmas sentiments even more special by choosing customization options that will reflect your personality and style. Your personal touches will enhance your personalized Christmas cards and bring joy to your recipients.
Personalized Christmas Card Designs
Say Merry Christmas to your loved ones with custom Christmas cards that have your family's personality and style all over them. Whether your family prefers a holiday card that's more sleek and modern or something more traditionally festive, you can create the perfect Christmas photo card with Shutterfly. There are so many ways to make the perfect holiday greeting to send to your friends and family. Below are a few ways you can customize your Christmas cards to make sure they're memorable:
Photos: Whether you highlight a single special picture or create a collage of your favorite memories from the past year, your family photos will stand out on these festive Christmas cards.
Trim Styles: Give your 4x8 Christmas photo cards an extra touch of style with striking trim designs such as bracket, scallop, ticket and rounded corners.
Colors: Make your Christmas cards pop by choosing your favorite hues from the multiple merry colors in our custom color palette, like red, green, white, gold and black.
Fonts: Find the perfect script for expressing your Christmas message in your own unique style
Looking for more design inspiration? Check out these 15 holiday card ideas that will brighten the season. No matter which design and customization options you choose, your Christmas photo cards will be unique to you and your recipients will proudly display them on their fridge or among their holiday decor.
Trim Your Christmas Card Envelopes
Shutterfly's 4x8 Christmas photo cards will add a touch of luxury to your holiday greetings and will delight your family members and friends. Once your design is complete, why not give your envelopes a personal touch that coordinates with your cards? Our personalized holiday address labels and custom stickers are the perfect way to elevate your envelopes! These extra festive touches will ensure your envelopes stand out in the mail and capture the attention of your recipients. To add an extra special touch to your personalized Christmas cards, opt for our holiday-themed custom envelopes that feature beautiful and festive designs. With a custom envelope, your Christmas cards will be sure to stand out among the stack.
Related Products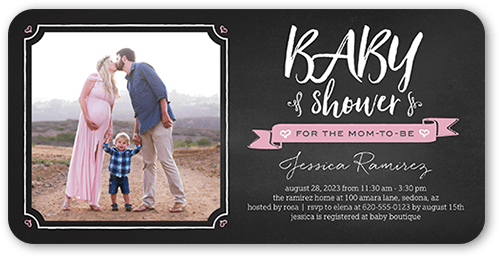 Chalk Art Girl 4x8 Photo Card by Yours Truly. Shower her with love and a stylish baby shower invitation. Personalize it with the party details.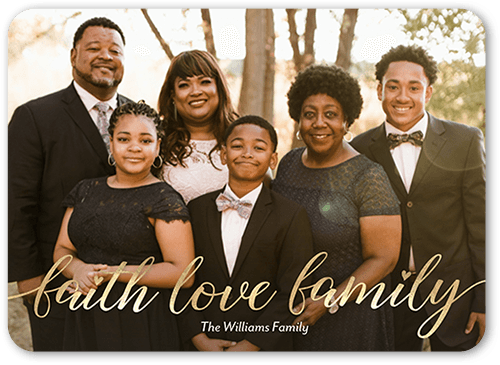 Familiar Sentiment 5x7 Photo Card by Shutterfly. Send cheer to friends and family with this Christmas card. Add your own greeting and everyone's names.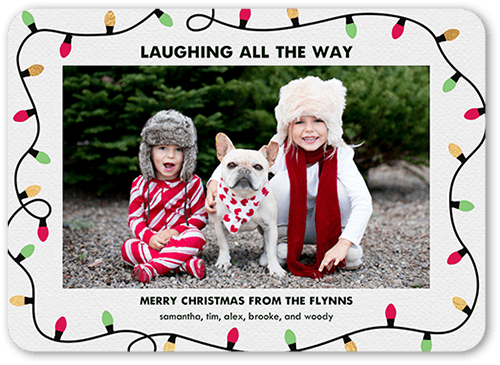 Laughing Lights 5x7 Photo Card by Shutterfly. Send cheer to friends and family with this Christmas card. Add your own greeting and everyone's names.