What customers have to say about our Flat Photo Cards
January 22, 2019
I looved these cards and they arrived so quickly!
"Shutterfly makes last minute projects easy .. I love these holiday cards and continue to make photo books each month with their app as well as edits on desktop site. I love Shutterfly!"
January 20, 2019
Super fast turnaround time
"I was swamped over the holidays and logged in to Shutterfly in early January to see I was not alone. New Year's card styles were great! I used a coupon and ordered them. Shutterfly had them done and delivered by the end of the week, 3 days before anticipated! Thank you!"
January 18, 2019
Perfect new years card!
"I LOVE all my shutterfly holiday cards - but sometimes need a less expensive one with same quality and this is perfect! LOVE shutterfly"
January 16, 2019
Just the Right Thing!
"Because the family could not be together before Christmas, we chose to send a New Years card this year. My husband and I have only been married for four years and we wanted to send a "blended family" greeting this year. The layout provided by Shutterfly was perfect for our needs."
January 14, 2019
Beautiful!
"Our New Years cards turned out exactly as I ordered them and I got them very quickly! Our friends and family loved them! Reasonably priced too! I would recommend them to anyone!"
4x8 Flat Photo Cards
Personalized photo cards from Shutterfly are a thoughtful and stylish way to send holiday greetings to your loved ones this year. Our collection of 4x8 flat cards includes a huge variety of designs and styles that you can easily personalize with your own photos. From Christmas to New Year's and other holidays of the season, a photo card from the heart is sure to delight your family and friends.
Send Season's Greetings with a Photo Card
Your holiday greetings and favorite family pictures are front-and-center when you personalize a 4x8 photo card with Shutterfly. Show off your smiling family and spread holiday cheer with a stylish, premium-quality stationery card your loved ones will be thrilled to receive.
Choose from a variety of chic, contemporary holiday card designs that include festive details like seasonal colors, classic calligraphy and plenty of space for your best photos. When you find your favorite design, it's easy to make it uniquely yours with a range of personalization options.
How to Personalize Your Holiday Cards
Start the personalization fun by uploading your photo(s) to the front of the card. Some designs highlight a single favorite picture while others have room for a collage of many different shots. For tips and ideas, see how to make a personalized card.
To customize your holiday card, choose from available design colors for a look that suits your personal style. Some cards feature a Custom Color Palette that lets you personalize the exact hue of your design. Then you can choose your favorite greeting and add your names to complete the front of the card.
On the back, there's space for additional photos and custom messages to share with your recipients. A range of background patterns and colors adds flair and festive style, too. For more inspiration, check out these holiday card ideas for greetings that truly shine.
More Holiday Stationery & Personalized Gifts
Don't forget about your envelope! Finish your holiday cards with a festive touch when you add seasonal address labels to the envelopes. They give your cards extra flair and personality that's perfect for the season. Customized photo stickers can also be used on envelopes or as gift tags for any personalized gifts you've created. For the other great photos that didn't make it onto your Christmas cards this year, consider designing a photo book to share with your family.
Related Products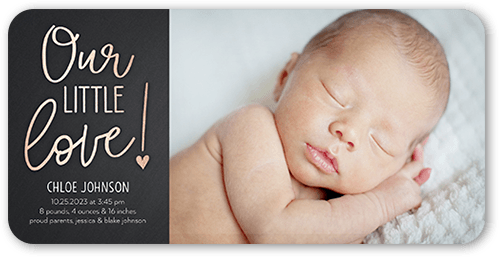 Our Little One 4x8 Photo Card by Yours Truly. Announce your newest arrival with this stylish birth announcement. Add your baby's name, a favorite photo and the news everyone's been waiting for.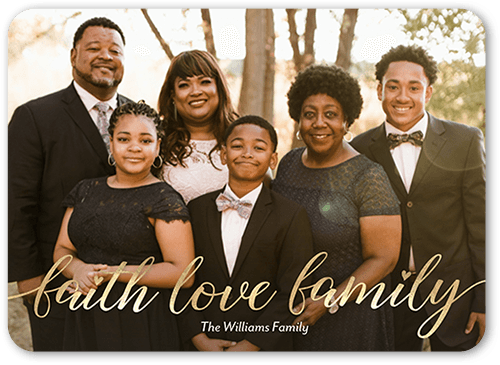 Familiar Sentiment 5x7 Photo Card by Shutterfly. Send cheer to friends and family with this Christmas card. Add your own greeting and everyone's names.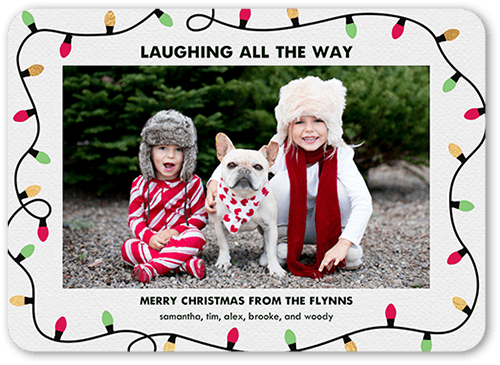 Laughing Lights 5x7 Photo Card by Shutterfly. Send cheer to friends and family with this Christmas card. Add your own greeting and everyone's names.