What customers have to say about our Baby Shower Invitations
January 26, 2019
I would buy this again definitely!
"This invitation is beautiful I just wish the liners that came with it stuck better"
January 25, 2019
Perfect invite
"These are so cute and came exactly as I expected. Love them!"
January 24, 2019
In love with the shower invites
"These invites are so cute. They came just as ordered. I love shutterfly. They never disappoint."
January 22, 2019
I would buy this product again.
"Bought this for my baby shower invitations and it exceed my expectations."
January 21, 2019
I really liked my purchase experience
"I needed to order baby shower invites. I was pleasantly surprised to find out I could have Shutterfly take care of the invitees addresses, return addresses, and stamps! What a time savor! And the invitations are adorable!!"
Make Her Feel Loved With 5x7 Baby Shower Invitations
If you really want to make a statement for a memorable baby shower event, why not create personalized 5x7 baby shower invitations for the honorary mother-to-be? Just imagine when your friends and family members go to their mailbox and receive such an impressive paper invitation to celebrate the expectant mom.
Everyone is sure to notice this dazzling and unique invitation when you create your design with our large selection of designer styles to make your idea stand out even more. The new mother will feel especially loved when you put your heart and soul into designing the perfect baby shower in her honor.
Match Your Favorite Theme
Besides choosing a custom size for your cards, like 5x7 baby shower invitations, we at Shutterfly can help you and the other party planners match the stationery to a particular theme or type of party. For some modern couples, instead of a baby shower, it's all about the gender reveal party.
Find unique gender reveal invitations that will make the event even more memorable to all who attend. If the expectant mom has already spilled the beans about if she's having a boy or a girl, you can help her prepare with gorgeous baby girl shower invitations. Or, you can celebrate a little boy's upcoming arrival with baby boy shower invitations.
Help a Mother-to-Be Get Ready
Throughout your party planning process, focus on how to craft an event that will not just honor the expecting mother, but help her get ready for the challenges of motherhood. Think of ways to make her life more convenient after baby's arrival when you're looking for a special gift. While she unwraps her shower gifts, make an ongoing list of gift contents and the name of each gift giver to help her with thank-you notes.
Even better, give her a set of thank-you cards to match her baby shower's theme so she doesn't have to spend time worrying about last-minute stationery orders before the big delivery day.
Get Your Invitations When You Need Them
We know that with a large to-do list, it can sometimes get hectic. You may be running a little behind with all the baby shower details you're trying to juggle to make the day extra special. That's why we've got you covered with fast, expedited shipping if you need your 5x7 baby shower invitations as soon as possible.
Just choose super rush shipping when you checkout so you can get started on putting the last few components together for an amazing and memorable baby shower.
Related Products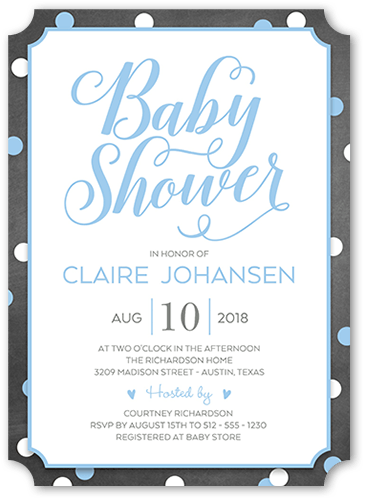 Confetti Delight Boy 5x7 Stationery Card by Berry Berry Sweet. Shower her with love and a stylish baby shower invitation. Personalize it with the party details.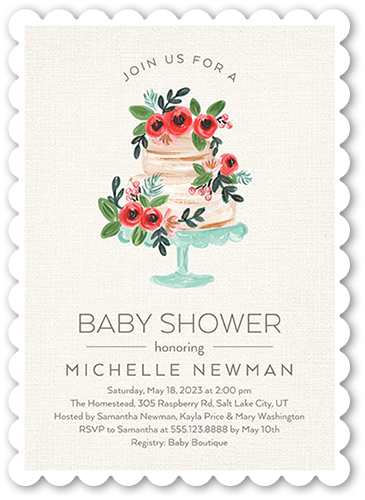 Floral Sweets 5x7 Stationery Card by Stacy Claire Boyd. Shower her with love and a stylish baby shower invitation. Personalize it with the party details.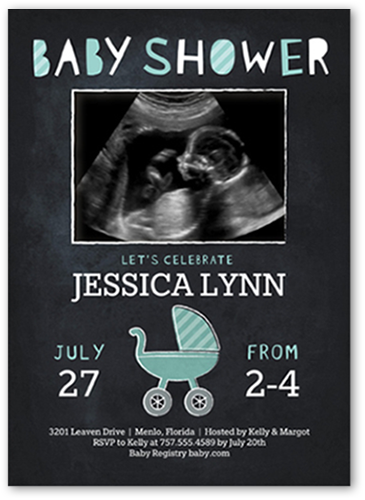 Happy Buggy Boy 5x7 Custom Baby Shower Invitations. Shower her with love and a stylish baby shower invitation. Welcome the new baby with a greeting card and the party details!