What customers have to say about our Birth Announcements
January 25, 2019
A Hit With All the Family!
"We used this card as a birth announcement and thank you card for our baby shower attendees. It's on a nice heavy cardstock, and the print was super clear. With my first order there was a smear on the return address on the back of the envelope, but no big deal. With the first order I also didn't receive the blank envelopes I ordered. The second order everything was perfect. I would highly recommend!"
January 24, 2019
Very nice cards
"Super classy cards"
January 24, 2019
Great buy
"Looks and feels great. Came so quickly and is such great quality!"
January 22, 2019
So sweet
"Easy to create!sweet design"
January 22, 2019
Love this product!!
"I love the simplicity of this birth announcement, it was easy to make and arrived on time!"
Spread the News, Share the Happiness
Welcoming a new child into the world is an exciting time for your family and friends. At Shutterfly, we help you share the wonderful news with your loved ones by providing a large selection of customizable 5x7 birth announcements. We make designing and shipping simple, giving you more time to spend with your bundle of joy.
Upload, Personalize, and Send
We make customized stationery straightforward and affordable. From choosing your template to uploading your photos, we walk you through the entire process. To begin, sign up for your My Shutterfly account, where you'll be able to manage your projects, track orders and securely store as many baby photos as you like without worrying about a limit on data storage. What's more is we promise never to delete your photos.
Next, upload your favorite pictures into a template from our vast selection of pre-designed birth announcements from brand name designers, such as:
Petite Lemon
Stacy Claire Boyd
Yours Truly
Blonde Designs
Float Paperie
We want you to have the opportunity to create truly one-of-a-kind stationery. Each template offers different design features, including elegant foil-stamps, shimmery glitter finishes, and trim options. Nor are you limited to affordable birth announcement. In fact, we have cards that range in size from 3x5 through 6x8. We use only premium paper, including our signature stock and photo paper, as well as our pearl shimmer cardstock for extra pizazz.
When you're ready to spread your news with the world, we make sending your custom announcements affordable and simple. We offer a variety of shipping methods, including timed delivery and international options.
Adding Your Personal Touch
In the end, we believe it's the personal touch that makes the difference. Nearly all our 5x7 birth announcements leave room for a personalized message to share with your loved ones. Unsure of what to include in your announcement? Well, there is no steadfast rule about what to include, but it's best to incorporate the following information:
The baby's name
The parents' names
Birth date
Birth weight
Don't forget to provide a short introduction that captures your personality and expresses your excitement over the wonderful news. Be creative when wording your birth announcement; showcase the qualities that make your family unique and illustrate the bond you share.
At Shutterfly, we make sharing the special moments easy and affordable. Sign up for My Shutterfly and begin designing your 5x7 birth announcements today. Inspire your creativity and send truly unique stationery that captures each of life's special moments.
Related Products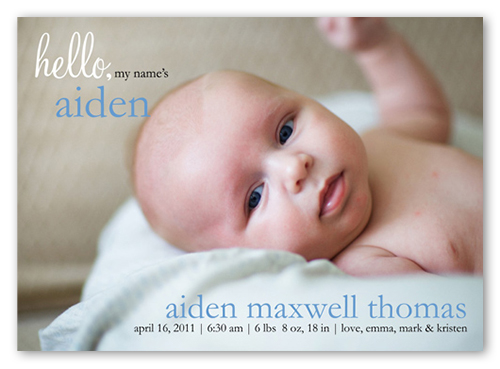 Blue Note Birth Announcement 5x7 Stationery Card by Stacy Claire Boyd. Hello, my name is. Add your baby boy's name and favorite photo to this modern birth announcement to let the world know he is finally here.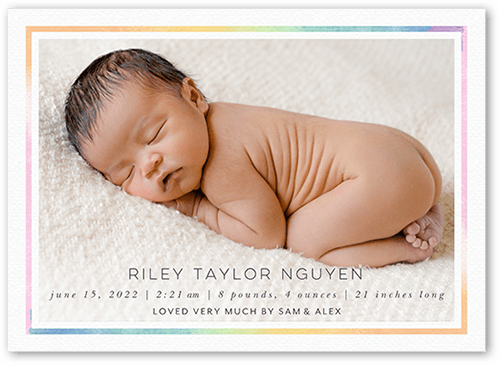 Color Border 5x7 Stationery Card by Yours Truly. Announce your newest arrival with this stylish birth announcement. Add your baby's name, a favorite photo and the news everyone's been waiting for.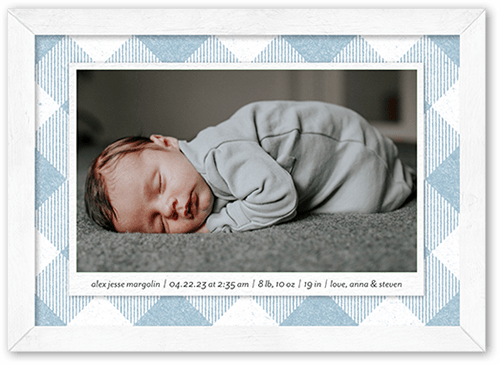 Framed Tartan 5x7 Stationery Card by Yours Truly. Announce your newest arrival with this stylish birth announcement. Add your baby's name, a favorite photo and the news everyone's been waiting for.