Baby Boy Shower Invitations
What customers have to say about our Baby Boy Shower Invitations
January 20, 2019
Extremely happy
"Invites came just as ordered and they are great quality. I would absolutely order from shutterfly again! So happy :)"
January 19, 2019
Beautiful!
"Fast delivery of a quality product."
January 19, 2019
Just adorable ☀️❤
"Just adorable and perfect for my daughter's upcoming shower!"
January 13, 2019
Yes, I would buy from Shutterfly again for my next event
"I ordered invitations for a baby shower. They turned out beautifully and very classy - great quality!"
January 8, 2019
Beautiful Cards!
"The baby shower invitations were beautiful and just what we were looking for."
Baby Boy Shower Invitations
If you know you're expecting a baby boy and are revealing your baby's gender, then you can have fun setting an adorably themed baby shower for your soon-to-arrive little man! Shutterfly offers a great variety of personalized 5x7 flat baby boy shower invitations. No matter which one of our unique designs you choose, your invitees are sure to get excited about attending your joyous event.
Select Your Baby Boy Shower Invitations
Browse our sweet selection of baby shower invitations for boys. If your shower has a theme, select a baby shower invite design that matches or complements it. This will help you to create a cohesive look and feel from the beginning, which can then be carried through in the decorations and design at your event, as well as in the thank you cards you send out afterward. If you don't have a theme for your shower, you'll find several charming, non-theme designs that are perfect for celebrating the arrival of your baby boy. Some of these designs feature illustrations of objects that have become popular for representing babies and baby showers, including baby carriages and onesies. You can even let your non-theme baby shower invitation design be the starting point that inspires the décor and overall style of your shower!
Customize Your Baby Boy Shower Invitation Design
Once you've selected your favorite design for your baby shower invites, you'll love how easy it is to customize it to fit your personality and style. Upload one or more photos and choose from our customization options, such as paper type, trim style, fonts and text colors to make your baby shower invitations truly one-of-a-kind.
More Custom Baby Shower Stationery
In addition to sending thank you cards to loved ones after your shower, you'll also want to send out custom boy birth announcements to deliver the wonderful news of your baby's birth – including the time he was born, his weight, length and anything else you want to share about the newest member of your family! For even more inspiration when creating your announcements, read our helpful guide on how to create a custom baby announcement online. For your shower invites, thank you cards and birth announcements, be sure to also dress up the envelopes so they coordinate with the design of your stationery and catch the attention of your recipients when they arrive in the mail. Shutterfly offers personalized return address labels, self-inking rubber stamps and stylish stickers. These are fun ways to add a bit of pop to your envelopes!
Related Products
Blooming Floral Arrival 5x7 Baby Shower Invitations. Shower her with love and a stylish baby shower invitation. Personalize it with the party details.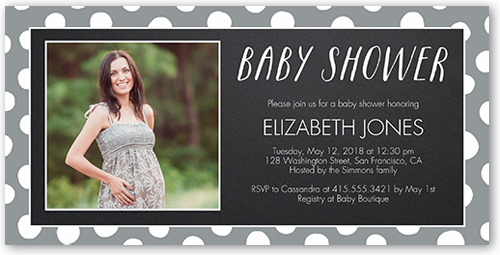 Chalkboard Dots 4x8 Baby Shower Invitation Cards. Shower her with love and a stylish baby shower invitation. Personalize it with the party details.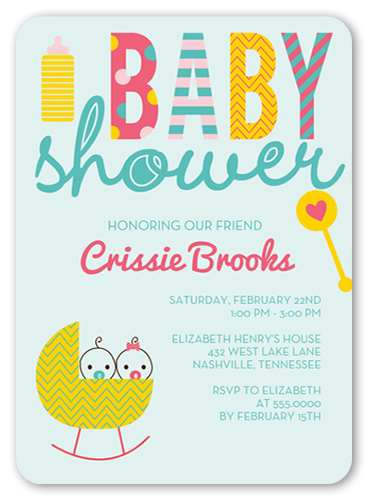 Cute Cradle Twins 5x7 Neutral Baby Shower Invitations by Hello, Kelle. Shower her with love and a stylish baby shower invitation. Personalize it with the party details.