Flat Neutral Baby Shower Invitations
What customers have to say about our Neutral Baby Shower Invitations
November 28, 2018
i would buy again
"n/a"
November 26, 2018
Very cute invitations
"These invitations were perfect for our gender reveal party! Very cute and came in a timely manner!"
November 13, 2018
Easy Way to Get What You Want!
"I used this product to upload my own design (made on Templett- design bought from Etsy) for baby shower invitations. I was able to edit both the front and the back, and I had several options for the invitation shape as well as the envelope. This was a perfect way to get exactly what I wanted!"
October 16, 2018
beautiful!
"great colors!"
August 26, 2018
Just as pictured and lovely.
"I've ordered invitations from Shutterfly before and they were wonderful so when I needed baby shower invites I did not hesitate to order from them again and I was not disappointed they are perfect. I just need to add that their customer service is wonderful. My first order was stolen of our porch and when I went to reorder them there was a different sale at the time so I emailed customer service just wanting them to match the price I originally had paid for and instead they gave me a brand new order no charge. So wonderful!"
Flat Neutral Baby Shower Invitations
Celebrating the upcoming arrival of a precious baby is a joyous occasion. Set the stage for your baby shower by sending out stylish, flat baby shower invitations that delight your invitees as soon as they are opened. Shutterfly's flat baby shower invitations offer an elegant and personalized way of inviting all your loved ones to your upcoming baby shower. Family members and friends will be delighted to receive your personalized invitations and will be excited about sharing this milestone event with you!
Personalize Your Baby Shower Invitations
Shutterfly offers a wide array of flat baby shower invitations with neutral designs so, no matter which one you choose, you're guaranteed to make a memorable statement about your event. You'll discover numerous ways to customize your invitations, making it easy to create an invitation that perfectly suits the mom-to-be's personality and style.
Use our online customization tool to choose from a variety of gorgeous colors, font styles, trim designs, card sizes and more when designing your invitations. You'll find the designs in this collection to be ideal if you're expecting twins or multiples, if you don't want to reveal the gender of your baby or if you simply don't prefer a gender-specific type of design.
Friends and family members are always touched when baby shower invitations include a picture of the parents-to-be that showcases your baby bump or a special photo of a sonogram, so feel free to personalize your invitations further by uploading a special photo.
Whether you go with a non-photo invitation or upload a photo, your flat baby shower invitations will be unique to you. Of course, you'll want to remember to add a custom message that includes all the important details about your event that your guests need to know, such as the time, location and dress code!
Stationery Accessories for Baby Shower Invites
Add style and color to the envelopes your baby shower invitations will be sent in with our personalized address labels and stickers. When you style your envelopes with these simple additional touches, your invitations will be sure to grab the attention of your invitees as soon as they arrive in the mail!
Related Products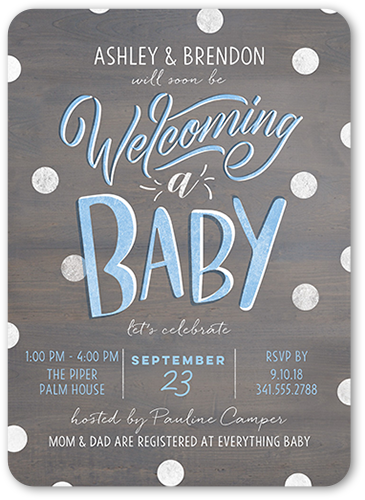 Amazing Type Boy 5x7 Baby Shower Invitation Cards. Shower her with love and a stylish baby shower invitation. Personalize it with the party details.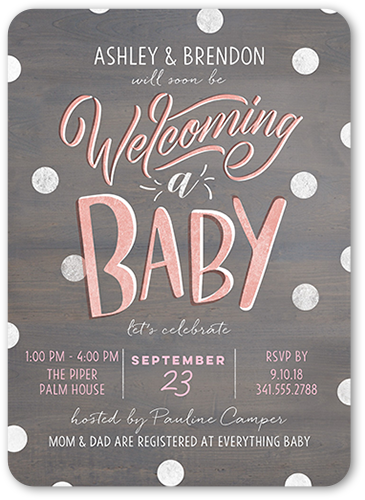 Amazing Type Girl 5x7 Baby Shower Invitation Cards. Shower her with love and a stylish baby shower invitation. Personalize it with the party details.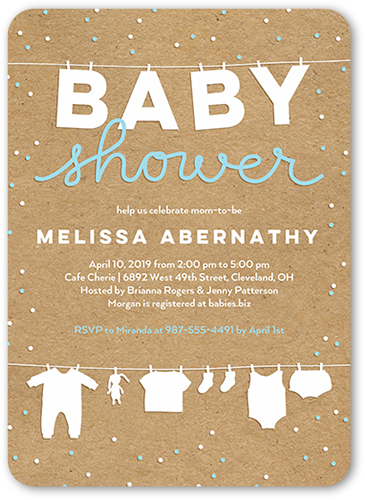 Cute Linens Boy 5x7 Baby Shower Invitation Cards. Shower her with love and a stylish baby shower invitation. Personalize it with the party details