What customers have to say about our Address Labels
"VERY CUTE"
January 26, 2019
Delightful!
"I love the delicate design and lavender color."
"Pretty lables"
"Can't wait to use these cute adress lables!"
January 23, 2019
Love these labels!
"Cute labels, easy to read, fun to make. I have bought several different types now and love them all! Great gifts for grads, new babies, newlyweds, housewarming presents...you name it!!"
Add a Professional Touch With Personalized Return Address Labels
Are you a classy maven who sends out greeting cards for all occasions or just someone looking for that extra special touch for all of your outgoing mail? One-of-a-kind, personalized return address labels are the perfect way to add that bonus element to everything you place in your outgoing mailbox. Shutterfly has over a thousand return mailing address labels to guarantee you do your correspondence in true, unique style. From traditional monogram designs to festive holiday themes, you can create personalized return address labels that add style and personality to your cards and stationery.
Personalized Address Labels for Every Occasion
Whether you are looking to send your holiday greetings out with care or simply wish to accent your thank you notes, Shutterfly has the perfect custom address label designs for every occasion. Each template is easily personalized with your favorite fonts, colors, and message. Shutterfly has ready-to-go geometric patterned options, labels for every holiday and even photo return mailing address labels. You can even create your label from scratch and feature your own design. Create personalized address labels for your wedding invitations, birthday cards, Christmas cards, holiday cards, baby shower invitations, and more to add the finishing touch to your envelopes.
Customizing Your Return Address Labels
Once you select a template you love, Shutterfly will help you customize your selection. The design assistant will let you play with fonts, colors and the message for labels that are as unique as you. Labels come printed on easy-peel backing and are delivered to your door ready for use. For that extra dazzle, pair with custom stationery from Shutterfly.
Labels are good for more than just the finishing touch on all of your correspondence. Put them on the bottom of trays and plates when you bring your staple dishes to potlucks and parties. Put them on the insides of the kiddos sports bags, lunch boxes and school packs to help them find their way back home (in case they get lost).
Return Mailing Labels Make Great Gifts
Puzzled about what to give those newlyweds on your list? Personalized return mailing address labels make great gifts, whether it is a thoughtful wedding gift or just a nice present for the holidays or a birthday. Grandparents will love having an excuse to send out letters to the family and loved ones. Start them young and encourage the little ones to send out letters, thank you cards and other personal greetings with their very own set of personalized labels.
Shutterfly makes it easier than ever to send out your good wishes in elegant style. With one of the many label design options, you are sure to find the perfect way to finish off all of your greetings, letters, and packages. Showcase your own personal style with a set of custom return mailing address label stickers and more personalized stationery with Shutterfly.
Related Products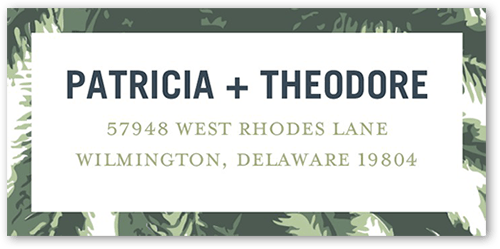 Adorned Frame Palms Wedding Address Label. Address your envelopes with stylish address labels. Corresponding invitations, gift tags and thank you cards are also available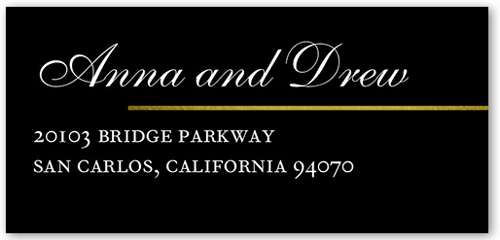 Chic Calligraphy Wedding Address Label. Address your envelopes with stylish address labels. Corresponding invitations, gift tags and thank you cards are also available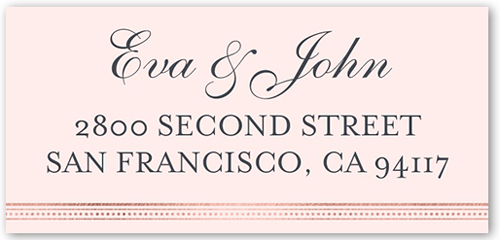 Flourished Romantic Frame Wedding Address Label. Address your envelopes with stylish address labels. Corresponding invitations, gift tags and thank you cards are also available