Green 5x7 Flat Wedding Announcements
What customers have to say about our Wedding Announcement Cards
"Perfect"
August 27, 2018
Beautiful Announcements
"I have ordered many invitations and announcements. They are always so nice. Many compliments from my guests. Plus always a great value!"
August 18, 2018
"Design Your Own" with photos, text, and their backgrounds.
"You do not have to "Upload Your Own" design! This card offers several photo template options, so you can just insert your uploaded photos into provided boxes. There are cute patterned backgrounds (be sure to click "more") as well as solids. Best of all, you can write your own text. So if you need another language or something special for the text, you can use an online translator, then copy the text and paste it into the text box and preview with your selected font. Many fonts will properly display special foreign language marks. The cards were very nice quality."
August 14, 2018
Love this card!
"I bought this for an anniversary card. That's one type that Shutterfly doesn't offer so I try to adapt a wedding card or announcement."
July 15, 2018
Cute way to announce after elopement!
"My husband and I eloped in Vegas, and these were a perfect way to tell everyone we know! Most of my family lives out-of-state, so they received good news in a way that includes photos. They came out great. I needed an option that said "just married," included multiple photos, our date/location, and budget-friendly. I found exactly what I wanted, and I'm glad I ordered more than I thought I'd need because I can keep one for myself, as well as give the extras away to anyone we forgot to take into account. Very pleased with my purchase!!"
Green Wedding Announcement Cards
Announce your wedding in style by designing and sending custom wedding announcements that display a favorite wedding photo and the celebration details. If you love the color green or are using a wedding photo that was taken outdoors, our green wedding announcement card designs are a beautiful choice! Wedding announcements are a thoughtful way to share part of your big day with those who weren't able to celebrate with you in person. They're also perfect for sending a few of your favorite wedding photos to your loved ones. Designed with unique features and quality materials, our wedding announcements enable you to easily share your joyous occasion with loved ones - who will be thrilled to receive such a lovely surprise in the mail!
Custom Wedding Announcements
Our green custom wedding announcement designs are printed on premium cardstock for a stellar look and feel that both you and your recipients will appreciate. These wedding announcements make it easy to deliver a snapshot of your beautiful day in a way that showcases your style and personality. Shutterfly makes it convenient to design one-of-a-kind announcements that will wow your loved ones. You can create your own personalized messages and choose from a variety of design choices including font styles, trim designs, cardstock and more. Upload a photo from your special day and recipients will feel as though they were right there with you to celebrate this momentous occasion – or be fondly reminded of celebrating with you! If you're sending out your announcement cards before your wedding, you can create a photo collage announcement with the best photos from your engagement, or include your couple's photos from your years together.
Design Ideas for Wedding Cards
With a green wedding theme, you'll have plenty of options to choose from. If you're having an outdoor wedding, choose tropical green themes that match your wedding location. You can always choose simple wedding announcements to match any theme and keep everything looking modern and classic. For an even more personalized touch, browse our green monogrammed wedding announcements to add your new family initials.
More Wedding Stationery and Accessories
Once you've designed a wedding announcement you love, don't forget about the finishing touches! With a green wedding theme, it'll be easy to make your entire wedding stationery suite look cohesive and professional. Browse our green wedding invitations and green wedding thank you cards. You'll also find a variety of styles for wedding menu cards, reception and ceremony programs, and more. Add our personalized address labels and stickers to your envelopes so your announcements and other stationery will stand out and be saved from getting lost in a pile of mail.
Related Products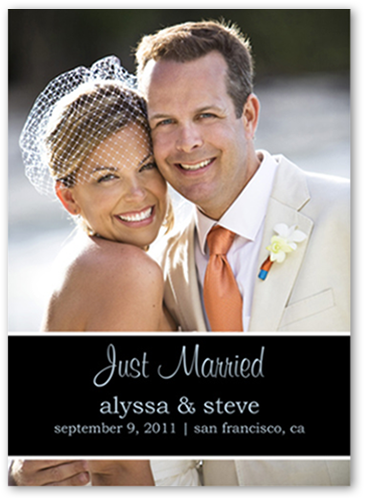 Classic Wedding Band 5x7 Photo Wedding Announcement Cards. Announce your union with a favorite photo, a noir ribbon, and a very bold statement, "Just married"
Floret Charcoal 5x7 Photo Wedding Announcement Cards. Elegant leaves and blooms accent a pretty picture. Include a special greeting and/or event details against a charcoal background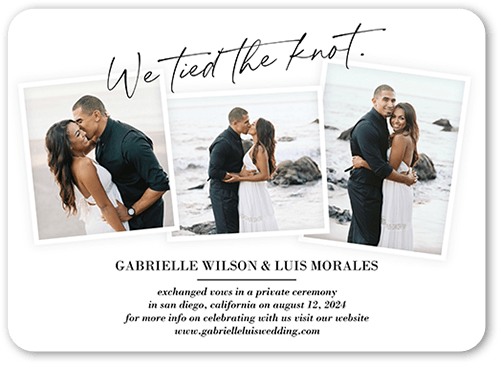 Knot Now 5x7 Stationery Card by Float Paperie. I thee wed. Announce your wedding in style with a favorite photo and the celebration details on this wedding announcement.