5x7 Folded Birth Announcements
What customers have to say about our Baby
October 20, 2018
Great value
"Modified so I could use it for a Confirmation card!"
March 29, 2018
Best Cards Ever
"The customization of each thing I've made on Shutterfly has been amazing but these Thank You cards were so beautiful with high quality I can't rave about them enough."
November 30, 2017
The best ever!
"I sent to each family member and they love it too!"
October 11, 2016
Making thank you's fun
"I used this template to make a "thank you" card for my daughter to use to send out thank you's. I put 5 month old pictures on it and she said it's made writing thank you notes fun!! Whatever it takes!! Get 'er done!!!"
October 9, 2016
Baby shower cards
"loved the picture quality and how sturdy the cards were. I will use shutterfly again and have been telling everyone how wonderful they are and how reasonably priced they are."
5x7 Folded Baby Greeting Cards
Our 5x7 folded baby greeting cards are the perfect option for birth announcements. The folded birth announcements also make terrific thank you cards when you want to express your gratitude to loved ones who came to visit you at the hospital or at home to meet your precious new family member. Shutterfly makes it easy to send personalized birth announcements and thank you cards by offering designs with layouts for one or multiple photos along with space for sweet messages in custom fonts.
Personalize Your 5x7 Birth Announcements
Announce the birth of your little one or say thank you in style when you design a modern greeting card with Shutterfly. Choose from our selection of precious styles and then add unique details via our various customization options. Once you've selected your design, it's easy to make it uniquely yours. First, upload your favorite photos to show off your beautiful baby and craft your own personalized message. Then choose from our array of design options, such as colors, font styles and font size, to personalize your cards even further. Inside the card, you have plenty of room to include additional photos, custom messages and other details to bring your greeting cards to life. If you still need more space to add your favorite pictures and sentiments, you can personalize the back of the card as well. For birth announcements, be sure to add your baby's name and the news everyone's been waiting for, such as his or her date and time of birth, weight and length.
More Ideas for Custom Baby Cards
Make your baby announcement truly unique by creating a one-photo card design or a photo collage greeting card. Your loved ones will enjoy seeing brand new photos of the baby, whether you had a professional photoshoot or took them yourself. With a 5x7 folded greeting card, you'll have plenty of space for both photos and text. Whether you're designing a baby boy announcement, a baby card for a girl, or a gender neutral announcement, you'll be able to add sayings, quotes, and messages. Choose a classic-style card if you're looking for colors like pink and blue as well as a more minimalistic style that's perfect for anyone. You might also want to stick with basic baby announcements that include the photos as the focal point of the greeting card along with his or her name written in pink or blue font.
Custom Baby Gifts
Looking for a special gift for your baby or another special baby in your life? You'll find a wide variety of unique options in our collection of custom baby gifts. Choose from soft baby blankets, personalized storybooks and much more. If you would like to create a keepsake that will be cherished for years to come, whether for your own baby or to give as a gift for a baby shower, baptism, 1st birthday or other special occasion, check out our photo book styles.
Related Products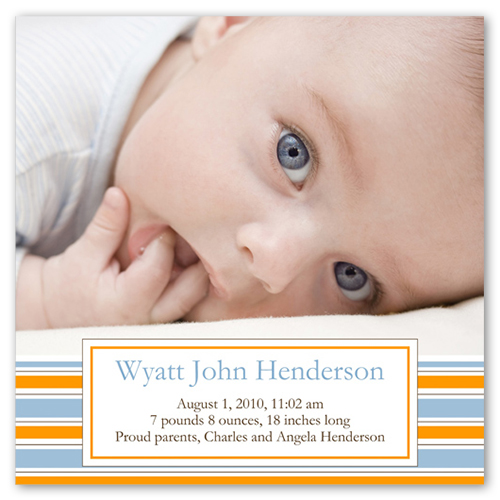 Striped For Fun Birth Announcement 5x5 Flat Stationery Card by Blonde Designs. Playful blue and orange stripes set the stage for the arrival of your new baby boy. Showcase a favorite photo above his name and birth details in this ...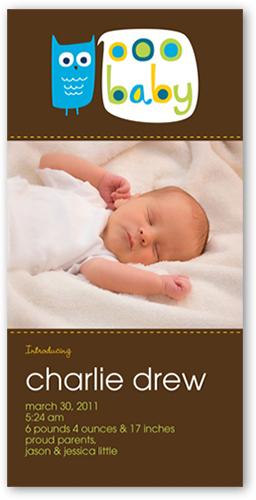 Whoo's That Blue 4x8 Photo Card by Shutterfly. Whoo's that? That's my baby boy. Show him off below a playful owl in this irresistible baby announcement. His name and birth details appear in bold, modern fonts on cocoa brown.