Birthday
What customers have to say about our Birthday
"Once again, Iove my end result from Shutterfly. The people love their personalized cards too."
January 25, 2019
Plan on making cards for all my family
"Used old pictures to make a fun unique birthday card for my dad"
January 24, 2019
These cards are amazing!
"I'm blown away by the quality of these hand designed Birthday cards! It's a great deal too in terms of cost. Thank you for making these personalized cards possible! I would give this product a 10 on a scale of 5"
January 23, 2019
I would buy this again!
"The card turned out great!"
January 23, 2019
Great eye catching card
"I love all of the color, it made this card pop!"
5x7 Folded Birthday Cards
Make your loved ones feel special with custom photo birthday cards! Our 5x7 folded birthday cards are the perfect size to add photos and special messages printed directly inside the card. They'll love seeing a photo of themselves or a photo or the two of you together. Unlike a store-bought birthday card, Shutterfly's custom birthday cards are completely unique, making their special day that much better. Browse through our folded greeting cards and choose the designs that you know they'll love best.
Choose a Birthday Card Theme
Shutterfly offers unique birthday card themes to match the recipient's personality, party theme, or birthday year. Our floral-themed 5x7 cards are perfect for both boys and girls. They're neutral enough to offer as a beautiful, generic card design, and they also look great to give at an outdoor birthday party. You can also choose our holiday-themed folded birthday cards for those loved ones who have winter birthdays around Christmas or New Years. We also offer texture pattern birthday cards that offer a more unique look and feel. No matter which theme you choose, you'll also be able to customize the card trim so that it has standard squared corners, bracket corners, and more. Being able to customize everything down to the trim will give your birthday card a unique style and personality to match the birthday guy or girl!
Customizing Your Birthday Cards
Once you have the birthday card theme you like the best, you'll be able to customize the card template even more. Personalize the design by adding their name to print directly on the card as well as a list of who the card is from, whether it's from you alone or the whole family. Inside the design template, you'll find options to change the main birthday card color, add photos, and add a unique message that prints directly onto the card. With any text you add, you'll be able to customize the font style, colors, and spacing. Be sure to decide up front whether you want to add one photo to your birthday card, a photo collage, or no photo at all. Depending on what you choose, the birthday card layout will offer a certain amount of spaces for photos.
More Ideas for Photo Birthday Cards
If you're giving a personalized photo gift along with your birthday card, you can make sure the design styles match seamlessly. Be sure to incorporate the honorees favorite colors, patterns, and themes throughout your card design and gift design. Other ideas for your birthday cards include adding funny before and after pictures of the two of you together. If you're family members or you've been friends for years, they'll love seeing old photos and how much you've grown or changed throughout the years. As long as you're designing the birthday card from your heart, we know they'll appreciate being celebrated!
Related Products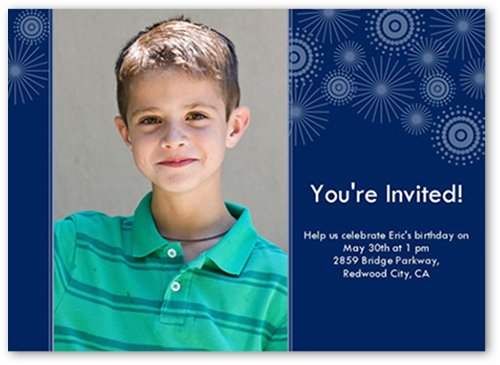 Sprinkle Midnight Swimming Party Invitations. Dazzling swirls pop against a midnight-blue background. Highlight your favorite photo beside important event details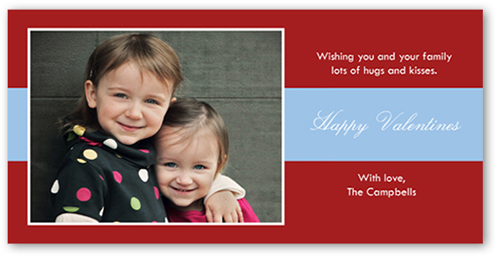 Cookie Cherry 4x8 Photo Card by Shutterfly. Capture elegance for any occasion with ornate lettering and a red/blue background. Room for one special photograph.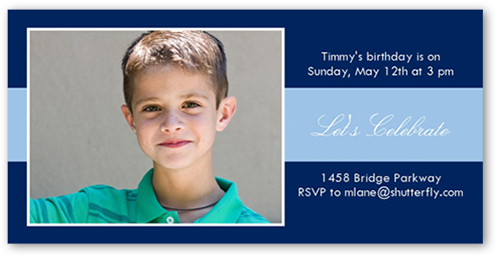 Cookie Midnight 4x8 Photo Card by Shutterfly. Capture elegance for any occasion with ornate lettering and navy and pale blue background. Room for one special photograph.