What customers have to say about our Christmas Cards
January 27, 2019
I highly recommend this card!!
"Absolutely love this card they came out perfect!"
January 23, 2019
good purchase
"Paper is excellent quality as is the envelope. Shipping can be high unless you are ordering a larger number of cards but I only bought one."
January 23, 2019
I will absolutely use this product again.
"The first time I have used Shutterfly for our annual greeting card. Very pleased and will use again."
January 22, 2019
Chinese New Year
"Christmas came too soon. No cards went out. New Year's came and went! Still no cards were sent out. But thanx to Shutterfly, made it for a Chinese Greeting! Beautiful cards front and back with pictures of family sent! Halleluah!!!!!"
January 22, 2019
I looved these cards and they arrived so quickly!
"Shutterfly makes last minute projects easy .. I love these holiday cards and continue to make photo books each month with their app as well as edits on desktop site. I love Shutterfly!"
6x8 Christmas Cards
If you celebrate the holidays, then you know that a significant part of that time of year is spreading joy to friends and family. Regardless of how many people you have in your address book, sending Merry Christmas cards in the mail is still one of the best ways to get in touch with everyone. While you may have already decided that this is the way you're going to go, there are many different options to take into account before you break out the pens and postage stamps.
Getting It Just Right
If you're running short on time before the actual holiday dates arrive, your first instinct is likely to head to your nearest retail store and grab a few boxes of 6x8 Christmas cards they have left in stock. Fortunately, Shutterfly has a track record of speedy service which will allow you to get the exact cards you want without having to wait for a long shipping period.
We also provide you with myriad opportunities to customize them, from the type of paper used to the colors in the design. Perhaps most importantly of all, however, is the ability to adorn your design choice with delightful photographs of you and your family. Part of the fun of exchanging holiday cards is seeing how your more distant friends and relatives have changed over the past year.
Get the Word Out in Style
At Shutterfly, we have enough customizable stationery products to fit the needs of just about every major event or holiday taking place in your typical year. If you or someone close to you is expecting a new child in the near future, let people know with a set of Holiday birth announcement cards. Alternatively, if you're just looking to purchase some photographs to decorate your home, we also have a wide selection of framed prints ready to go.
Related Products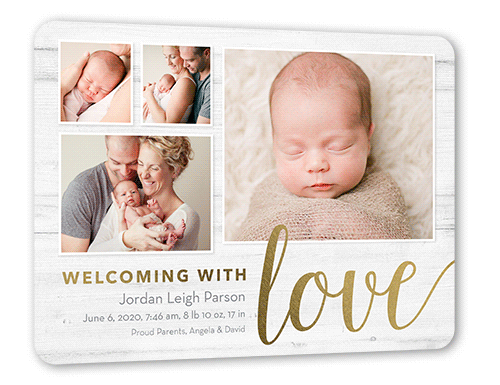 Brilliant Welcome 6x8 Stationery Card by Yours Truly. Announce your newest arrival with this stylish birth announcement. Add your baby's name, a favorite photo and the news everyone's been waiting for.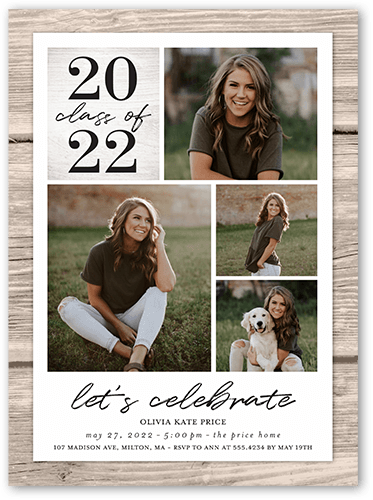 Natural Gallery 6x8 Stationery Card by Yours Truly. Invite the guests to the celebration with stylish graduation invitations. Personalize with all the event details.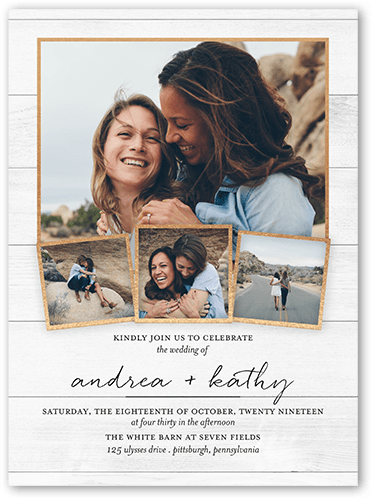 Calligraphy Collection 6x8 Stationery Card by Yours Truly. Send guests a wedding invitation that perfectly expresses your style. All you need are the details of your big day.