6x8 Flat Stationery Cards
What customers have to say about our Flat Stationery Cards
January 27, 2019
I highly recommend this card!!
"Absolutely love this card they came out perfect!"
January 23, 2019
I will absolutely use this product again.
"The first time I have used Shutterfly for our annual greeting card. Very pleased and will use again."
January 22, 2019
Chinese New Year
"Christmas came too soon. No cards went out. New Year's came and went! Still no cards were sent out. But thanx to Shutterfly, made it for a Chinese Greeting! Beautiful cards front and back with pictures of family sent! Halleluah!!!!!"
January 21, 2019
Loved how these came out!
"I liked that I was able to personalize this card for my son's first Christmas. The way I designed it online is exactly how they looked when I received them. Everyone loves them, including me!"
January 20, 2019
Quality card. Easy to personalize.
"Ample space for family pictures and a short message on the back. The ability to change the font size and color also helps you to be in control of the final design."
6x8 Flat Stationery Cards
Personalized stationery from Shutterfly is a stylish way to send season's greetings with a personal touch. This year, go above and beyond with holiday cards that you can customize to suit your style and show off your favorite family photos. Whether you're wishing your friends and family a Merry Christmas, Happy New Year, Happy Holidays or another cheerful greeting, make this season a special one with premium 6x8 flat stationery cards from Shutterfly.
Send Holiday Cards with Personalized Style
Your custom greetings and favorite pictures will shine when you personalize a fun, festive card. These 6x8 holiday cards are chic, modern and beautiful, and their large size gives plenty of room for personalizing as you see fit. Choose from a range of unique designs in our collection of whimsical and classic options, including details and features like foil-stamped accents, stylish calligraphy and festive color schemes. No matter your style, you'll find a holiday card that's meant for you—and with Shutterfly, it's easy to make it your own.
How to Customize Your Holiday Card
Start by adding your favorite photo(s) to the front of your holiday card. Whether you highlight a single picture or create a collage of many of your favorites, your loved ones will be thrilled to see your family's smiling faces. See how to make a personalized card for more ideas and inspiration.
Next, personalize your large holiday card with a variety of design color choices. Some stationery cards feature our Custom Color Palette, which lets you choose your own color for the design. Then, add your names and a short greeting to complete the front of the card.
On the back, you can choose from a range of background colors and patterns to suit your style. There's even room to include additional photos and text if you'd like. For more ideas for personalizing your greetings this season, see our unique holiday card ideas.
More Stationery & Personalized Gifts
Finish your 6x8 holiday card envelopes by adding personalized address labels for a touch of flair. You'll find a range of seasonal address label designs that coordinate beautifully with your cards for a cohesive look.
When it comes to holiday gifting, pair your festive greeting cards with personalized gifts for your family and friends. Consider creating a beautiful photo book to celebrate the year and share favorite pictures with your loved ones. Custom photo stickers are a great way to add an extra dose of personality to your gift tags.
Related Products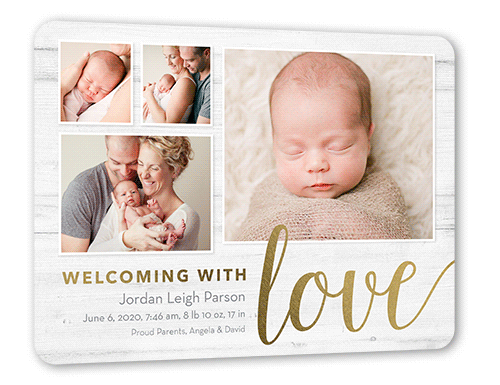 Brilliant Welcome 6x8 Stationery Card by Yours Truly. Announce your newest arrival with this stylish birth announcement. Add your baby's name, a favorite photo and the news everyone's been waiting for.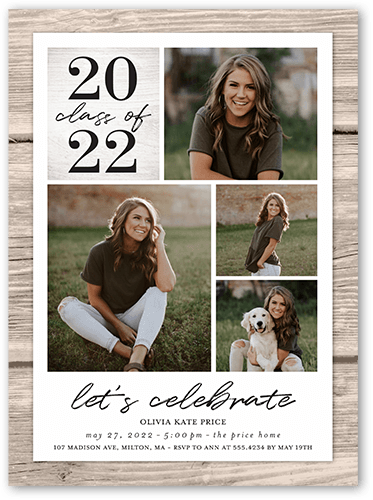 Natural Gallery 6x8 Stationery Card by Yours Truly. Invite the guests to the celebration with stylish graduation invitations. Personalize with all the event details.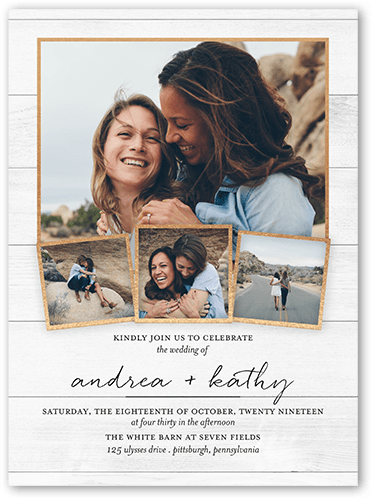 Calligraphy Collection 6x8 Stationery Card by Yours Truly. Send guests a wedding invitation that perfectly expresses your style. All you need are the details of your big day.