What customers have to say about our Holiday Cards
January 27, 2019
I highly recommend this card!!
"Absolutely love this card they came out perfect!"
January 23, 2019
good purchase
"Paper is excellent quality as is the envelope. Shipping can be high unless you are ordering a larger number of cards but I only bought one."
January 23, 2019
I will absolutely use this product again.
"The first time I have used Shutterfly for our annual greeting card. Very pleased and will use again."
January 22, 2019
Chinese New Year
"Christmas came too soon. No cards went out. New Year's came and went! Still no cards were sent out. But thanx to Shutterfly, made it for a Chinese Greeting! Beautiful cards front and back with pictures of family sent! Halleluah!!!!!"
January 22, 2019
I looved these cards and they arrived so quickly!
"Shutterfly makes last minute projects easy .. I love these holiday cards and continue to make photo books each month with their app as well as edits on desktop site. I love Shutterfly!"
6x8 Holiday Cards Bring Joy to Everyone
Every year, you send cards to the people you love at work, school, and in your neighborhood. This year, you can send 6x8 holiday cards that have a personalized touch all your own, so the people on your list know you were thinking about how to share your life with them.
Inspired by Photos, Personalized as Cards
6x8 holiday cards are inspired by the classic photo print size that you love to display in frames or on your refrigerator -- but since they're cards, they're even better. Your favorite photos get upgraded with your family's name, plus everyone's first names, and an uplifting holiday message. You can style your cards to include lots of photos, too. Some designs even have space for four or more. Once you start designing customized holiday cards like these, you'll realize they're perfect for almost any occasion. You can make your own birthday cards, party invitations, and other personalized gifts for days like Father's Day or Mother's Day.
Create a 6x8 Collage of Your Photos
You might be surprised at how many photos fit onto a 6x8 card, but this is a substantial size, so all of your photos will look great, as long as you make selections that include clear faces and uncluttered backgrounds. Select images from parties, graduations, weddings, baby showers, and more. Any time that was memorable is ripe for sharing with your loved ones around the holidays on a card.
Include Everyone on Your Holiday Cards List
You can find a customized card that will work for everyone in your life. Coworkers love getting 6x8 holiday cards at your work party just as much as your friends love trading cards in the mail. Send them to childhood and family friends you haven't seen in awhile and don't forget to include the people who make your life easier every day, whether that's your babysitter, the people who help keep your home and lawn in top shape, your personal trainer, or the waiter at your favorite date-night restaurant. With so many designs to choose from, it's easy to discover a look that suits everyone you know.
Related Products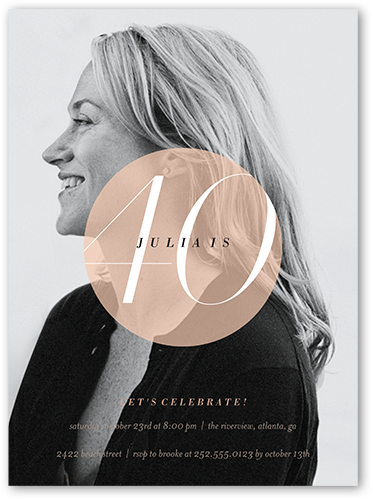 Modern Fourty 6x8 Stationery Card by Kelli Hall. Another year older. Another year of fun. Invite all the guests with this stylish birthday invitation. Just add your favorite photos and all the event details.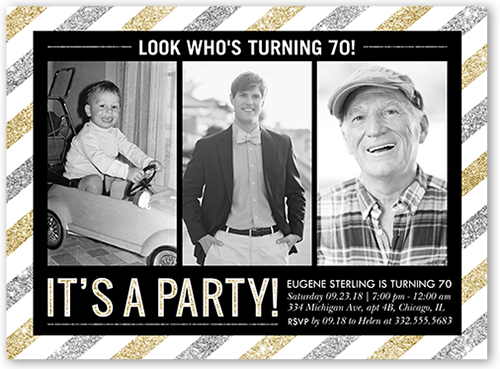 Striped Party 6x8 Stationery Card by Petite Lemon. Another year older. Another year of fun. Invite all the guests with this stylish birthday invitation. Just add your favorite photos and all the event details.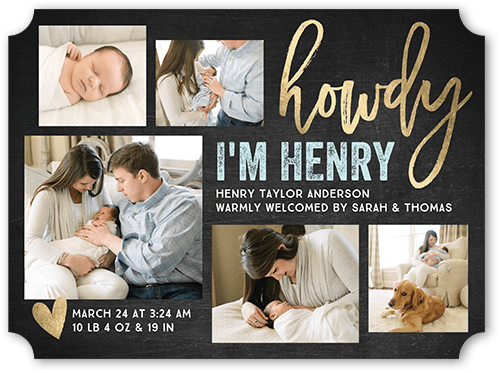 Fine Howdy 6x8 Stationery Card by Stacy Claire Boyd. Announce your newest arrival with this stylish birth announcement. Add your baby's name, a favorite photo and the news everyone's been waiting for.