What customers have to say about our Stickers
January 24, 2019
Turned out Great!
"I had made some labels with my various forms of contact info. I decided that if the print was diagonal, it would show up larger. So I wrote out the info on several lines, then turned that into a .jpeg format. I was happy to find that the print was centered perfectly & no print ran outside or off the labels, and was very clear to read."
January 23, 2019
Just what I wanted
"Very good quality and came earlier than expected. Love them! Good price too."
January 23, 2019
Cute stickers
"Stickers of my kitty. Fun for teens."
January 14, 2019
Just Lovely!
"A nice elegant look. Customization is convenient However, I did not receive my free new user items. Please make sure my account is secure. I am a good customer and there are some recent errors that have never been experienced before. Thank you."
January 14, 2019
Beautiful
"These stickers are so nice but only the sale price makes them affordable."
Adult Stickers Are A Thing, Too!
Adult stickers are the perfect way to show that you've got style and care for your circle. Of course everyone expects kids to love stickers, but families can get in on the action with gift-giving and sending Disney Christmas cards, too.
Imagine a present you've picked out for someone special. Whether it's a fine gift commemorating an important milestone like an anniversary or big promotion or it's a playful trinket to let a friend know you're thinking of them, you can elevate your gifts with stickers. When you pick from styles that suit your personality, each gift you give becomes something extra memorable.
Discover an Adult Sticker Style You Love
The art of gift-giving is one of the greatest joys of adulthood. You're the kind of person who can see the good in others and you know how to show your appreciation with a thoughtful memento. A sticker with an amazing design is a very grown-up way to express yourself and your affection for others.
Go bold with brightly colored zig-zags and high-contrast colors that look like your favorite social-media boards or enrich the look of wrapped presents with sophisticated color ways and fonts that spell out your name next to a message everyone can appreciate. When you use personalized stickers as gift tags, it's just one more wonderful method of expression.
Have Fun Sending Notecards with Personalized Stickers
Adult stickers make simple stationery notes so much more fun. Expect an immediate reply from your addressees when they see an envelope that bears a sticker you made just to send out to them. Texts, calls, and more notecards in the mail start to become a regular part of your life when you put in just that little bit of extra effort. It's so worth it to keep the love going!
Customize Adult Stickers with Photos for Keepsakes
Your name is enough to bring a smile to everyone's face, but a sticker with a photo on it turns that everyday card into a keepsake. Get new stickers made as soon as you run out and try out different photos every time. Over the next few months, everyone in your family or social circle will have a mini-collection of your playful spirit -- and proof positive that you care enough to send your best. You can still send prints, but stickers are guaranteed to have that unique flair you're known for.
Related Products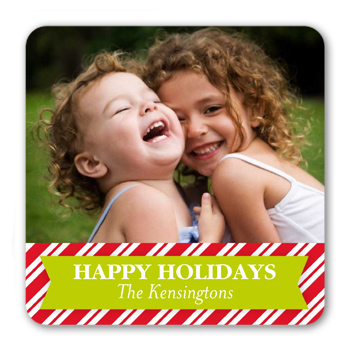 Diagonal Stripes Custom Stickers. Sealed with a smile. These stickers are a great way to add a personalized touch to your greetings
Flurry Christmas Custom Stickers. Sealed with a smile. These stickers are a great way to add a personalized touch to your greetings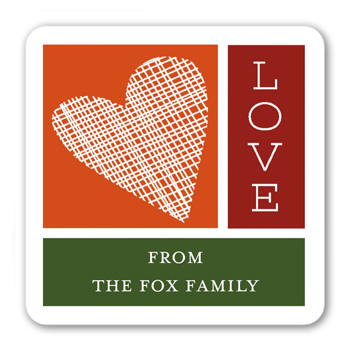 Light Heart Custom Stickers. Sealed with a smile. These stickers are a great way to add a personalized touch to your greetings