What customers have to say about our Thank You Cards
January 27, 2019
Grateful for my thank you cards
"I ordered these cards to give out with my closing gifts to my buyers and I am so glad that I did. The quality is amazing and the print was perfect. Can't wait to use them!"
"Love the size, love the card stock, love how our photo fit so nicely."
January 27, 2019
Love these cards.
"Shutterfly always does a great job."
"Once again, Iove my end result from Shutterfly. The people love their personalized cards too."
January 26, 2019
These turned out so CUTE!!!
"The card stock is very heavy and makes it a nice writing experience. Quality, thick, great bright colors on the card. This is a great product and a wonderful purchase."
Custom Thank You Cards for Adults
Make your own custom thank you cards for adults with Shutterfly. When you want to send a message of gratitude to a loved one in a classy, stylish way, our thank you cards for adults are the way to go. While cutesy cards with zoo animals and birthday-themed designs always have their place, this collection is perfect when you want to deliver your "thank you" with a touch of elegance. These thank you card designs are suitable for various occasions, so feel free to use them as your wedding thank you cards, as every day note cards for sending random messages of thanks, or for another occasion. Browse our custom thank you card designs, and you'll agree that your loved ones will be touched and feel truly appreciated when they receive one of these beautifully designed personalized cards.
Personalize Your Thank You Cards
Choose your favorite adult thank you card design from our stylish collection and then personalize it using our online customization options. Select your favorite colors, fonts, trim style, and more. Then create a personalized message of thanks that will make your recipients feel special. You can also upload favorite photos to add an especially personalized touch or keep it simple with a monogram design. You can include a photo from the occasion you're sending a thank you note for — like your wedding, a birthday party, or other special occasions. Make your thank you cards even more memorable by adding a special thank you quote. No matter what design options you choose, your personality and style will stand out in your completed design. Your friends and family members will be delighted to receive this one-of-a-kind personalized thank you card designed with elegance.
Thank You Cards and More Custom Stationery
Once you've finished creating your thank you card designs, don't forget about the envelopes! Instead of leaving them plain and uninspiring, add some flair with personalized address labels that complement your thank you card design. You can design your address labels to match your personality and style by customizing them with favorite photos, colors, and text. We also carry custom stickers, which will add even more style to your envelopes. Although these additional items may not seem like much at first, they'll make a noticeable difference in the overall look of your stationery package. These thank you cards will not only stand out in the mail, but they'll get your recipients excited to see what's inside!
Related Products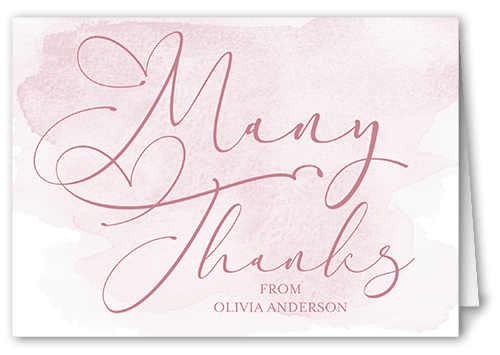 Grand Graceful Script 3x5 Folded Card by Éclair Paper Company. Show just how much you appreciate them with this stylish thank you card. Add your favorite photos and a message of thanks.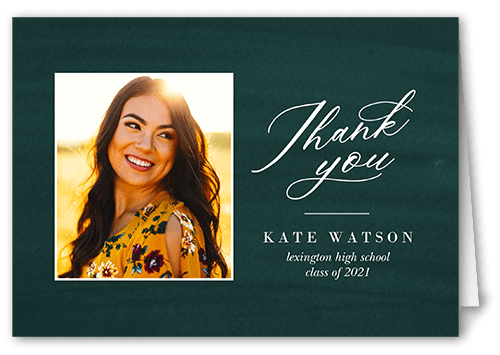 Great Grad 3x5 Folded Card by Yours Truly. Show just how much you appreciate them with this stylish thank you card. Add your favorite photos and a message of thanks.