Affordable Birth Announcements
What customers have to say about our Birth Announcements
January 25, 2019
A Hit With All the Family!
"We used this card as a birth announcement and thank you card for our baby shower attendees. It's on a nice heavy cardstock, and the print was super clear. With my first order there was a smear on the return address on the back of the envelope, but no big deal. With the first order I also didn't receive the blank envelopes I ordered. The second order everything was perfect. I would highly recommend!"
January 24, 2019
Very nice cards
"Super classy cards"
January 24, 2019
Great buy
"Looks and feels great. Came so quickly and is such great quality!"
January 22, 2019
So sweet
"Easy to create!sweet design"
January 22, 2019
Love this product!!
"I love the simplicity of this birth announcement, it was easy to make and arrived on time!"
Customizable, Budget-Conscious Birth Announcements
Congratulations! Your family has grown a little bigger, and it's time to let everyone in your family and your circle of friends know about it. This is your chance to introduce your newest member to everyone in your social circle, so you need affordable birth announcements that still give you a range of options to build the perfect look and feel when you send them out. Luckily, Shutterfly has the options you need to put together the ideal birth announcement. You just need to bring your own photos.
Picking Your Perfect Photo Set
Finding just the right pictures to put in place on your birth announcement should be something fun and relaxing, which is why it's important to give yourself the time you need to really get the shots that show your little one's best side. Whether you're looking to catch a smile and a laugh or you just want to be sure you have a variety of poses and expressions, it takes time to catch those special moments.
Taking the first week or two to find the right ones to capture means being able to do more than just show off a picture. It means finding the snapshots that really show your baby's attitude and expressiveness. Of course, if you need inspiration there is always the popular trio of:
Regardless of what photo ideas you go with, affordable birth announcements are available in a variety of styles and with a wide range of options for the size and layout of your baby's birth pictures, so it should be easy to find just the right ones to include.
Something Extra for Close Family
Birth announcements let you share your joy, but when it's time to make the announcement to your closest circle of family and friends, there are bound to be a couple of people you want to do a little bit more for. That's where customizable gifts can make a great addition. Whether you are looking at hanging personalized wall art that can put your new infant's picture alongside other family photos or something more lighthearted, like a custom coffee mug that shows off your baby's smile, it's easy to add something special to your affordable birth announcements when the time is right.
Don't forget, on top of having options that let you make each item your own, Shutterfly also offers shipping options that get you everything you need on time and at an affordable price.
Related Products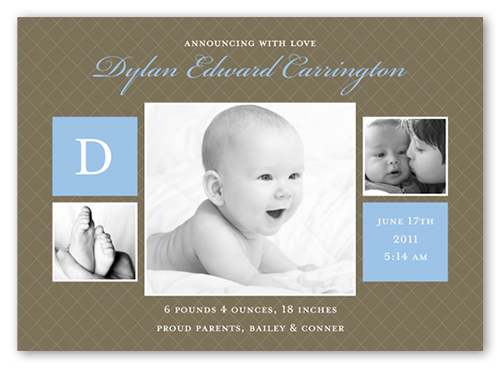 Baby Love Blue Birth Announcement 5x7 Stationery Card by Stacy Claire Boyd. My baby love. Sky-blue squares hold his initials and birth date and time. Add three favorite photos on a classic patterned background in this darling birth announcement.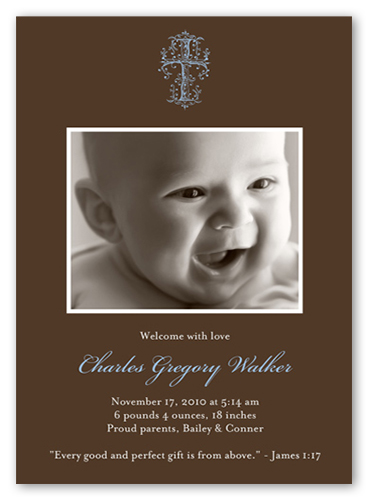 Blessed Cross Blue Birth Announcement 5x7 Stationery Card by Stacy Claire Boyd. What a blessed gift. Introduce your baby boy to the world with a favorite photo below a lovely cross. Add his name and birth details to this elegant ...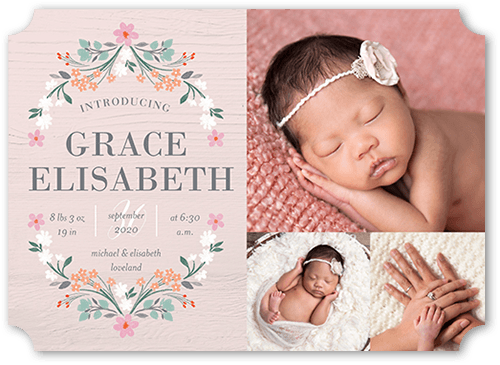 Blossoming Introduction 5x7 Stationery Card by Petite Lemon. Announce your newest arrival with this stylish birth announcement. Add your baby's name, a favorite photo and the news everyone's been waiting for.