Affordable Moving Announcements
What customers have to say about our Moving Announcements
"Nice change of address cards"
January 23, 2019
High Quality, Vibrant Colors
"This card turned out perfectly. The bright and cheery colors will greet our friends and family in the mailbox and provide such smiles! The quality of the cardstock and the envelopes is stupendous! We plan to order holiday cards from Shutterfly every year now!"
January 22, 2019
Personalized Card Bliss
"Great quality card made from personal photo and personalized captions. Sometimes a store bought card doesn't capture the sentiment you're trying to portray. This is a fantastic option to create your own!"
January 20, 2019
I would buy this type card again.
"Great card to send our address change."
January 15, 2019
Have yet to be disappointed in anything I have ordered!
"This isn't the first time I've ordered something. The quality of the product - senior portraits, address labels, "new address" cards - have all been superior. Will definitely continue to be a return customer."
Affordable Moving Announcements
You're ready to send moving announcements as soon as you know where you're moving. Whether you're moving to a new home within the same town or are relocating to another state, sending affordable moving announcement postcards are a great way to share your move with friends and family members. Let us help you make the task of informing everyone about your move less stressful with our convenient and affordable moving announcements. Sending out personalized moving announcements to friends, family members and colleagues is a smart and efficient way to let your friends and family know about your move. Affordable moving announcements also provide a helpful reminder to everyone to update their address books – without breaking the bank! You'll find Shutterfly's moving announcements are simple to customize and enable you to share your new address with loved ones quickly and easily - giving you the satisfaction of marking one item off of your to-do list.
Design Custom Affordable Moving Announcements
Shutterfly's affordable moving announcements are available in a variety of fun designs and templates that are easy to personalize with our various customization options. Add your own 'we've moved' or 'home sweet home' messages and select from an array of font styles, trim designs, cardstock, card sizes, color options and more. If you desire, you can even upload a photo of you in front of your new home to give everyone an exciting sneak peek of your new residence - and inspire them to visit you soon! Another fun idea to spruce up your address postcards is to include a photo of your old home with the sold sign on the front yard.
Custom Stationery Add-On Items to Affordable Moving Announcements
The perfect way to make your change of address cards stand out in the mail and grab the attention of your recipients when they're delivered is to add a little extra flair to your moving announcement envelopes. Shutterfly's collection of exciting address labels feature stylish designs that will add personality and pop to your envelopes and stationery. Personalize your affordable moving announcements even more by dressing up your envelopes with custom stickers. These little extras will go a long way in making sure your announcements are opened – and your recipients will love the added personal touches. Once you've settled into your new home, if you need some home décor inspiration, check out Shutterfly's wall art for fantastic ideas.
Related Products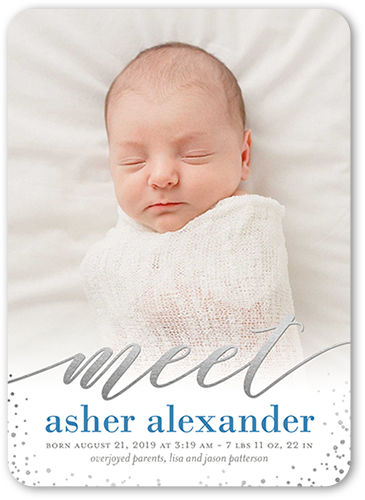 Delicate Introduction Boy 5x7 Birth Announcement Cards. Announce your newest arrival with this stylish birth announcement. Add your baby's name, a favorite photo and the news everyone's been waiting for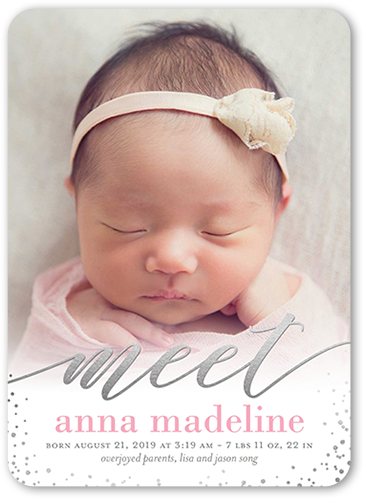 Delicate Introduction Girl 5x7 Birth Announcement Cards. Announce your newest arrival with this stylish birth announcement. Add your baby's name, a favorite photo and the news everyone's been waiting for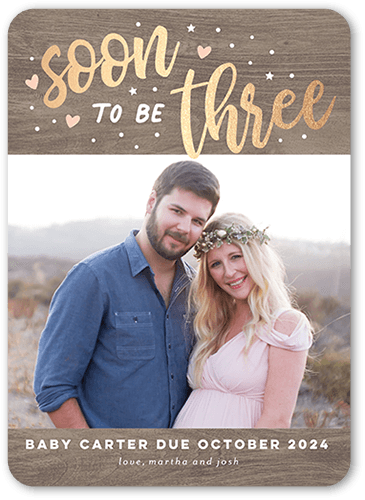 Soon To Be More 5x7 Photo Card by Shutterfly. Share your exciting news with this cheerful pregnancy announcement. Let others know your little one is on the way with a happy baby belly, your favorite picture and an expected arrival ...