What customers have to say about our Save the Date
January 26, 2019
Loved them!
"Our save the dates turned out amazing! We are excited to send them out."
January 24, 2019
Love shutterfly
"Loved my save the dates!"
January 22, 2019
Excellent Quality
"Great quality paper and image. Worth every penny."
January 21, 2019
Super easy and was just what we were looking for.
"This was just what we wanted, a good selection and examples to check out."
January 20, 2019
I would buy this again
"We ordered save the dates for our wedding. Love that we were able to personalize."
Artistic Save the Dates
When planning your wedding, start with artistic save the date cards and wedding invitations. Achieving a stylish, creative save the date wedding stationery theme for your special day is made simpler when you take advantage of the many personalized design resources available. From printing save the date cards to rsvp cards to coordinating a sophisticated table arrangement, take the complications out of your big day by keeping all your wedding planning traditional and straightforward.
LESS PLANNING WITH ARTISTIC SAVE THE DATE CARDS
Using design templates and photo cards doesn't make your wedding day any less special. In fact, they can improve upon the experience by alleviating stress levels and streamlining the planning process and give you artistic save the date ideas. Instead of starting from scratch, take a look at how others have planned their weddings, borrowing engagement photo ideas as needed, and keep it minimalist. The theme of your wedding or a formal save the date card on premium card stock is not what makes the day memorable, you do. Remember, it's your love story and this keepsake is one that will ignite fond memories with each passing year.
STICK TO YOUR SAVE THE DATE THEME
Finding the right look for your artistic wedding announcement and nuptials boils down to sticking to a common wedding planning theme. Though this may seem more difficult to achieve, it actually simplifies planning. Once you have a décor scheme in mind, simply select diy save the date postcard patterns and colors that fit accordingly. Sticking to an enclosure card theme keeps the typography decision making to a minimum. With exclusive offers, Shutterfly is the perfect way to create your entire artistic photo save the date and wedding invitation suite for any type of wedding celebration including a destination wedding. Everyone on your guest list will enjoy receiving unique save the dates on customized Shutterfly stationery.
FROM WEDDING INVITATIONS TO WEDDING IDEAS
Here's how you can begin to think about a common theme. In a traditional black and white or rose gold letterpress theme, for instance, start by selecting artistic save the date cards that meet your criteria and expand from there, tying subsequent elements together. Remember that the calligraphy and stationery design of your wedding announcement should match the overall theme. Try matching wedding favors, each complete with a commemorative souvenir of the special day, like a picture frame or paperweight. Ultimately, keep it simple; the essence of elegance and sophistication is minimalism. To design and personalize a beautiful wedding for you and all your wedding guests does not have to be an endless series of decisions. Keep it straightforward with an alternative like save the date magnets and commit to a basic, yet elegant theme, which includes your wedding website. You may find that in the end, less is more when it comes to planning your wedding date and even your wedding location.
Related Products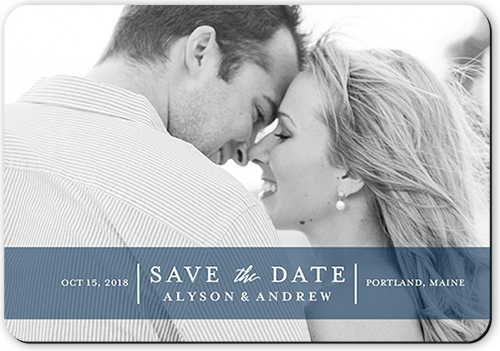 Capturing Magic Save The Dates. Make sure they mark their calendars with this Save the Date magnet. Just add a photo and your nuptial details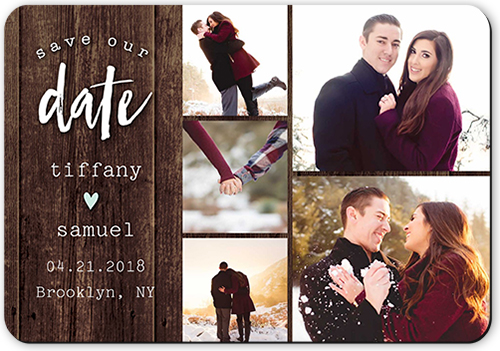 Our Journey Save The Dates. Make sure they mark their calendars with this stylish Save the Date magnet. Just add a photo and your nuptial details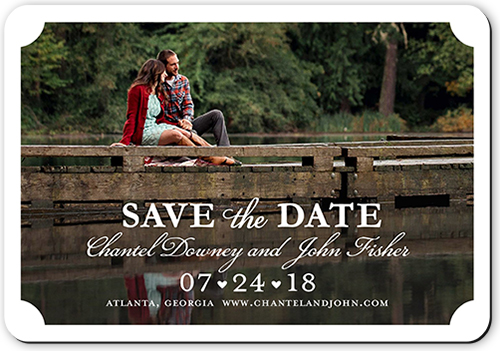 Our Sweet Love Save The Dates. Make sure they mark their calendars with stylish Save the Date magnet. Just add a photo and your nuptial details