Blue Graduation Announcements
What customers have to say about our Graduation Announcements
January 10, 2019
Great quality and affordable.
"I was able to use a 50% coupon and saved a lot of money on my purchase!"
January 10, 2019
Would repurchase
"My daughter's graduation announcements came out lovely, just as we expected."
January 5, 2019
Beautiful quality cards
"I love these cards and have ordered many over the years. The paper is very nice and heavy for both the cards and envelopes."
December 27, 2018
Yippee Skippee!
"Just PERFECT as to what I wanted... Brilliantly depicted. Graciously received..."
December 23, 2018
This website for placing a simple card order is the worst.
"Impossible. All the other reviews that express frustration with using the Shutterfly website are correct. It is worse than frustrating."
Blue Graduation Announcements with Personal Style
Graduating from high school or college is an accomplishment worthy of celebration. Announce it to the world with custom blue graduation announcements. Designed with their favorite photos, these cards share the joy with friends and family. Shutterfly makes designing yours fast and easy.
What a great way to share those senior photos. Whether you feature one or a collage of your favorites, the results are great. Choose from the available paper options. Do you prefer the matte finish or something with a shimmer? You can have them sent to your house or addressed and mailed to the recipients. What could be easier than that?
Show Your School Pride
Blue is one of the most common school colors. Show it off with pride by ordering blue or red graduation announcements. Gold, yellow, and white are a few of the accent colors seen in this collection. Add the graduate's name, initial, graduation date, and more. Turn them into a shadow box by framing one along with the cap or tassel.
Blue Graduation Announcements for Every Budget
Sending out custom graduation cards doesn't have to be expensive. There are many stylish designs available for a matter of cents per card. If you have a long recipient list, this option will help you stay on budget. Are you looking to jazz things up a bit? Select one of the modern designs, such as tri-fold option. Everyone is sure to find a design reflecting their personal style.
Express Your Personal Style
Honor your graduate with an invitation designed for them. Check out all the designs to find the one you want to put your personal stamp on. Adding your own touches couldn't be easier. Follow the steps to add photos, the date, and other specifics. Don't forget to check out the back. Some allow you to add a short paragraph. Use it to tell everyone about where you plan to go and what you plan to do next. Make sure to order a few extra for the graduate to keep. It makes a great addition to a memory book.
How to Address Your Envelopes
Are you looking for information on how to address the envelopes? The Shutterfly design center has information how to address envelopes, when to mail them, and other etiquette answers. While you're there, check out the ideas on graduation caps and how to wear a graduation cap. You may even find the perfect gift idea for the graduate.
Related Products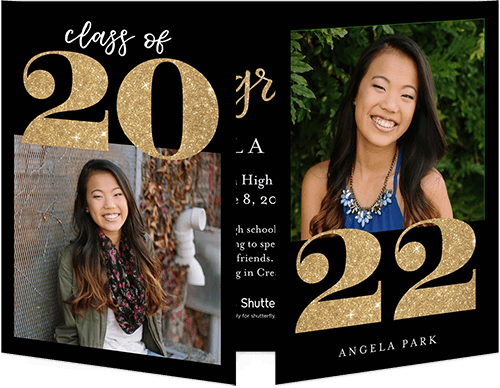 Elegant Year Collage Gate Fold Graduation Announcements Cards. Let your Graduate's story unfold with this unique card that opens up from the middle to reveal your photos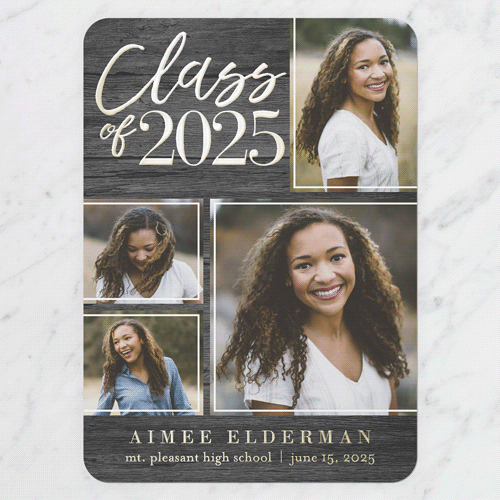 Rustic Class 5x7 Stationery Card by Yours Truly. Celebrate the new graduate with this unique graduation announcement. Personalize with the graduate's name and the event details.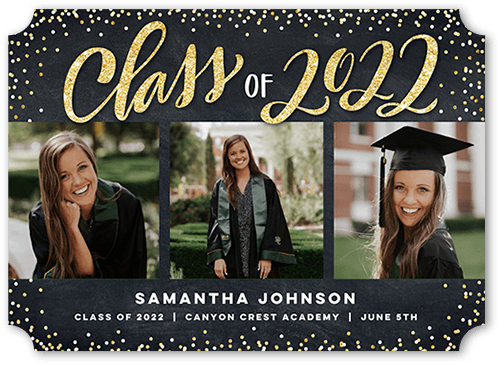 Exceptional Class 5x7 Stationery Card by Stacy Claire Boyd. Celebrate the new graduate with this unique graduation announcement. Personalize with the graduate's name and the event details.