What customers have to say about our Save the Date
January 26, 2019
Loved them!
"Our save the dates turned out amazing! We are excited to send them out."
January 24, 2019
Love shutterfly
"Loved my save the dates!"
January 22, 2019
Excellent Quality
"Great quality paper and image. Worth every penny."
January 21, 2019
Super easy and was just what we were looking for.
"This was just what we wanted, a good selection and examples to check out."
January 20, 2019
I would buy this again
"We ordered save the dates for our wedding. Love that we were able to personalize."
Chalkboard Save the Dates
Give your save the date cards a chalkboard theme for a different take on traditional wedding stationery. Make chalkboard save the date cards a part of your wedding invites. One consideration in the wedding planning process is when to send save-the-dates to your future wedding guests. When your wedding date is set, you can send your chalkboard save the date and follow it up with a matching wedding invitation, RSVP, wedding announcement, and thank you card. Choose from numerous styles of wedding save the dates that best fit your wedding theme and style. Shutterfly offers save the date postcards, save the date magnets, save the date photo cards as well as floral save the date cards.
Sending Your Chalkboard Save the Date Cards
Save the dates in chalkboard themes have all the benefits of traditional save the date cards, but give you the added benefit of displaying your personalized message in black and white in order to produce a great effect. Build your save the date cards with beautifully designed templates on quality cardstock. Save-the-dates serve as an official announcement of your wedding date, time and location. You may also include your wedding website URL, where guests can find additional information. Save the dates let guests know to expect a formal wedding invitation at some point in the future. Your chalkboard design save-the-dates will give your guests a glimpse of the wedding. So the more formal the wedding, the more likely a black and white chalkboard save the date postcard will set the tone you want for your wedding. It's a good idea to mail your save-the-date postcards four to six months before the wedding. In general, alerting your guests in advance will increase the likelihood that they'll attend.
Save the Dates with Chalkboard Designs & More

Save-the-date postcards with a chalkboard design are typically much less formal, but with Shutterfly you can make your style shine, or try out a rustic save the date theme or include old fashioned lettering that you may love but don't necessarily want to commit to. Toggle between colors, typography or card styles to create something that'll get guests excited for the occasion. Shutterfly also offers plenty of other stationery options to make your entire wedding celebration a hit. Browse our wedding planning inventory including wedding invitations, wedding announcements, flat card styles and much more. Make your big day one to remember.
Related Products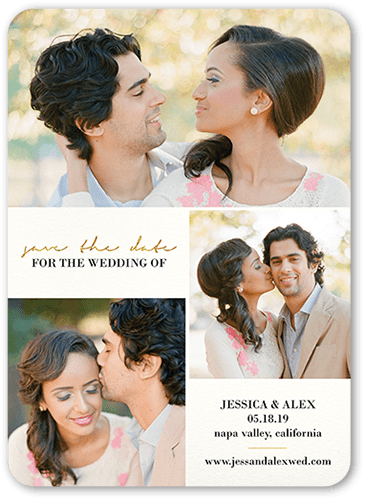 Exquisite Forever Save The Date Cards. Make sure they mark their calendars with stylish Save the Date card. Modern fonts create a clean, crisp design with lovely pictures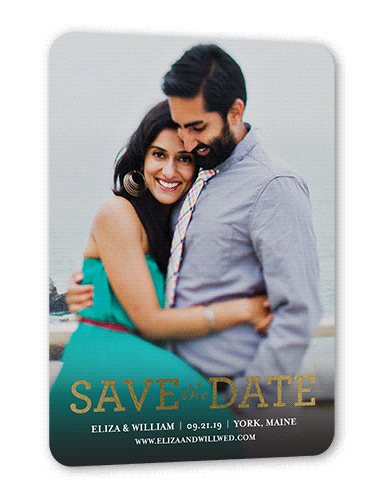 Forever Love Save The Date Cards. Make sure they mark their calendars with this stylish Save the Date card. Modern fonts create a clean, crisp design with a lovely pictures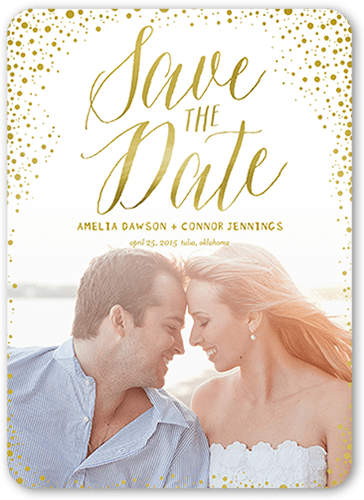 Fond Forever Save The Date Cards. Make sure they mark their calendars with this stylish Save the Date card. Modern fonts create a clean, crisp design with a lovely pictures