Chalkboard Wedding Announcements
What customers have to say about our Wedding Announcements
January 22, 2019
Personalized Card Bliss
"Great quality card made from personal photo and personalized captions. Sometimes a store bought card doesn't capture the sentiment you're trying to portray. This is a fantastic option to create your own!"
January 12, 2019
Shutterfly products always look great!
"If you love one of your photos, turn it into a card! Whether it's a Thank you card, a sympathy card, a birthday card or any other kind of card, it'll turn out great!"
January 10, 2019
It exceeded my expectations
"Great, professional results"
"Purchased this recently to announce my son and daughter in law's wedding. All recipients have commented on how beautifully done the cards were. The paper and picture quality were perfect. Dealt with customer service on this order. Their promptness and undertanding were superb."
"quick and easy. Great pricing."
Add Extra Flair With a Chalkboard Style Wedding Announcement
Chalkboard wedding announcements can take your wedding to the next level. This style plays both a modern and old school twist on the traditional wedding announcement approach. What's great about these cards is that they keep things simple, without forgoing the aesthetic factors that go into making a memorable wedding announcement card.
Regardless of if you're more minimalistic or extravagant, you can DIY a chalkboard wedding announcement to fit your needs as a bride and groom. At Shutterfly, we've got you covered with different templates to choose from for the perfect marriage announcements. To make your perfect wedding announcements or invitations, follow our guide on how to make personalized cards.
DIY Chalkboard Wedding Announcements According to Your Wedding Theme
When personalizing your chalkboard wedding announcement, consider matching the theme with that of your wedding day. You can do this by playing around with the editing of your photos and the style of the written text. For a rustic chalkboard wedding announcement, try customizing with fun cursive lettering and simple floral designs. For a more cohesive look, include photos that fit your theme of choice as well.
Chalkboard wedding invitations are also a great addition to a vintage style wedding. For the perfect vintage chalkboard wedding invitation, pick your favorite wedding invitation font and keep the lettering all white for a more put together look. Add a mix of floral and spiral designs to embellish the invitation.
When to Send a Chalkboard Wedding Invitation or Announcement
Wedding announcements are a way to announce your marriage to your friend and family after the ceremony. Most include basic information, like your names, where you were married and the date. It's up to you if you'd like to include any other details. Recap the celebration by giving a high scale overview, and include some photos so they feel as if they were there all along!
Related Products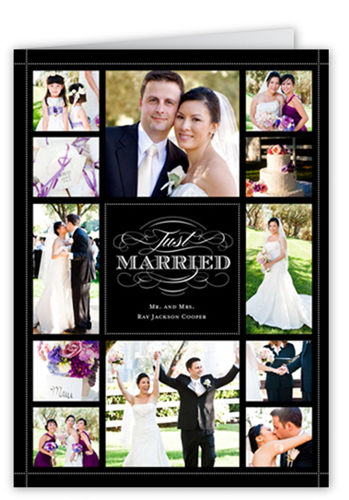 Classic Scroll 5x7 Folded Wedding Announcement Cards. I thee wed. Announce your wedding in style with a favorite photo and the celebration details on this wedding announcement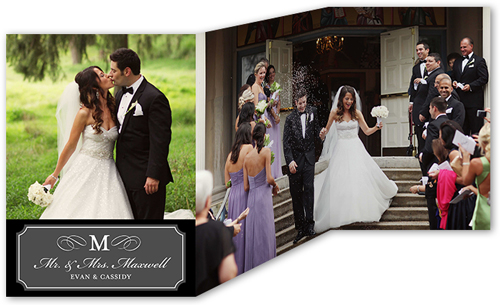 Classic Spread 5x7 Tri-Fold Wedding Announcement Cards. I thee wed. Announce your wedding in style with a favorite photo and the celebration details on this wedding announcement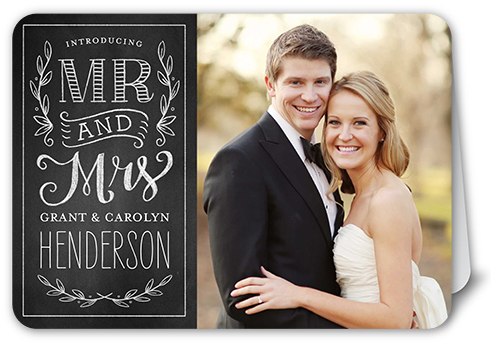 Fun Chalkboard Type 5x7 Folded Wedding Announcement Cards. I thee wed. Announce your wedding in style with a favorite photo and the celebration details on this wedding announcement