What customers have to say about our Save the Date
January 26, 2019
Loved them!
"Our save the dates turned out amazing! We are excited to send them out."
January 24, 2019
Love shutterfly
"Loved my save the dates!"
January 22, 2019
Excellent Quality
"Great quality paper and image. Worth every penny."
January 21, 2019
Super easy and was just what we were looking for.
"This was just what we wanted, a good selection and examples to check out."
January 20, 2019
I would buy this again
"We ordered save the dates for our wedding. Love that we were able to personalize."
Custom Color Save the Dates
Sending save the date cards is an important early step in the wedding planning process. Once you've decided when and where your big day will be taking place, you can pick out a save the date design that captures your style perfectly. Choose from a range of elegant, modern, rustic, classic and simple save the date cards from Shutterfly, and you'll be on your way to sharing the big news in style.
Customizing Your Save the Date Card
With Shutterfly, it's easy to create custom save the dates that suit your wedding style and have that personal touch everyone loves. Choose your favorite template and personalize the design down to each and every detail. For a save the date that packs a stylish punch, customize it in these ways and more:
Custom Color Palette: Each of these save the date designs features our unique Custom Color Palette, which allows you to fully customize the design colors. If you've already chosen your wedding colors, this is a great first opportunity to show them off. It also makes it easy to coordinate your design with the colors in your chosen photos.
Photos: Whether you prefer to highlight a single engagement portrait or showcase several in a collage design, uploading your own pictures is simple. Tip: When browsing our collection of designs, use the "Show with my photos" feature to see how each option looks with your own pictures.
Fonts: Choose from a variety of fonts to make it yours. Use a mix of elegant calligraphy and modern text styles for a beautiful look.
What to Include on a Save the Date
You may have encountered some conflicting information when it comes to what you should include on your wedding save the dates. However, for a modern save the date card, keep things simple—all you need is 3 pieces of information.
When: the date of your big day, of course! Display it front-and-center on your card design for the biggest impact.
Who: the names of the bride and groom. Go as casual (first names) or as formal (full names) as you like.
Where: the location of your wedding. You'll want to mention at least the city, but include the venue location as well if you already have it planned and booked.
For more information on creating and sending the perfect save the date, see our in-depth guide to save the date etiquette.
Related Products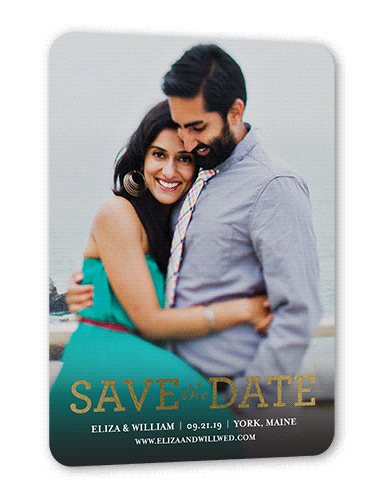 Forever Love Save The Date Cards. Make sure they mark their calendars with this stylish Save the Date card. Modern fonts create a clean, crisp design with a lovely pictures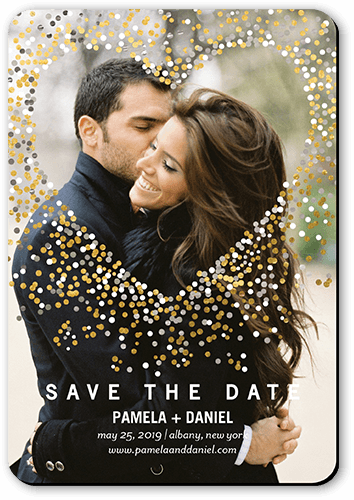 Glimmering Hearts Save The Date Cards. Make sure they mark their calendars with stylish Save the Date card. Modern fonts create a clean, crisp design with lovely pictures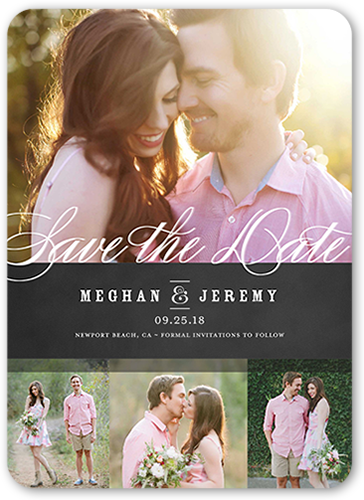 Gradient Type Save The Date Cards. Make sure they mark their calendars with this Save the Date card. Modern fonts create a clean, crisp design with lovely pictures