What customers have to say about our Save the Date
January 26, 2019
Loved them!
"Our save the dates turned out amazing! We are excited to send them out."
January 24, 2019
Love shutterfly
"Loved my save the dates!"
January 22, 2019
Excellent Quality
"Great quality paper and image. Worth every penny."
January 21, 2019
Super easy and was just what we were looking for.
"This was just what we wanted, a good selection and examples to check out."
January 20, 2019
I would buy this again
"We ordered save the dates for our wedding. Love that we were able to personalize."
Wedding Change the Date Cards
Let your guests know there will be a change of plans with Shutterfly's custom change the date cards. Having to postpone your wedding for whatever reason can be frustrating. You have put so much time, effort, and money into planning into your big day. At Shutterfly, we understand how hard it can be and want to make it as easy as possible to let your wedding guests know that you need to look forward to a new day. To help, Shutterfly offers a line of change the date cards that we can mail out for you so you can spread the word to loved ones about your wedding date change. Use our collection of wedding postponement card templates and choose your favorite to personalize and share with your friends and family. While you may be disappointed in the date change, those on your guest list will be excited to hear about your new plan and the new date they should mark on their calendar to celebrate your big day.
Share Your New Wedding Date With Custom Change of Date Cards
Change the date cards — or event change save the dates — are sent to wedding guests to let them know the date of your wedding has changed. Change of date cards are typically sent to people who have already received a wedding invitation. If you haven't sent wedding invitations yet, you can send change the date cards to anyone you sent save the dates to. A change the date wedding announcement is important for the same reason a save the date is important. You want the important people in your lives to be able to attend your wedding. Tell your guests the new wedding date and time will allow them to reserve this day on their calendars and give them enough time to adjust their schedules and plan travel, accommodations, time off, and more for your special day. It's especially crucial to use change the date cards if you're hosting a destination wedding where most guests may have to make hotel and flight reservations. Change of dates let your ugets know you care enough about their schedule to keep them in the loop.
Make Wedding Postponement Cards to Reschedule in Style
What you include on your wedding postponement cards depends on how far you've gotten with planning your rescheduled celebration. If you've secured a new date, it's fine to include it. If you're still waiting to nail down a date, it's best to send the change the date cards and new save the date separately. To change the date of your wedding, you can say as much or as little as you want. You can add a message on the announcement card that lets the guests know what your new wedding date is or to check for updates at your wedding website. Or, if you don't know what your new date will be, you can say that another wedding invitation will be coming soon. In general, a change of date card should include the couple's name, an acknowledgement of the postponement, and a new date and/or location if it is available. Upload a photo of the two of you on your wedding update card and personalize it with unique colors, fonts, and designs. For more wedding stationery, design custom save the dates, wedding invitations, RSVP cards, thank you cards, and more with Shutterfly.
Related Products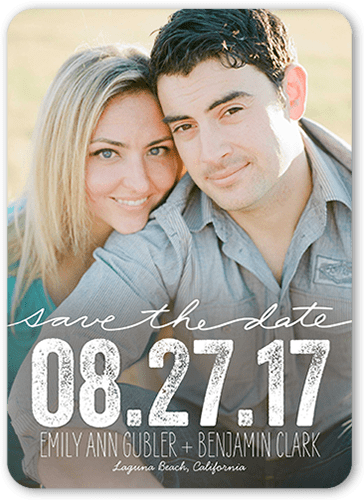 Enchanting Save The Date Cards. Make sure they mark their calendars with stylish Save the Date card. Modern fonts create a clean, crisp design with a lovely pictures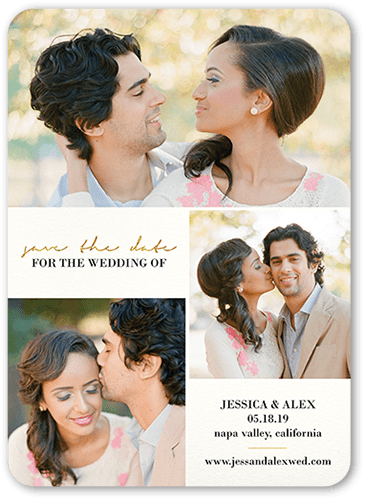 Exquisite Forever Save The Date Cards. Make sure they mark their calendars with stylish Save the Date card. Modern fonts create a clean, crisp design with lovely pictures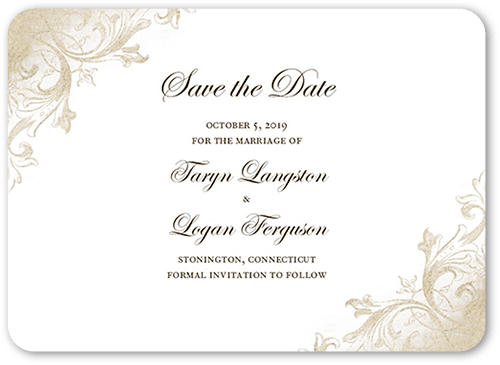 Faded Scroll Save The Date Cards. Make sure they mark their calendars with this Save the Date magnet. Modern fonts create a clean, crisp design with lovely pictures