Floral Wedding Announcements
What customers have to say about our Wedding Announcements
January 22, 2019
Personalized Card Bliss
"Great quality card made from personal photo and personalized captions. Sometimes a store bought card doesn't capture the sentiment you're trying to portray. This is a fantastic option to create your own!"
January 12, 2019
Shutterfly products always look great!
"If you love one of your photos, turn it into a card! Whether it's a Thank you card, a sympathy card, a birthday card or any other kind of card, it'll turn out great!"
January 10, 2019
It exceeded my expectations
"Great, professional results"
"Purchased this recently to announce my son and daughter in law's wedding. All recipients have commented on how beautifully done the cards were. The paper and picture quality were perfect. Dealt with customer service on this order. Their promptness and undertanding were superb."
"quick and easy. Great pricing."
Inspiration For Beautiful Wedding Announcements
Floral designs are a great way to transform your wedding announcement ideas. While not too over the top, floral wedding announcements have the aesthetic look you'll want associated with your special day. If you already have a wedding theme in mind, pick a floral wedding announcement template that matches your theme. This will give the whole celebration a cohesive look from the very beginning.
Some popular flowers for weddings include: carnations, baby's breath, gardenias, and roses. If you already have a theme in mind, there's also a chance you have wedding flowers selected as well. If this is the case, incorporate the flowers that will decorate your wedding venue when designing your beautiful wedding announcements.
Ideas For Wedding Announcement Wording
The font and style on your wedding announcement can also make a big difference. Considering your own personal style and the theme of your wedding, you'll want to pick a font that goes accordingly. For wedding announcement wording and font inspiration, check out our post on wedding fonts for different themes. The guide goes in depth on various ideas for elegant, simple, and unique font designs.
You should also consider the sizing of your wedding announcement. If you have a lot of information and text to include, selecting a smaller size may not be the best option. This can cause the announcement to feel cluttered and a little overwhelming. Instead, choose a bigger size so you can fit everything necessary, while still keeping a clean and polished look. Smaller card sizes will work better if your wedding announcement has less pictures and wording. For ideas on what to write on your card, get inspired by our guide to wedding announcement wording.
What to Include on Wedding Announcement Ideas
Depending on your reasons for sending out a wedding announcement, you'll want to include specific things. If you're sending them out as save the date cards, be sure to include date, location, and relevant wedding information. It's also a fun idea to include engagement photos, as it adds more of a personal touch. If you're sending them out as thank you cards, incorporate wedding photos and a very brief overview of wedding details.
At Shutterfly we offer different types of wedding announcement templates to suit all your needs. Whether you prefer more photos on your card or emphasis on the text instead, we've got you covered. Follow our guide on how to make personalized cards for inspiration on making the perfect wedding stationery.
Related Products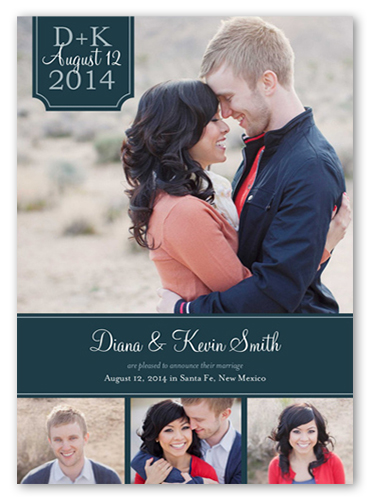 Elegant Tag 5x7 Wedding Announcement Cards. I thee wed. Announce your wedding in style with a favorite photo and the celebration details on this wedding announcement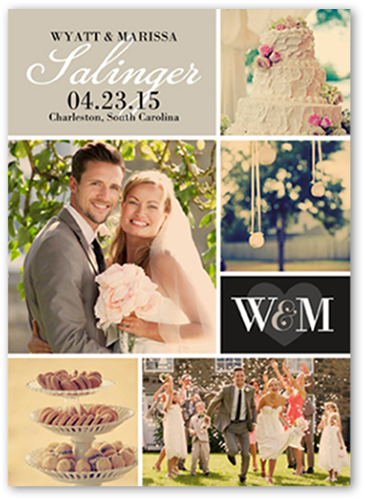 Loving Initials 5x7 Photo Wedding Announcement Cards. I thee wed. Announce your wedding in style with a favorite photo and the celebration details on this wedding announcement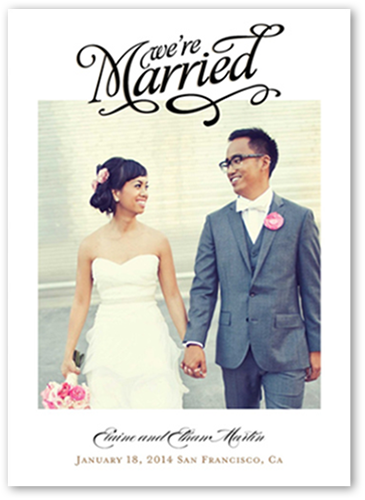 Our Big News 5x7 Photo Card | Wedding Announcements. I thee wed. Announce your wedding in style with a favorite photo and the celebration details on this wedding announcement