What customers have to say about our Save the Date
January 26, 2019
Loved them!
"Our save the dates turned out amazing! We are excited to send them out."
January 24, 2019
Love shutterfly
"Loved my save the dates!"
January 22, 2019
Excellent Quality
"Great quality paper and image. Worth every penny."
January 21, 2019
Super easy and was just what we were looking for.
"This was just what we wanted, a good selection and examples to check out."
January 20, 2019
I would buy this again
"We ordered save the dates for our wedding. Love that we were able to personalize."
Announce the Big Day Your Way
Here at Shutterfly, we understand that as you prepare to marry the love of your life, involving everybody you care about is one of the most exciting parts of the process. Nothing is better than announcing your wedding to friends and family and telling them all of the details of your impending nuptials. Once you have selected a date for the big day, you'll want to share that, too.

Gold foil save the date cards make doing so easy. More importantly, though, they make it stylish and personal. Your wedding invitations will be a unique reflection of the union between two lives, so every other part of it should be, too, including the save the date stationery you select.
Connect With Friends and Family
Shutterfly knows that you will share your gold foil save the date cards with all of your closest friends and family. Reaching out and sharing such an important part of your life is worthy of no less than the best—and maybe that's exactly why a gold motif is perfect for the occasion. If you'd rather be casual, you can choose a romantic or rustic look instead.

When you design your save the date cards at Shutterfly, you gain access to unique personalization tools that empower you to make them completely special. We ensure the final result is never generic and always exciting. You can share this excitement with your friends and family by sending them your save the dates or having us do it for you.
Plan for Every Part of Your Nuptials
The wedding isn't the only part of your nuptials that you will need to prepare for. It's more than just a date, after all—it's the joining of two lives in love and happiness. The joyous event will likely involve gifts, a shower and a reception. You should plan accordingly for these steps of the process, too, by investing in the following essentials:
Prints of the photos to share
Gifts for shower guests
Shutterfly is here to make one of the most important parts of your wedding one of the least stressful. With our intuitive customization tools, you can easily personalize every piece of stationery you design by adding photos, adding the text you want and selecting a gorgeous template that fits your style. With super rush and next day shipping options, you never need to worry about whether they will arrive on time. Trust us for your personalized gold foil save the date cards and wedding stationery.
Related Products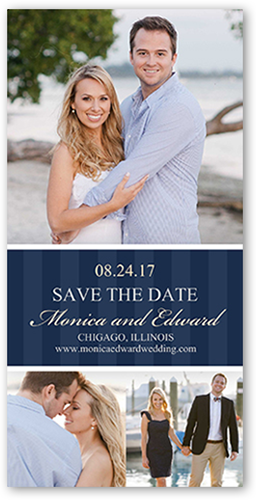 Classic Striped Romance Save The Date Cards. Make sure they mark their calendars with this stylish Save the Date card. Just add a photo and your nuptial details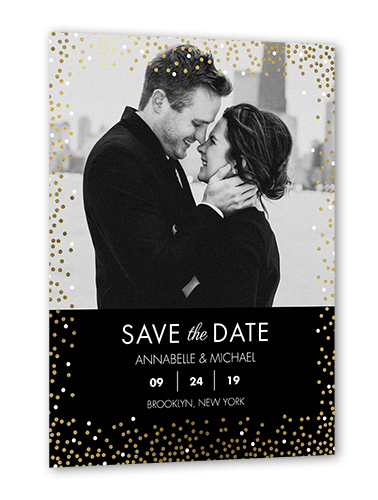 Fanciful Sprinkle Romance Save The Date Cards. Make sure they mark their calendars with stylish Save the Date magnet. Modern fonts create a clean, crisp design with lovely pictures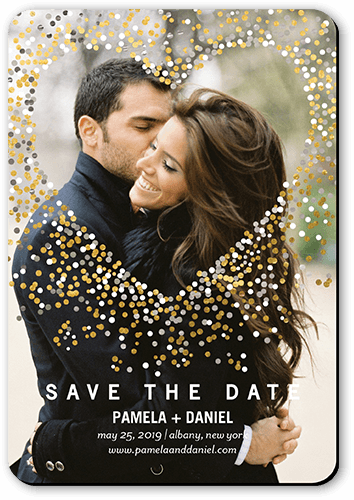 Glimmering Hearts Save The Date Cards. Make sure they mark their calendars with stylish Save the Date card. Modern fonts create a clean, crisp design with lovely pictures