Lace & Pattern Wedding Announcement Cards
What customers have to say about our Wedding Announcements
January 22, 2019
Personalized Card Bliss
"Great quality card made from personal photo and personalized captions. Sometimes a store bought card doesn't capture the sentiment you're trying to portray. This is a fantastic option to create your own!"
January 12, 2019
Shutterfly products always look great!
"If you love one of your photos, turn it into a card! Whether it's a Thank you card, a sympathy card, a birthday card or any other kind of card, it'll turn out great!"
January 10, 2019
It exceeded my expectations
"Great, professional results"
"Purchased this recently to announce my son and daughter in law's wedding. All recipients have commented on how beautifully done the cards were. The paper and picture quality were perfect. Dealt with customer service on this order. Their promptness and undertanding were superb."
"quick and easy. Great pricing."
Lace and Pattern Make for Beautiful Wedding Announcements
If you're looking to level up your wedding invites, consider opting for lace and pattern wedding announcements. Lace and pattern wedding announcements look classy and can make your announcements stand out with customizable options to add your own photo, text, graphics, and more.
Whether your design style leans more whimsical or modern, you can create the perfect lace and pattern wedding announcement to send to friends and family to celebrate your special day. Shutterfly gives you the flexibility to create a large variety of marriage announcement styles, perfect for any type of wedding theme!
Creative Wedding Announcement Wording Ideas
Customizing your wedding cards is a great way to make your save the dates stand out. You can choose the font, style, and even the size of your wedding announcements to tailor everything to your personal style.
If you want unique wedding announcement wording, consider a folded card that allows you to include more information beyond the basics of date, time, and dress code. With this idea, you can include personalized touches specific to you and your partner on your wedding announcements like a quote, special joke, or sweet sentence commemorating your love for one another.
It's also important to consider the size of your card when coming up with wedding announcement ideas — you want your announcement to be large enough that the information doesn't look cramped, but small enough that it'll earn a spot on your loved one's refrigerators to remind them of your amazing day.
When To Send Out Your Marriage Announcements
When sending marriage announcements, you should have them created and ready before the big day so they can be mailed the day of or day after your wedding. This ensures that your marriage announcement is fresh in your guests' minds, and gives them a wonderful memento of the special event they got to enjoy!
Your wedding is one of the most special days of your life. While the day can be hectic, it's important to make sure you are getting enough pictures to remember the day. After your wedding, you can put together a wedding photo album to remember the amazing time you had on your special day.
Related Products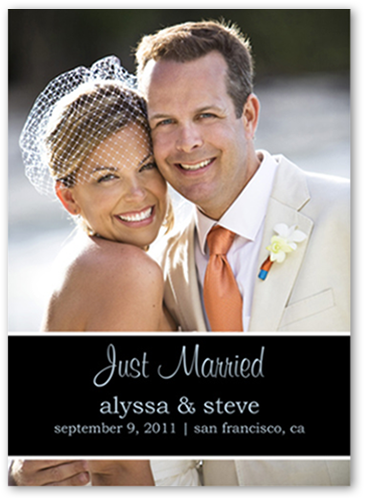 Classic Wedding Band 5x7 Photo Wedding Announcement Cards. Announce your union with a favorite photo, a noir ribbon, and a very bold statement, "Just married"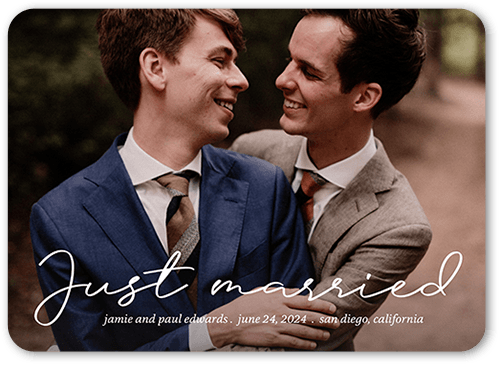 Extended Expression 5x7 Photo Card by Shutterfly. I thee wed. Announce your wedding in style with a favorite photo and the celebration details on this wedding announcement.
Floret Charcoal 5x7 Photo Wedding Announcement Cards. Elegant leaves and blooms accent a pretty picture. Include a special greeting and/or event details against a charcoal background