What customers have to say about our Save the Date
January 26, 2019
Loved them!
"Our save the dates turned out amazing! We are excited to send them out."
January 24, 2019
Love shutterfly
"Loved my save the dates!"
January 22, 2019
Excellent Quality
"Great quality paper and image. Worth every penny."
January 21, 2019
Super easy and was just what we were looking for.
"This was just what we wanted, a good selection and examples to check out."
January 20, 2019
I would buy this again
"We ordered save the dates for our wedding. Love that we were able to personalize."
Save the Date Magnets
Ask your loved ones to mark your calendars by sending out custom save the date magnets to everyone you want on your big day. When you send save the date cards in magnet form, your friends and family can keep your invites as a unique keepsake that they can hang on their refrigerator at home. With Shutterfly, you can personalize your save the date photo magnets to suit your style and the theme of the wedding. Whether you're having a destination wedding, a small ceremony at home, or a glam wedding day with a large guest list, a save the date magnet is the perfect way to share the engagement news and wow your recipients. Choose from unique and beautiful watercolor designs, gorgeous typography, and more options to make a save the date magnet that suits your style.
CUSTOM MAGNETS MAKE THE BEST SAVE THE DATE CARDS
When you're wedding planning, you'll want to consider custom save the date magnets when sharing the news of your wedding date to loved ones. There are plenty of ways to let people know when your wedding date is so that they can mark it down on their calendars. The great thing about photo magnets is that your guests are likely to put them on their fridges. That way any time they go to grab something to eat, they are reminded of the impending nuptials and how excited they are to celebrate your wedding day. This can be a major asset over sending an email because messages can get forgotten, deleted or sent to the spam folder. Another reason to send personalized save the date magnets is that it gives your guests a souvenir to remember the occasion. However, something to keep in mind is that even when you use save the dates, you still need to send the actual wedding invitation. The magnets are just meant for people to know when the big day is and get accommodations if necessary. The invitations will have more concrete details. Save the dates should go out about six months before the wedding while invitations need to go out about two months prior.
DESIGNING YOUR SAVE THE DATE MAGNETS
A vast array of custom magnet templates is available, and you can completely customize the one you want to come with a loving picture of you and your future husband or wife. Customize your save the date card with an engagement photo and use our unique card designs and color themes to make one-of-a-kind wedding stationery your guests will treasure forever. You can personalize the design elements of the save the date designs to get it exactly the way you want it. If you are looking for more traditional cards, then see what flat save the dates are available. Save the date magnets are a lot of fun, so order plenty today. If you need more wedding stationery cards, browse through our collection of RSVP cards, wedding holiday cards, and custom wedding invitations that perfectly suit the happy couple.
Related Products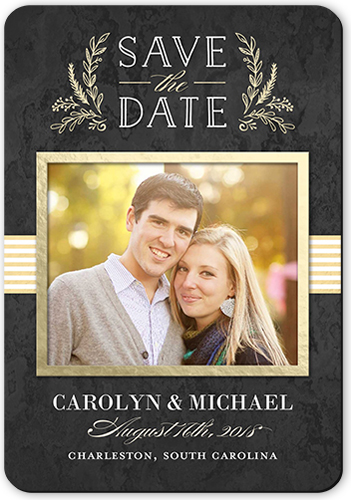 Elegant Affair Save The Dates. Make sure they mark their calendars with this Save the Date magnet. Modern fonts create a clean, crisp design with a lovely pictures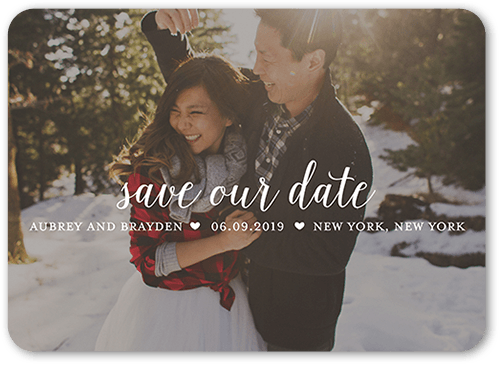 Eternal Moment Save The Dates. Make sure they mark their calendars with this Save the Date card. Modern fonts create a clean, crisp design with a lovely pictures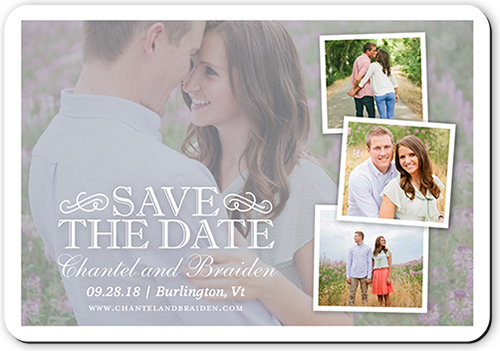 Exquisite Expression Save The Dates. Make sure they mark their calendars with this Save the Date card. Modern fonts create a clean, crisp design with lovely pictures