Moving Announcements
What customers have to say about our Moving Announcements
"Nice change of address cards"
January 23, 2019
High Quality, Vibrant Colors
"This card turned out perfectly. The bright and cheery colors will greet our friends and family in the mailbox and provide such smiles! The quality of the cardstock and the envelopes is stupendous! We plan to order holiday cards from Shutterfly every year now!"
January 22, 2019
Personalized Card Bliss
"Great quality card made from personal photo and personalized captions. Sometimes a store bought card doesn't capture the sentiment you're trying to portray. This is a fantastic option to create your own!"
January 20, 2019
I would buy this type card again.
"Great card to send our address change."
January 15, 2019
Have yet to be disappointed in anything I have ordered!
"This isn't the first time I've ordered something. The quality of the product - senior portraits, address labels, "new address" cards - have all been superior. Will definitely continue to be a return customer."
Custom Moving Announcements to Share the News
Moving to a new home or apartment? There are so many things to think about when relocating – especially when it comes to telling your loved ones where they will be able to find you. Whether you are moving across the country, into the city, out to the suburbs, to farm country or just across the street, you will want to make sure everyone in your life can reach you. Show off your new digs in style with personalized moving announcements and moving cards from Shutterfly.
Wherever you are heading, have fun with the design of your cards. Maybe use the new location as the theme for your personalized moving announcement. With Shutterfly, anything is possible. Have you captured a great picture of your new place? Create a photo moving announcement to show it off.
No Stone Unturned
We are betting that the people who know you well probably know you are moving and may even already know the destination. However, friends and even loved ones who you do not see often may have yet to hear the good news. Therefore, it is important that you include everyone in your moving announcement. Nobody likes to receive returned mail – not with the cost of stamps these days.
Custom moving announcements from Shutterfly come in a variety of great designs and sizes, depending on your budget and needs. You can include multiple pictures, colors and rows of text with different layouts and designs. Don't forget to include your new coordinates; a moving announcement without the new change of address may have a few people trying to figure out how to update their address books.
Sealed with Style
A great way to add a little extra flair to your moving announcements is to use customized address labels when you mail them. (Just make sure you use the new address!) Our personalized address labels help you put your unique stamp on just about everything. You can also seal the envelope with a customized self-inking rubber stamp.
Things to Remember During the Moving Process
There are so many things to keep track of when planning a move, even if you're moving just a short distance. Our comprehensive moving checklist is a step-by-step guide that can help you keep track of all the important tasks.
Relocation doesn't have to be all work—it's an exciting time, so have fun with it and have fun creating your one-of-a-kind moving announcements. Save one for yourself—it will make a great framed piece of art to hang up in your new home.
When the unpacking is finished, pull up a seat, relax and take a deep breath. Welcome home.
Related Products
Sweet Scribbles Boy Birth Announcement by Petite Lemon. Announce your newest arrival with this stylish birth announcement. Add your baby's name, a favorite photo and the news everyone's been waiting for.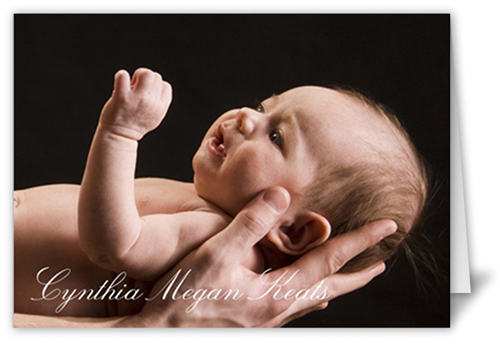 Scripted Name Girl 5x7 Birth Announcements Card by Yours Truly. Simple and elegant, this baby announcement is the perfect way to introduce your beautiful baby girl to friends and loved ones. It shows off a favorite picture with your little ...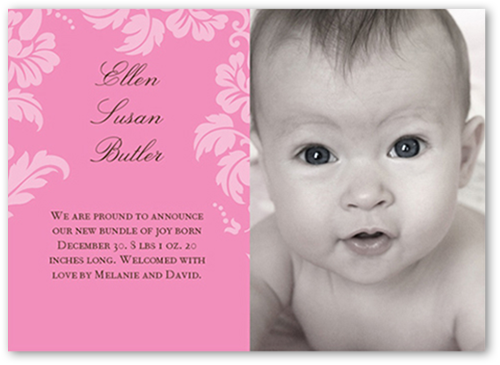 Floret Rose 5x7 Photo Girl Birth Announcements by Shutterfly. Elegant leaves and blooms accent a pretty picture. Include a special greeting and/or event details against a rose background.