Foil Graduation Announcements
What customers have to say about our Graduation Announcements
January 10, 2019
Great quality and affordable.
"I was able to use a 50% coupon and saved a lot of money on my purchase!"
January 10, 2019
Would repurchase
"My daughter's graduation announcements came out lovely, just as we expected."
January 5, 2019
Beautiful quality cards
"I love these cards and have ordered many over the years. The paper is very nice and heavy for both the cards and envelopes."
December 27, 2018
Yippee Skippee!
"Just PERFECT as to what I wanted... Brilliantly depicted. Graciously received..."
December 23, 2018
This website for placing a simple card order is the worst.
"Impossible. All the other reviews that express frustration with using the Shutterfly website are correct. It is worse than frustrating."
Gold Foil Graduation Announcements
Your high school or college senior is graduating, and there's no better way to celebrate their bright future and recognize their hard work, determination, and individuality than with a foil graduation announcement from Shutterfly. These grad announcement cards feature your student's name, Class Of, graduation date, school name, or other information and design elements, depending on the template, in gold, silver, or iridescent foil. If you're looking for a spectacular and particularly elegant graduation announcement, this is it.
Elegant High School and College Graduation Announcements
Graduation announcements not only allow friends and family to get in on the joy of your student's rite of passage, they also serve as once-in-a-lifetime keepsakes that you, your loved ones, and your son or daughter can look back on fondly for years to come. And there's no better card for these purposes than an elegant, premium graduation announcement that features their name and other details in gold foil. These cards, whether 5x7 or one of our other sizes, shimmer and shine, creating a deluxe, professional effect sure to wow your recipients.
Fancy Grad Announcement Cards From Shutterfly
When a loved one receives a gold, silver, or iridescent foil graduation announcement, they'll immediately recognize the difference in high-end, premium cards, and they'll see, in your choice of such a card for your boy or girl, the great care you've taken to celebrate your child and this important event, ceremony, or party. After all, an extraordinary student deserves a fancy, luxury graduation announcement card. With our wide array of templates, you can create cards with one or, say, three photos. If you're looking for more real estate to tell your student's story, go with a folding graduation card like our gate fold or tri-fold cards, which are also available with foil.
Luxury Graduation Announcements For Boys and Girls
High-end graduation announcements are great for more than just high school or college students. They're also tremendous choices for anyone finishing a law, nursing, pharmacy, business, marketing, or finance undergraduate degree, and likewise for those completing master's and PhD programs. And, of course, they're excellent ideas for small children, whether wrapping up a preschool or pre-K program, or completing elementary school or middle school. Consider, as well, adding glitter to your card to excite your young one along with everyone else who sees it.
Customize Your Premium Grad Announcement Card
Explore our creative design templates to find one that speaks to your style or that of your son or daughter and then customize your foil card to make it unique. And personalizing cards is easy with Shutterfly. Add any text you'd like to celebrate your graduating senior and to individualize your note about them. Along with their class photos and their yearbook, this is truly an opportunity to be seen for who they are where they're going. Your classy, elegant high school or collegiate graduation announcement will present itself, and your child, with a stunning photo (or photos) and gold foil to boot.
Related Products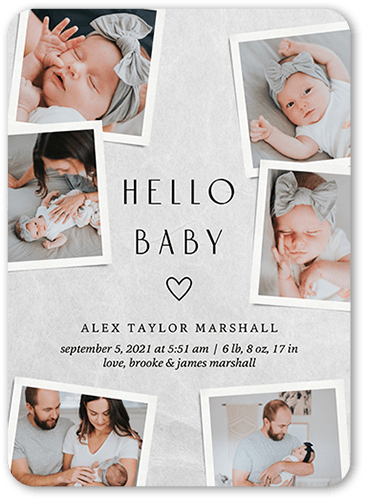 Many Fresh Memories 5x7 Personalized Foil Card by Yours Truly. Announce your newest arrival with this stylish birth announcement. Add your baby's name, a favorite photo and the news everyone's been waiting for.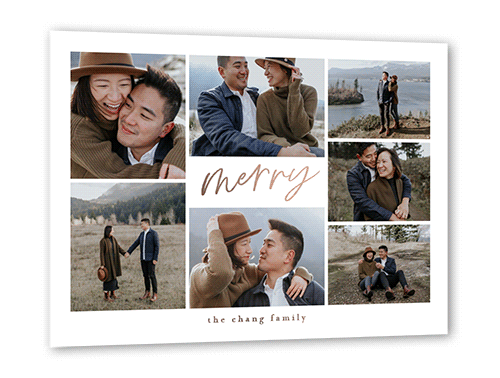 Center Around 5x7 Personalized Foil Card by Yours Truly. Send a holiday card friends and family will love. Add your own greeting and everyone's names. There's room for more photos and wishes on the back, too.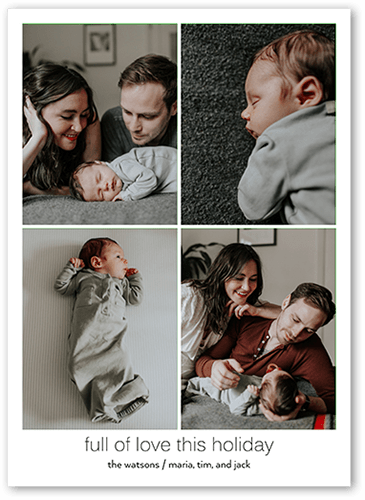 Full of Memories 5x7 Personalized Foil Card by Yours Truly. Send a holiday card friends and family will love. Add your own greeting and everyone's names. There's room for more photos and wishes on the back, too.