Photo Wedding Announcements
What customers have to say about our Wedding Announcements
January 22, 2019
Personalized Card Bliss
"Great quality card made from personal photo and personalized captions. Sometimes a store bought card doesn't capture the sentiment you're trying to portray. This is a fantastic option to create your own!"
January 12, 2019
Shutterfly products always look great!
"If you love one of your photos, turn it into a card! Whether it's a Thank you card, a sympathy card, a birthday card or any other kind of card, it'll turn out great!"
January 10, 2019
It exceeded my expectations
"Great, professional results"
"Purchased this recently to announce my son and daughter in law's wedding. All recipients have commented on how beautifully done the cards were. The paper and picture quality were perfect. Dealt with customer service on this order. Their promptness and undertanding were superb."
"quick and easy. Great pricing."
Share the Big News With Wedding Announcement Cards
Share your nuptial news with photo wedding announcements and marriage announcements from Shutterfly. Wedding announcement cards are perfect for sharing a glimpse of your special day with loved ones who weren't able to attend. With our vast collection of wedding announcement cards, we're confident you'll find a design that fits the two of you perfectly.
What Are Wedding Announcements?
Wedding announcement cards are similar to wedding invitations and save the date cards, except you send them after the wedding instead of before. Most include basic information, like your names, where you were married and the date. It's up to you if you'd like to include any other details. It's a good idea to have your announcement cards made and addressed before your big day so you can send them as soon as you return from your honeymoon. If you'll be sending out photo cards that include pictures from your wedding, make the cards afterwards and get them in the mail within a month or so after you're wed.
Add Your Favorite Photos to Your Just Married Cards
Let your favorite wedding portrait or engagement photo take the stage of your wedding announcements. To make a card you love, browse through Shutterfly's collection and pick a design that speaks to you. A good place to start your customization is by choosing designs that match your wedding's colors and theme. Personalize your cards with a special message, a wedding photo, and elegant details like rounded corners or a bracket cut.
Don't forget to add the finishing touches with beautiful envelope colors and liners. Each detail is guaranteed to make an impression the moment your loved ones lay eyes on them. To make your wedding cards perfect, follow our guide on wedding announcement wording.
More Ways to Commemorate Your Big Day
Once your wedding day has come and gone, commemorate the special occasion with a wedding photo book. Customize a professional photo book filled with your favorite photos from the ceremony and reception to create a keepsake you can flip through for years to come.
Related Products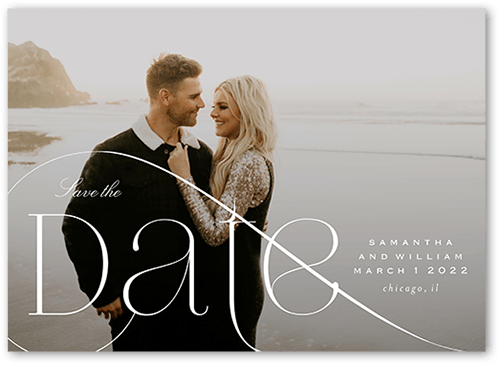 Moment Type 5x7 Stationery Card by Kelli Hall. Make sure they mark their calendars with this stylish Save the Date card. Just add a photo and your nuptial details.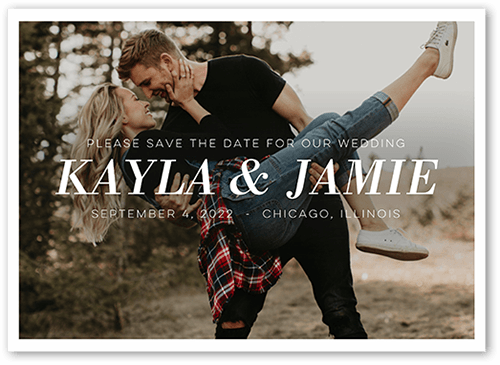 Substantial Names 5x7 Stationery Card by Magnolia Press. Make sure they mark their calendars with this stylish Save the Date card. Just add a photo and your nuptial details.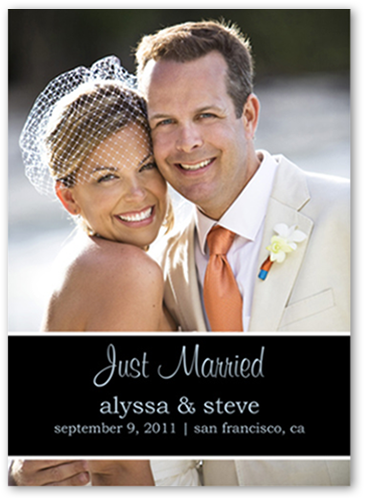 Classic Wedding Band 5x7 Photo Wedding Announcement Cards. Announce your union with a favorite photo, a noir ribbon, and a very bold statement, "Just married"