What customers have to say about our Graduation Announcements
January 10, 2019
Great quality and affordable.
"I was able to use a 50% coupon and saved a lot of money on my purchase!"
January 10, 2019
Would repurchase
"My daughter's graduation announcements came out lovely, just as we expected."
January 5, 2019
Beautiful quality cards
"I love these cards and have ordered many over the years. The paper is very nice and heavy for both the cards and envelopes."
December 27, 2018
Yippee Skippee!
"Just PERFECT as to what I wanted... Brilliantly depicted. Graciously received..."
December 23, 2018
This website for placing a simple card order is the worst.
"Impossible. All the other reviews that express frustration with using the Shutterfly website are correct. It is worse than frustrating."
Purple Graduation Announcements Customized for You
They have worked so hard to get to this point. Invite everyone to celebrate their achievement along with you by ordering purple graduation announcements. These rich and vibrant designs will have everyone talking. Each design features placeholders for your personal photos and ceremony information. Shutterfly makes adding this information oh-so-easy. Shutterfly guides you through the entire process, starting with paper selection. In less time than it would take you to go to a store, you will have premium announcements to be proud of.
Show Your School Spirit with Purple Graduation Announcements
Is purple your primary school color? Represent your school pride by choosing graduation announcements to match. This deep and vibrant tone grabs your attention. Add in your favorite photos and a little information about the ceremony. This would be a great way to share those senior photos with the family. Some design showcase one. Others allow you to create a complete photo collage.
Choosing purple graduation announcements to represent your school colors is a sentimental choice too. Picture how lovely it would look in a shadow box along with the diploma and tassel. Every look at this announcement would be a reminder of the school.
Finding Your Personal Style
Browsing all of the design options can seem daunting. Start narrowing your search with some of the filter options. Choose the size, number of pictures, or format. Choosing your favorite design isn't the end. You can even choose the paper type. Photo paper makes a crisp and detailed choice. For an elegant touch, opt for the signature paper with a matte finish. Want to give it a little bit of a girly touch? If so, the pearl paper is right for you.
Matching Graduation Invitations
Are you hosting a party to honor the graduate? Ordering graduation invitations to match your announcements is easy. This is a great solution for parties and ceremonies held on different days. Keep the graduation invitation colors consistent for a unified look.
Are you looking for a few ideas when it comes to party planning? Find decorating ideas, menu suggestions, and favor inspiration by checking out the Shutterfly ideas page. With so many different ideas, it is easy to find one that reflects the style of your graduate. Don't forget to check out the articles on announcement etiquette. You will learn how to address envelopes and when to mail them out.
Related Products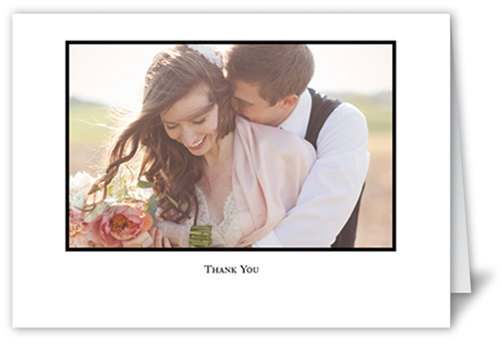 Classic White Fathers Day Cards. Sweet and simple. A classic emerald ribbon says it all, "Happy Father's Day." Add a favourite photo and inside, your own personalized wishes
Diamond Grad 5x7 Gate Fold Card by Éclair Paper Company. Let your Graduate's story unfold with this unique card that opens up from the middle to reveal your photos. Enjoy more room for photos and text than a standard card. ...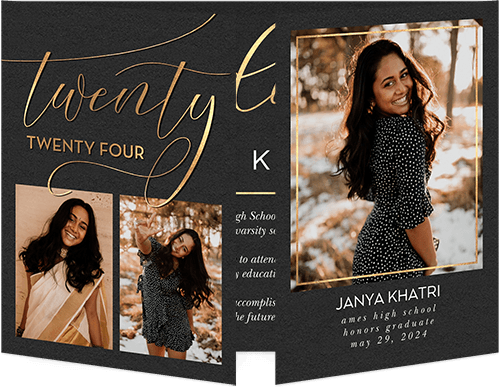 Elaborate Longhand 5x7 Gate Fold Card by Yours Truly. Let your Graduate's story unfold with this unique card that opens up from the middle to reveal your photos. Enjoy more room for photos and text than a standard card.