What customers have to say about our Save the Date
January 26, 2019
Loved them!
"Our save the dates turned out amazing! We are excited to send them out."
January 24, 2019
Love shutterfly
"Loved my save the dates!"
January 22, 2019
Excellent Quality
"Great quality paper and image. Worth every penny."
January 21, 2019
Super easy and was just what we were looking for.
"This was just what we wanted, a good selection and examples to check out."
January 20, 2019
I would buy this again
"We ordered save the dates for our wedding. Love that we were able to personalize."
Save the Dates
Getting engaged is a singular thrill, and of course you're itching to share the news with friends and family. Your wedding save the dates serve three, equally wonderful functions as announcements, an early notice of your wedding date, and a promise to send more information later in the form of wedding invitations. All said, it's the first glimpse most people are going to get of your wedding ceremony, and the best way to kick things off in style is with custom photo save the dates, whether simple, minimalist, elegant, or modern.
Save the Date Ideas, Examples, Templates, and More
While you may have already proudly displayed your engagement ring on social media, now is the time to let your loved ones calendar your big day. Shutterfly makes it easier than ever to turn your favorite pictures of you as a couple into one-of-a-kind, DIY save the date cards. Explore our card examples and ideas to select one that matches your personalities or the theme of your event, whether planned as a country, mountain, beach, or destination wedding. Include your wedding website on the save the date postcards so guests can find more information about your big day. Our design assistant will help you arrange your photo cards, and you can pick your favorite fonts and colors to make the messaging look perfect. Custom save the date cards are a beautiful way to feature your best photos and announce your ceremony.
Luxury, Gold Foil Save the Dates
Creative, luxury save the dates from Shutterfly feature personalized foil in gold, iridescent, and rose gold, foil stamping, and luxe, double-thick card stock. Save the dates simply do not get any more elegant or glamorous than our gold foil cards, as the foil catches and shimmers with light, adding a classy, luxurious touch. And beyond aesthetics, adding foil to your DIY save the date cards has a way of making your wedding stationery truly engaging, as the foil draws the viewer's eye and simultaneously frames and highlights all that it surrounds, including that enchanting photo of the betrothed. Whether you're looking for a funny or particularly creative save the date or a simple, modern, or rustic card, adding a metallic shimmer to your stationery will bring it to life and signal to your recipients the unique wedding ceremony you're planning. What's more, and for those mindful of the cost of their cards, premium wedding cards from Shutterfly are surprisingly affordable.
Things to Consider with Wedding Save the Dates
One common question is whether save the dates are necessary. One way of looking at this is to understand the critical role save the dates play in wedding planning, allowing guests to secure the chosen date on their calendar for this important event, and to do so relatively early. Which begs the question: how early should you send out marriage announcement cards or save the dates for weddings? A general guide is to mail your save the dates 4 to 6 months in advance of your ceremony, and, in some cases, like with destination weddings that require more planning, to do so even earlier. Another frequently asked question is related to what to write on save the date cards. Senders primarily include their names, the wedding date, and the event location, but it's also a great idea to let your recipients know wedding invitations will follow. For those who'd like to coordinate their wedding stationery, including wedding thank you cards and programs, Shutterfly features beautiful, all-in-one wedding invitation suites.
Related Products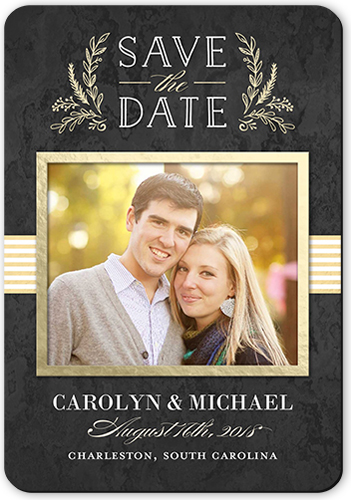 Elegant Affair Save The Dates. Make sure they mark their calendars with this Save the Date magnet. Modern fonts create a clean, crisp design with a lovely pictures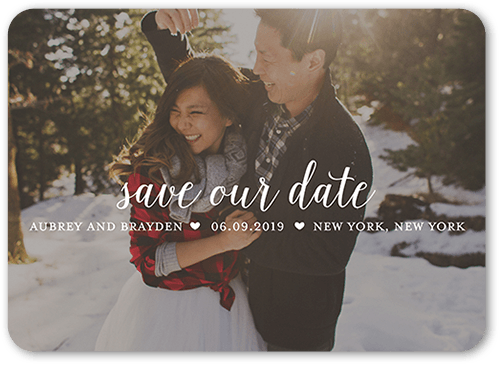 Eternal Moment Save The Dates. Make sure they mark their calendars with this Save the Date card. Modern fonts create a clean, crisp design with a lovely pictures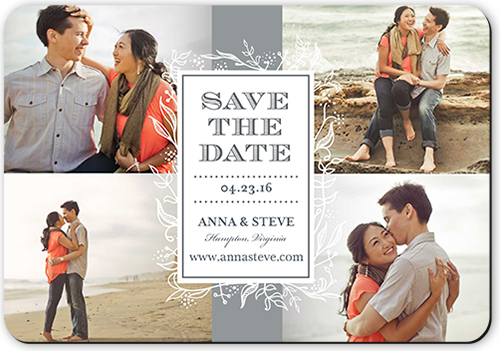 Fanciful Floral Save The Dates. Make sure they mark their calendars with stylish Save the Date magnet. Modern fonts create a clean, crisp design with lovely pictures