What customers have to say about our Graduation Announcements
January 10, 2019
Great quality and affordable.
"I was able to use a 50% coupon and saved a lot of money on my purchase!"
January 10, 2019
Would repurchase
"My daughter's graduation announcements came out lovely, just as we expected."
January 5, 2019
Beautiful quality cards
"I love these cards and have ordered many over the years. The paper is very nice and heavy for both the cards and envelopes."
December 27, 2018
Yippee Skippee!
"Just PERFECT as to what I wanted... Brilliantly depicted. Graciously received..."
December 23, 2018
This website for placing a simple card order is the worst.
"Impossible. All the other reviews that express frustration with using the Shutterfly website are correct. It is worse than frustrating."
How to Create Simple Graduation Announcements
Often, when it comes to announcements and cards, less really is more. Sometimes the best way to make an impact and share the news is with simple stationery that showcases what really matters. To celebrate the milestone of a high school or college graduation, why not keep it simple with minimalist graduation announcements from Shutterfly?
Minimalist Graduation Announcement Designs
Get started by choosing a design from our selection of simple graduation announcements. First, find a favorite photo of the grad that you'd like to showcase. A professional senior photo or a high-quality candid are excellent choices for highlighting on the front of your announcement. Some designs even have room for multiple photos if you can't choose just one.
Once you've found your favorite design, you can personalize the inside. Choose from several different layouts, fonts, and colors, and add more photos if you wish. Then, it's time to plan the wording of your announcement.
Simple Graduation Announcement Wording
Keep it simple with just the essential information you need:
Graduate's name
School name
Date, time and location of the graduation party (if applicable)
Aside from the information you should include, here are a few other things to keep in mind when writing your graduation announcements:
Be yourself. Infuse your announcements with a touch of your own personality. If you don't want to use formal language or opt for a more traditional style, you don't have to! This is your occasion to celebrate, so keep it simple and add your own flair.
Aim for clarity and simplicity.To share your news in a simple yet impactful way, opt for an announcement design that is basic yet stylish. These simple photo cards are perfect for highlighting a favorite senior photo or a collage of shots you love.
Don't forget accessories. A simple graduation announcement does not have to be plain. Complement your announcement design with minimalist stationery accessories that help it stand out. From simple address labels to postage stamps, there are plenty of ways to further customize your cards.
Make it yours. The most important thing when it comes to creating a simple graduation announcement is to make it your own. Add your unique touch and include a message that's written by you. Personalize the card with an expression of excitement about your achievement.
With these tips and suggestions, creating a simple, stylish and impactful graduation announcement will be a breeze.
Related Products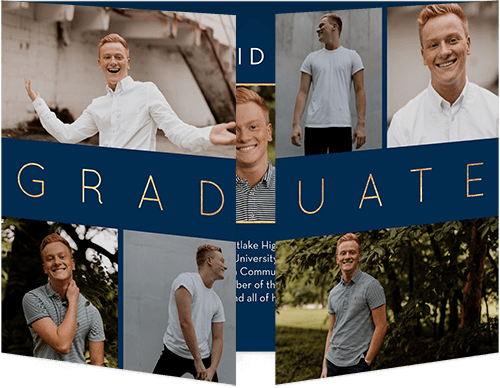 Big Bold Grad 5x7 Gate Fold Card by Yours Truly. Let your Graduate's story unfold with this unique card that opens up from the middle to reveal your photos. Enjoy more room for photos and text than a standard card. ...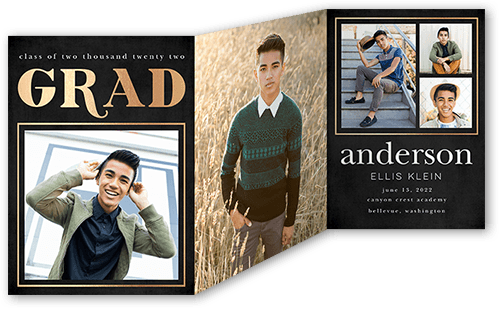 Bold Gold Grad 5x7 Tri-Fold Stationery Card by Yours Truly. Celebrate the new graduate with this unique graduation announcement. Personalize with the graduate's name and the event details.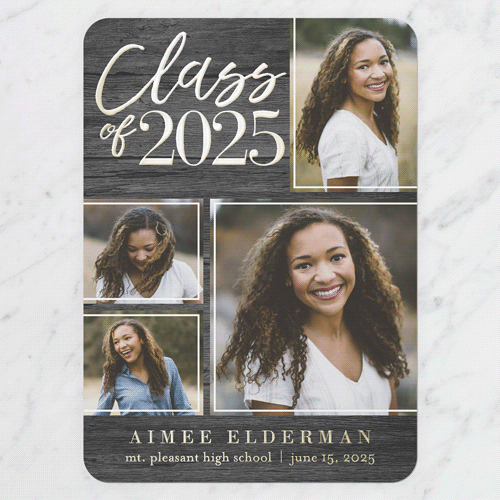 Rustic Class 5x7 Stationery Card by Yours Truly. Celebrate the new graduate with this unique graduation announcement. Personalize with the graduate's name and the event details.