What customers have to say about our Wedding Announcements
January 22, 2019
Personalized Card Bliss
"Great quality card made from personal photo and personalized captions. Sometimes a store bought card doesn't capture the sentiment you're trying to portray. This is a fantastic option to create your own!"
January 12, 2019
Shutterfly products always look great!
"If you love one of your photos, turn it into a card! Whether it's a Thank you card, a sympathy card, a birthday card or any other kind of card, it'll turn out great!"
January 10, 2019
It exceeded my expectations
"Great, professional results"
"Purchased this recently to announce my son and daughter in law's wedding. All recipients have commented on how beautifully done the cards were. The paper and picture quality were perfect. Dealt with customer service on this order. Their promptness and undertanding were superb."
"quick and easy. Great pricing."
Create Custom Wedding Announcements to Celebrate Your Big Day
Share the news of your nuptials with custom wedding announcement cards. Photo wedding announcements are the perfect way to share a glimpse of your special day with those who weren't able to attend. With Shutterfly's vast collection of wedding announcement photo cards, you can celebrate your new life together as newlyweds with those who mean the most to you. customize these wedding cards with a photo from the big day and a sweet message celebrating your happily ever after. When you design marriage announcements with Shutterfly, you can use our customization tools to make a greeting card that perfectly suits your style.
How to Make Photo Wedding Announcements
Whether you're customizing wedding announcements or even elopement announcements, creating your custom greeting card is simple with Shutterfly. Your wedding announcements should be as one-of-a-kind as your relationship with your spouse. To get started, choose a card design that perfectly showcases your personalities and your life together. With unique card types like folded, flat, and tri-fold, you can make Just Married cards that are unique and stylish. Personalize your marriage announcement with a personal message, a special wedding photo, and even matching wedding colors. Options like rounded corners or bracket cut trim are the perfect way to make your fully customizable card stand out, even before adding the finishing touches in the form of beautiful envelope colors and envelope liners.
You can utilize your favorite design elements, fonts and colors to create photo wedding announcements that are unique, stylish and perfectly "you." Marriage announcements let you tell people that you just celebrated your wedding date and a beautiful way to announce your upcoming marital bliss. Whether you showcase one special photo or a number of photos, your loved ones will smile as they open your wedding card and see your beautiful smiling faces. Shutterfly makes designing the announcements and having them shipped directly to your door as easy as a piece of wedding cake. Remember, a wedding announcement card doesn't have to say much to make a big impact. Consider creating announcements that complement your wedding invitations, save the dates, or other pieces of your wedding stationery. With endless ways to personalized your beautiful photo announcements, your dream wedding card is only a few clicks away.
Wedding Announcement Cards and Wedding Planning
Planning a wedding is an exhilarating and fun time and Shutterfly is here to assist in all of your pre-wedding and post-wedding needs. It is easy to create custom stationery sets for all stages of the wedding process. You can start with personalized wedding stamps and perfectly pair those with custom mailing address labels. From creating wedding announcements to sending out wedding invitations and RSVP cards, Shutterfly has all of your stationery needs signed, sealed and ready to be delivered. Creating custom wedding announcements should be as simple as the snap of your camera. When the wedding date has passed, send custom thank you cards to those who attended or sent gifts to share your gratitude. As you prepare for your new life together, Shutterfly is here to help you keep and share your memories with your growing friends and family base. With the click of a mouse, you can create beautiful stationery, decorations and gifts out of your favorite pictures.
Related Products
Elegant Exchange 5x7 Photo Card by Shutterfly. I thee wed. Announce your wedding in style with a favorite photo and the celebration details on this wedding announcement.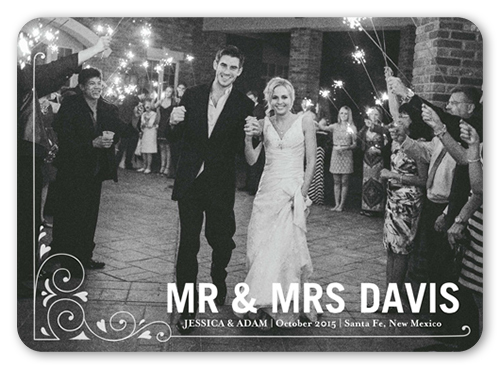 Formal Scroll 5x7 Wedding Announcement Cards. I thee wed. Announce your wedding in style with a favorite photo and the celebration details on this wedding announcement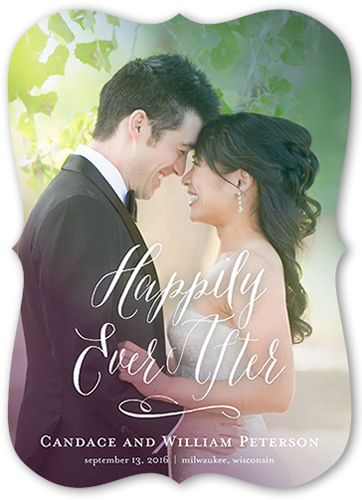 Illuminated Love 5x7 Stationery Card by Float Paperie. I thee wed. Announce your wedding in style with a favorite photo and the celebration details on this wedding announcement.