Featured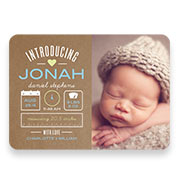 Give him a proper introduction with a playful and elegant baby boy birth announcement.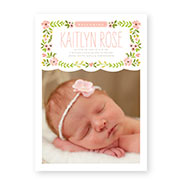 Baby girl birth announcements so sweet, you'd think they were made of sugar and spice.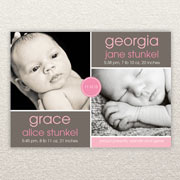 For the perfect pair. A twin birth announcement perfect for introducing both babies.

Custom Baby Announcements
With a baby on the way, let everyone in your life know with beautiful custom birth announcements. Shutterfly's baby announcements are perfect for girls, boys, gender neutral, and even twin announcements. By adding beautiful photos of your newborn, you can keep everyone in the loop easily and show off your new baby with a baby announcement. Your friends, family, and other loved ones will enjoy getting to see the baby, and they'll want to keep the personalized announcements as a keepsake too!
How to Create Personalized Birth Announcements
To design your birth announcement cards, first choose the theme that you like best. You can pick baby boy announcements or baby girl announcements that include the typical blue or pink colors as well as more modern styles that incorporate gold foil and illustration details. You can always go for a gender neutral announcement as well that looks great with all baby photos. Once you choose your theme, filter by picking different styles and layouts. If you had your baby near the winter holidays, it'll be a joy for loved ones to receive holiday birth announcements. No matter what you choose, you can also filter between different colored baby announcement cards and layouts that accommodate one photo or a photo collage.
Baby Announcement Ideas
Create baby birth announcements that you know you'll want to keep in a baby book as a keepsake. Some fun ideas include an animal-themed birth announcement or a rustic birth announcement card that incorporates wood photo backgrounds and more natural textures. Once you have the design you love, upload as many photos as you want - you can organize and make final selections before you finish your birth announcement. If you're pregnant, add your pregnancy photos, or if your baby was already born you can choose professional or candid family shots. Add a sweet message, your baby's name, and their birth date.
Shop Baby Photo Gifts
Along with your custom birth announcements, shop personalized baby gifts that double as functional keepsakes. With Shutterfly, you can create a personalized baby blanket that incorporates their photos as well as unique kids' designs like animals, stars, florals, and more. Also design a custom nightlight that you can use in their nursery at night. The nightlight helps you see when you need to check on them at night, and it'll be something that they can keep as the grow and need to prevent nightmares or restless nights. We know you'll have plenty of baby photos that you'll want to keep as your child grows (a little too fast). Consider other baby gifts like photo cubes and photo books so the best photos can have their own special display rather than staying on your phone or laptop. If you're searching for the perfect gift for expecting parents, browse our collection of baby shower gifts you can personalize just for them.